There's absolutely no debate in regard to which high school ruled the 2A Evergreen Conference this basketball season. The answer, far and away, is Tumwater as the Thunderbirds captured both conference crowns in dominating fashion.

Shortly after the Tumwater girls put the finishing touches on their undefeated run in the EvCo to claim a championship, the boys' team at the school duplicated the feat by winning its first outright conference title since 2017.
"This team has played hard all season," said head coach Josh Wilson. "The name of the game for us is defense this year, and they've just done a great job with that. Defense wins games and we've really bought into that thinking and it's paid off for us this season."
The T-Birds certainly flexed their defensive muscles during conference play, holding nine out of its 12 opponents to fewer than 50 points while never surrendering more than 61 points as Tumwater finished its conference slate with an 11-1 record.
"We still need to work on things," said junior standout Luke Brewer, "but we're getting to where we want to be as a team."
While the overall focus is on team defense, Brewer, a 6-foot-1 guard who was named the conference most valuable player, provides much of the offensive punch for the squad.
A member of the T-Birds' strong junior class, Brewer paces the team in scoring and assists, averaging 20 points and 4 assists a game to go with a solid 5 rebounds a contest. He has shot 44-percent from 3s this season and scored a career-high 35 points against Columbia River, while posting two additional 30-point games this year.
"Luke has always been a great player and he's always been able to shoot," Wilson said. "I remember him coming out here as a seventh grader at T-Bird camps and knowing he was going to be a good player for us someday. He's just so smooth in everything he does out there. His toughness, his leadership, and just his confidence with who he is as a player is going through the roof right now."
Brewer is joined in double-digit scoring by fellow junior and first-team all-conference selection Andrew Collins (12.7 points per game). The duo is followed on offense by junior Connor Hopkins (7.8 ppg), Ryan Otton (7.4 ppg) and Alex Overbay (5.9 ppg), the latter two described by Brewer as being the "heart and soul of the team" as they have both taken on the invaluable senior leadership roles this season.
"Otton and Overbay, they're importance to this team cannot even be measured. They are so important to us," Wilson said about his two senior starters. "They fly around, play defense, rebound, set screens. They really allow those other guys to operate and definitely help us win games.
"Otton has been filling up the state sheet a little bit more lately," Wilson addedabout the 6-6 Otton, a second-team all-EvCo honoree who will play football at the University of Washington next year. "Overbay has been unbelievable what he's done for us throughout his career. This is a guy who's stuck with it, worked hard and what he's doing out there can't be measured. He's always in the right spot. He's always giving us that extra effort. Both players have been so key for us."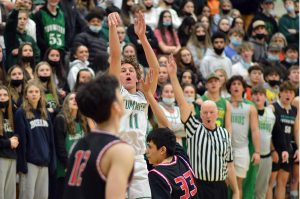 Tumwater, which dropped a pair of games to out-of-state opponents during a holiday tournament, lost just once to in-state competition during the regular season, seeing its season-high nine-game winning streak snapped in a 54-51 setback to W.F. West.
According to Brewer and his coach, however, the loss could actually turn out to be the most important game the team played this year.
"The practice after that game was tough," Brewer said. "I don't like to say this, but it helped us that we lost. It refocused us and got us locked back into playing the defense we need to play every game. There's never a good time to lose, but if there was that was it."
The reenergized T-Birds (17-3) ended the regular season by winning its final four games all by double digits with the team's best win on the year so far coming in an impressive 79-62 win over White River, which entered the showdown as the state's No. 1 ranked 2A team.
"At the very beginning of the season we came up with our goals," Brewer said. "We were going to be league champs, leave a mark and hang a banner. Since the start of the season we've had that goal to make a run in the playoffs."
The T-Birds will now attempt to navigate through the 2A District 4 tournament and warp up a berth in the state tournament.
"I got taste of the playoffs my freshman year when we went to state," Brewer said. "It's exciting (the playoffs) have finally arrived because it's what this team has worked so hard for."