Olympia Waldorf School has been nurturing innovating learning for the whole child since 1985. An alternative to public school, Waldorf encourages hands-on learning for students from pre-Kindergarten through 8th grade. The emphasis is on building each child's learning capacities and observational skills in a developmentally appropriate way. The environment is unique and child-centered, reaching beyond fact recitation or rigid skills.
Sweekriti Apple has been teaching at the school for the past 21 years. Her parents were Waldorf teachers in India where she grew up and attended school. Her enthusiasm for learning and curiosity for the world are joyfully apparent as she talks about students and their experiences. "Waldorf is all about innovation and allowing students to be innovators," says Sweekriti. She emphasizes the importance of brain development. "You present certain topics at a certain age, when the child is ready," she explains. Waldorf is designed to bring out a students' abilities and allow them to recognize their own gifts. "We encourage students to be who they really are," she affirms.
Kelly Horn, a Waldorf teacher for the past six years, aligns with the developmentally based approach. She's been a Waldorf parent since her now 9th grade daughter was in kindergarten. Kelly previously taught in the public school system. "We look at where the children are," says Kelly. She appreciates not having to mold children into certain norms. "Children come to subjects when they are ready," she adds. "I love the approach we take with math and science. I see children connect with content that is really exciting. They make connections and it brings the subjects alive."
The school day begins at 8:10 a.m. "Coming in at that early an hour is hard!" says Sweekriti, about students of all ages. That can be true for adults, too. Initially, students are in motion. "We want to get them into their body, so blood is flowing," says Sweekriti. Before they settle into more quiet time at a desk, students participate in games, physical education, making music or singing. They are not expected or required to do busy work. "We allow movement and creativity is developed," says Kelly.
Students then make their way to quieter activities such as math, journal writing or collaborative working. Part of the time is spent in review of yesterday's material and then a new portion is introduced by the teacher. That may take the form of sharing a story or in other ways capturing the essence of the material. Learning to listen, to observe and to draw conclusions are all part of the learning process. Later in the morning is time for recess and a snack.
The remaining four periods include a variety of subjects including two languages, Spanish and Japanese. Students have opportunities to do woodworking, orchestra and art-related projects that are usually integrated into other subjects. Each child has a main lesson book for each subject that includes their writings, drawings and related work. "They are beautiful and a true expression of each child," says Sweekriti.
During the pandemic, the school moved its classroom to tents that provide protection from the elements. "Most students have figured out how to dress well," says Sweekriti. This allowed the school to remain open while keeping everyone as safe as possible. Over half the day is spent outside the main buildings.
Classrooms use real chalkboards rather than white boards. Typically, they are absent of computers, too, though middle school students do have limited access to Chrome books. To deal with the changing, challenging world of computers, Olympia Waldorf offers a class called Cyber Civics. The impetus is to come to new and greater understanding of cyber activity. How do you safely navigate this world? How do you manage social media? What is low tech media and what is high tech media? Who is the person behind the computer? How do you and your friends stay safe? "We talk about relationships, comparing themselves to others, body shaming and exploitation," explains Sweekriti. These are critical conversations that the school faces straight on.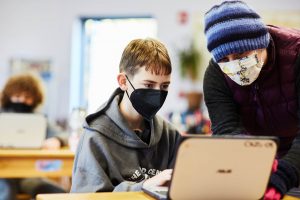 A lot is happening at Olympia Waldorf. The school welcomes students and their families to engage in life-long learning. The staff welcomes your inquiries and a visit to the campus. "Every student that walks through the door is a unique human being. I remember my students' names and who they are," says Sweekriti about all her former students, adding, "The beauty of the relationships, they are changing the world." Find out the ways Olympia Waldorf can enhance you and your child's education.
"The need for imagination, a sense of truth, and a feeling of responsibility – these are the three forces which are the very nerve of education," Rudolf Steiner, artist, scientist, and founder of Waldorf Education.
Olympia Waldorf School
8126 Normandy St SE, Olympia
360.493.0906
Sponsored