In less than three minutes after re-entering the game late in the fourth quarter, Payten Foster hit a field goal, pulled down two offensive rebounds, came up with a steal and led a fast break which resulted in a momentum-swinging three. By the time she was whistled for a foul and headed back to the bench, the South Puget Sound Community College (SPSCC) women's basketball team was able to turn a one-point deficit against visiting Highline College into a comfortable seven-point cushion.
It was exactly the spark the Clippers needed as they cruised to a victory over the Thunderbirds and it was exactly what Foster brings to the table every time she steps out onto the court. The freshman guard/forward hybrid does a little bit of everything for the team with her finger prints all over the stat sheet.
She can guard the perimeter, but be just as effective mixing it up in the paint. Starting, coming off the bench, wherever and however the Clippers need her, she'll happily step right in.
"Payten gives us everything," said SPSCC head coach Darah Vining. "She's a really versatile player. She came in as a guard, but she has some length so we also can put her at the 4. She's doing a great job of learning every position and just playing as hard as she can. She gives us all that she's got every time she's out there."
The 5-foot-10 freshman has been the model of consistency during her first season with the Clippers. She is third on the team in scoring, averaging 10.7 points a game, second on the squad in rebounding, pulling down 8.1 boards a contest, and has no problem doing all the much needed grunt work all teams require to be successful.
She'll dive onto the floor for a loose ball, take a physical offensive charge while playing defense and attacks the lane without any fear of contact. And she seemingly does all of it with a smile on her face.
"Payten is probably one of the most positive people I've ever been around," Vining said. "Even when she gets angry she uses that laughter, that positively to push her forward. It's almost like a spark for her and that's super beneficial to a team. Things can go left or right during a game and to have an attitude like that on our team is huge and you can see how it transfers to other players."
A three-sport standout in high school, Foster had several collegiate options upon graduation, including briefly flirting with the idea of play both basketball and volleyball at Bellevue College, but she ultimately decided on SPSCC.
However, it was not her current coach who brought the gifted Woodland High School product up north to Olympia. "I can't take credit for that one. That's all on the previous coach," Vining said. "When I came in she was already a part of the team. She had already signed. But when I talked with her and shared her what my vision was for the team, she just bought in and said she wanted to create her own legacy here. So, I have to give a shout out to the last coach from bringing her here. I am just very happy that she decided to stay."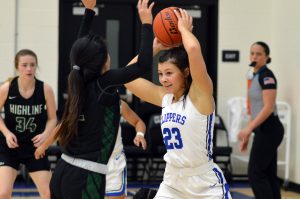 After the Clippers cancelled their season last year due to the COVID-19 pandemic, Foster had to make a decision on whether she was going to remain at SPSCC. It proved to be an easy one.
"At first I was not sure where I wanted to go," said Foster, who will graduate with her AA this quarter and plans to go to nursing school, "but once I found Darah was going to be the coach, I was 100% on board. When I met Darah that just changed the game for me. She's one of the best coaches I've ever had. She's super smart. She's played the game. She's the only girl coach I've ever had and I've played basketball a long time. She understands what it's like to be a girl and play basketball. It really made it an easy decision for me."
It's proven to be a very successful player/coach relationship as Foster has settled into her role nicely. "She's just been an incredible player to coach," Vining said. "She can shoot the ball. She can attack. She's long and lengthy. She can play defense. We're really lucky to have her and be able to place her anywhere."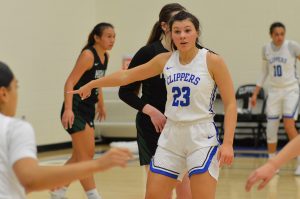 Foster has scored double digits in five out of her last six games. She had four games with double-digit rebounds with a career-high 12 coming against Shoreline Community College, and ranks second on the team in steals per game with 2.7 steals an outing.  And will, unquestionably, play a large role in the Clippers' pursuit for a berth into the NWAC tournament.
"We're young. We're all brand new, but we've been working hard together," Foster said. "We have a lot of athletes here. Everyone has a role and can do the job. When we put it all together we can be very unstoppable. It can be pretty special."
Sponsored