Oh, the places we can go without leaving our houses! Now you can traverse the entire coast of Puget Sound, from Seattle to Shelton, via EarthViews' Nearshore Mapping Project. "Waterways deserve the same as street views," says Brian Footen, co-founder and president of EarthViews. Think of this as a street view of waterways. He is a fish biologist, attentive environmentalist, entrepreneur and explorer. With each stroke of his kayak's paddle, Brian is collecting staggering and inspiring amounts of information, all the while recording history.

"I want to connect people with waterways," explains Brian, who is a graduate of The Evergreen State College. He and his sturdy kayak traverse 10 to 15 miles a day, as conditions permit. Why a kayak? "I want to be as close as I can, up close and personal," he says. "We want a comprehensive understanding of the near shore." Typically, he remains 15 or fewer feet from the shore. This allows for an intimate look at the ecology, animal life, sea activity and the landscape. His craft will soon be sporting the colors of an orca whale instead of a camouflage motif.
Throughout the trip, Brian is collecting data and taking pictures. "100 years ago, there was not much technology—box cameras," says Brian. "Now, we can do so much more." Initially, a camera was outfitted on a dinner plate. Now the amazing GoPro camera is taking high-definition 360-degree photos every 10 seconds. The camera is mounted on the back of his kayak. EarthViews uses a specially designed program that can process 23,000 images and integrate them onto a platform for anyone to watch or study.
While the photos are being taken, water samples are being tested for 10 different metrics. He's tracking things such as salinity, PH, dissolved solids, dissolved oxygen, temperature, acidity and conductivity to provide base line condition numbers. "As we progress, it's really important documentation," says Brian. Numbers will be compared to data taken in future seasons and future years. Take a deep dive for learning about the measures of Puget Sound's ecosystem health and progress recovery goals on this site for the compilation of monitoring programs.
A phone is also mounted on the kayak. As Brian spots eagles, waterfowl, and other wildlife, he makes a verbal note. The phone records the information as well as the geo-coordinates. This creates pictures of our current environment and will offer comparison with future numbers.
"Climate change is wreaking havoc," says Brian, but there are positives, too. The Nisqually Reach was one highlight of his Puget Sound experience. "The Nisqually Reach was not a postage stamp restoration but a total landscape restoration," notes Brian. In 2009, the century-old tidal flow dikes were removed allowing wetlands to be restored and salt marsh habitat to become vital. It is a home to life both above and below the water. "I'm a fan of restoration," he adds. "To see that, to be in that whole area was really cool." You can explore the Nisqually Estuary online.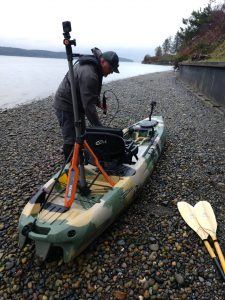 "I have been mesmerized!" exclaims Brian, as he thinks about all the shores where he has paddled. "Fishtrap and Henderson Inlet were both eye opening experiences. These are some of most beautiful places I have seen so far," he adds. I am fortunate to live on Henderson Inlet and appreciate the beauty every day. I use my kayak for day outings, and I am still fascinated with Brian's pictures, including the one in front of my own house. Thurston County residents have the luxury of going out for their own adventures. You can even upload your photos.
EarthViews surveys shorelines, rivers, stormwater systems and other natural spaces and creates interactive online maps. They do consulting work as one arm of the business and the mapping is the other aspect. Brian encourages everyone to get involved in protecting and saving Puget Sound, a jewel within our midst. "I would like people to experience Puget Sound and see the condition of the near shore," says Brian. You can support this project with financial contributions, by viewing the website and sharing with others, and submitting data through crowd sourcing.
"At the end of the day, I am an historian of Puget Sound," says Brian, who is reading Peter Puget's journal about his voyage in Puget Sound from May 7 to June 11, 1792. He's paddling the same route. Get on board here. You can also ride with Brian on a few YouTube Episodes. Keep up with news on See Puget Sound to Save Puget Sound.
Thank you, Brian, you are a man of purpose, bringing our attention to the value and beauty of our surroundings and the world's waterways.