There is nothing like a plate piled high with warm rice noodles, or a bowl full of spicy curry. Whether you are a pad Thai enthusiast or a devote panang curry eater, Thai food is always a good choice for a filling meal. Locally, we have several wonderful restaurants where you can get your Thai food delivered, to-go or dine-in. for the perfect date night. Here is where to get Thai food in Olympia and throughout Thurston County.
Pad Thai Express
315 Cooper Point Road NW #102, Olympia
360.915.7012
Pad Thai Express is a great place to go if you want to grab some Thai food to go, or eat in, if there is room to sit, as their location is small. They have a fairly large menu, with all the favorites including pad Thai, curries, sweet and sour and more. You can choose from chicken, pork, beef, shrimp or tofu to add to any dish. They also have boba, which is a great treat in your Thai Iced tea or smoothie. Call ahead to order to-go.
Thai Garden
2735 Harrison Avenue NW Suite 440, Olympia
360.943.6292
If you need a large table for a big family, the Thai Garden in Olympia is great for a Thai food celebration. From satay skewers and crab rangoons to fried rice and curry, they have all your favorites. Most of their dishes also have a choice of meats including chicken, beef, pork or tofu. They have family meals for those large gatherings.
Nou Thai Restaurant
415 Water Street SW, Olympia
360.584.9162
The proud owners of Nou Thai Restaurant are part of a legacy of restaurateurs from Kratumban, Thailand. They brought their family's knowledge of authentic Thai street food to Olympia to share with all of us and we are so glad they did! Nou Thai in Olympia specializes in vegetarian dishes that are so delicious even meat-lovers enjoy them. They have dine in, takeout and also delivery via Grubhub.
Basil Leaf Restaurant
235 Division Street NW, Olympia
360.943.8013
Basil Leaf Restaurant offers a large menu of Thai food in Olympia. They have special lunch combos, as well as your favorite noodle, curries and fried rice dishes. They also offer bubble teas, along with the classic Thai iced tea, which some patrons say is the best in town. Eat in or have it delivered via Grubhub.
MeKong Thai Restaurant
125 Columbia Street NW, Olympia
360.352.9620
Only open for dinner, MeKong Thai Restaurant does not have a website, but you can check out their menu on Grubhub. Then, order for delivery or head to the restaurant to dine-in. They have several special plates as well as some signature entrees that are worth trying, like the Mekong garden, which includes pan fried chicken, beef, pork, or tofu in mixed vegetables in their Mekong special sauce.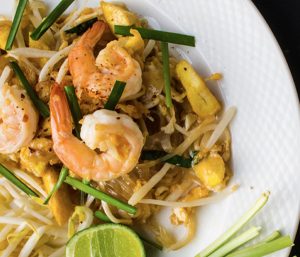 Jasmine Thai Lacey
4315 6th Avenue SE, Lacey
360.923.4511
If you've driven down 6th Avenue, you've probably missed this Thai food restaurant in Lacey. It's tucked away right next to the transit center. Jasmine Thai is worth looking for though! A personal favorite of mine, order the panang curry with extra lime. And save room for dessert, they have black rice pudding! Their restaurant is intimate with nice décor and your food is presented well, making it a great date night spot. You can order takeout directly off their website, or dine in.
Bangkok Thai Restaurant
700 Sleater Kinney Road SE Ste C2, Lacey
360.459.3732
Another Thai food restaurant in Lacey, Bankok Thai serves up fresh Thai food with quality ingredients. Diners love their cashew chicken, Tom yum soup and the fact they have some Chinese items on the menu as well, in case everyone in your group is not digging Thai that night. They have dine-in, takeout or delivery via Grubhub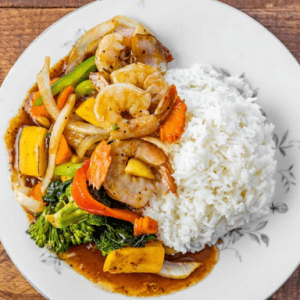 Pattaya Thai Restaurant
3731 Pacific Avenue SE, Lacey
360.451.9108
If you are a pad Thai lover, you should try Pattaya Thai Restaurant in Lacey. Diners claim they have the best around, so try it and see for yourself! The owner was born and raised in Thailand and came here to share her authentic Thai recipes with Thurston County. What started as a food truck has become a full-fledged restaurant. They specialize in gluten-free options (though many Thai food dishes are naturally gluten free). You can order on their website for takeout and delivery, or dine-in.
SI Racha Thai Restaurant
307 E Yelm Ave, Yelm
360.539.4692
Si Racha Thai Restaurant in Yelm is a great place to go for Thai food if you are on the outskirts of Thurston County and don't want to come into the cities. They have an expansive menu that includes lunch specials, curries, fried rice, noodles and more. Owned by an authentic Thai chef, he has his own specialty dishes you won't find anywhere else, like Dancing Beef, which is top round beef diced up and marinated in garlic oyster sauce served with green lettuce, and clam in soy bean sauce, which is stir-fried clams in spicy soy bean garlic sauce with Thai basil and bell pepper. They offer vegetable, tofu, chicken, pork, beef, prawn and seafood choices. Si Racha Thai also has quite the beer and wine list, for those looking for an adult beverage with their meal. You can make a reservation to dine-in on their website or call them for reservations or takeout orders.