During his previous experience with physical therapy, Jeff Lynch never wanted to ask questions about his treatment or condition because the staff was juggling three or four patients simultaneously and he didn't want to add to their stress levels. That was before he discovered Penrose & Associates Physical Therapy.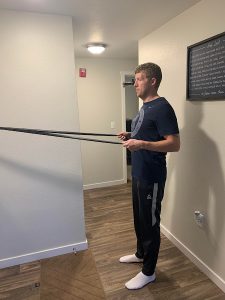 "Penrose was completely different," he says. "It's 45 minutes of just you and the physical therapist, and you can ask questions. The staff have given me a better understanding of my conditions and how different exercises affect my body."
Lynch has visited Penrose & Associates Physical Therapy for four different conditions, starting with scoliosis. He was having pain in his upper back which prevented him from an activity he loves, playing the piano. Later, he tore his rotator cuff and labrum, the rim of cartilage that lines and reinforces the shoulder (and other ball-and-socket joints), which made another favorite activity, working out at the gym, painful. Lynch also has a condition in which his patella go off track, causing chronic knee pain. Most recently, he had foot surgery to have his arch rebuilt.
Throughout recovering from all four conditions, Lynch has been impressed with the staff and treatment at Penrose. He mostly worked with the same physical therapist but on several occasions, he made appointments with someone different, and the transition was seamless. "They read the notes and asked questions for a couple of minutes, but after that, we worked on exercises, and they offered different perspectives," he explains. "There was a consistency of care, and they were clearly sharing information."
He also appreciates that Penrose & Associates uses the Medbridge Go mobile app, a tool that allows therapists to load videos of patients' exercises. "I forget things very easily, but I can go on this app if I forget something or feel like I'm not doing it right," says Lynch. "It's phenomenal."
Although he's still recovering from foot surgery, Lynch's back is no longer giving him trouble. "I have no pain anymore," he says. "It's been seven months and I've only had one flare-up, so I'm able to play the keyboard as long as I want."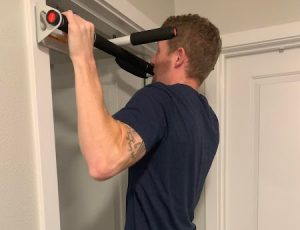 He's also been able to return to the gym as the torn rotator cuff and labrum have healed. "My physical therapist was really good about explaining my condition and why I'm having pain, plus what exercises I can do to strengthen the muscles around it," he says. "I don't have pain in my shoulder anymore when I lift things overhead."
His foot is still a work in progress. Because of his flat arch, Lynch has been walking incorrectly for over 10 years, creating pain in his lower back, knees, ankles and feet. Post-surgery, part of his treatment with Penrose is learning to walk again. "I'm getting the strength back in my foot and lower extremities," he says. "They're teaching me how to walk correctly."
Learn more by visiting the Penrose & Associates Physical Therapy website or calling  360. 456.1444
Sponsored