Submitted by Barbara Wakefield for Homes First
For a business owner, today's world may seem scary. Or uncertain. Dark. Even bleak. Yet, a corporate sponsorship may be just the thing to shine much needed light on the murky future. How can that be? If you or your business give to a nonprofit, aren't you simply hurting your own bottom line? Not necessarily. And the opposite will be true if you do your research.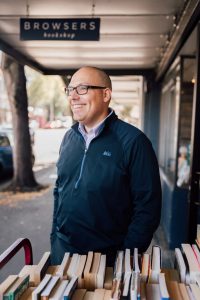 You can turbocharge your reputation and stand out from the ordinary. And you can increase your profits. "The way we look at it, we've found a nonprofit that shares the passion we have had since we were founded in 1906," said Ryan Betz, vice president for marketing at Olympia Federal Savings (OlyFed). "The core of our business has always been about someone having a home," said Betz, who also serves as public relations manager.
OlyFed was a founding sponsor for Homes First, an extra special organization launched locally in 1990. What Homes First does, that no other local nonprofit takes on as its central focus, is provide homes first: safe and affordable rental homes to those who need them most, including disabled folks, those experiencing homelessness, senior citizens and others who may have been crushed by housing costs.
Once someone has the stability of a roof over their head, Homes First connects them with other local resources to help with such things as disability support, issues with aging, problems with substance abuse or a need for mental health counseling.
But the important thing, again, is that home comes first. This nonprofit acts as a landlord and lifeline away from a life of uncertainty.
"This organization makes a significant difference in the lives of those they serve," Betz said, adding that he's impressed with how Homes First maximizes every dollar. "As a business, you should want your neighbors and your community to be successful. In a strong economy, we all benefit. If someone doesn't have to spend every penny on housing, they can shop at more local businesses. It's a win-win," he added.
A Homes First corporate sponsorship is worth considering:
If you want to build your brand or image to be aligned with those who value having a home.
If you want to create goodwill with your current and future customers in this socially conscious world.
If you want to appeal to those who value responsibility and "giving back" to their community.
The number of nonprofits with a will and method of making a difference is dizzying. What is key is to connect with one with a proven track record aligning with your business values. If you are part of a company that seeks business from those who rent or own homes, Homes First could be a great fit for you. And consequently, your gift could help Homes First, which always has a waiting list, serve more local residents.
Corporate sponsorships can vary, depending on the needs of your business and the specific nonprofit. Your business will get recognition from Homes First publicly in a variety of ways, such as at an event, in advertising, through social media or from volunteer opportunities for your employees. Your accountant can outline your tax benefits. Your business can highlight the connection you have to your neighbors through your financial or in-kind gifts to Homes First.
Ryan Betz of OlyFed pointed out that the financial institution gives to dozens of local nonprofits annually, but that Home First holds a special status. "Housing is a core basic need in life," he said. "Having that is a building block that provides for everything else. That means a lot to us as a business."
To learn more about corporate sponsorships and/or about Homes First's events, including its fall Heroes for Housing breakfast and needs for in-kind gifts, contact Home First's Shannon at 360.915.8176. To learn more about this amazing organization, the number it serves, or the stories of its success, see the Homes First website.
Sponsored