A new sound is coming to The Washington Center for the Performing Arts in Olympia, one with a life of its own, a score with an energetic mix of vibrant hip-hop and orchestra music. On February 3, Ensemble Mik Nawooj (EMN), led by the talented composer JooWan Kim and MC Rapper Sandman, bring their metamusic to Olympia's performing arts center. The audience will enjoy a presentation of the rich, ethereal sounds of classical instruments in delicate balance with the jump and pizzaz of hip-hop. Patrons from all around the county will enjoy the group's expression of interwoven sounds and dance.
EMN is directed by Kim, a pianist and composer. Kim is a Bachelor of Music graduate from Boston's Berklee College of Music and a Master of Music graduate from the San Francisco Conservatory of Music. A few years after schooling, he founded the EMN group. Co-founder Christopher Nicholas and Kim share their Berklee College alma mater, and Nicholas also brings an Master of Music in Jazz studies to the table. Sandman brings a broad experience of being on stage with many performers.
Kim first developed his mixed method work after the performance of what was a novelty piece at the time. While completing graduate work at the San Francisco Conservatory of Music, the emcee he worked with on the event proposed the idea of making an album combining two genres. After several months, Kim wrote an hour's worth of music developing his new method.
EMN's method sampling video leads viewers through the topic via the familiar notion of taking pieces of items or ideas and creating something new, a sampling of many previous methods to invent a whole new one. In the video, Kim and others explain how many familiar innovations, such as new foods, come from a sampling of methods to create a new category. It happens in cinema, in farming and the list goes on. A music example in the video is hip-hop, developed by people sampling sounds from various resources, musical instruments and other items, to create a new sound.

Kim calls it method sampling because it consists of a smattering, sampling and borrowing of music types and ways of performing music that are often otherwise thought of as disconnected. "It's a truly novel thing we're doing," explains Kim. "There are elements of hip-hop, but it's really in the frame of concert music. The real focus should be the mechanism of how we make this work via method sampling, a way of sampling different methods and reframing them to innovate the existing field. Method sampling is a principle you can apply to virtually any sphere, be it gastronomy, technology, business strategies or the sciences. We're simply using it to come up with a new answer for the problem of concert music, especially the so-called, new music that has become utterly irrelevant in the modern world." The magic of it is that the different genres do indeed balance well together as they share harmonic elements reminiscent of each other. "We're fundamentally out of the ordinary," describes Sandman. "The audience can look forward to a musical experience unlike any they've ever seen. They can expect music full of heart that will move and inspire."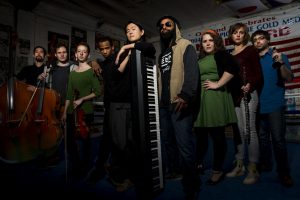 Music aficionados, music students and music creators will all find a connection and point of reference in the EMN performance. "We'll be doing the entire 'Death Become Life,' the album we released in 2020," says Kim. "If we have done our job right, people will experience catharsis and feel better after the show as the album was put together with pieces that were written to deal with difficult situations in life such as loss, death and other unavoidable things we go through. There will be a larger group of 14 including a French horn, so it'll be a substantial experience. Think of a bona fide chamber orchestra with an Emcee and a turf dancer. If you're a connoisseur, you will hear various classical techniques such as invertible counterpoint and fugato."
Turf dancing, operettic singing, string and wind instruments, piano and the rhythmic vocals of Sandman are expected features in the "Death Become Life" album. There are 10 tracks total on the album, 3 of which are collectively titled "Fountainhead Suite" that are a response to the COVID-19 pandemic effects. The group goes beyond the expected musical performance. Their new album, "Death Become Life," contains five videos. The idea of method sampling plays out in videos by incorporating art and dance, such as those filmed at the Asian Art Museum and Yerba Buena Gardens Festival.
Whether patrons are students of music, composers themselves or simply enjoy absorbing musical performances, Ensemble Mik Nawooj delivers something for a broad audience. Check The Washington Center for the Performing Arts for tickets to Ensemble Mik Nawooj's single night performance on February 3 at 7:30 p.m. Tickets are available from $19 to $49 depending on zone seating.
Sponsored