Teaching, learning and telling the stories of our community is what Thurston Community Media (TCMedia) has been doing for 35 years in Thurston County. Deborah Vinsel, CEO, has been there for 31 of those years, helping guide TCMedia through its many changes. "Locally focused content by local people about local things that matter to them is crucially important these days," says Deborah. "We're losing local media right and left and local content from a local perspective is vital to the health of a community."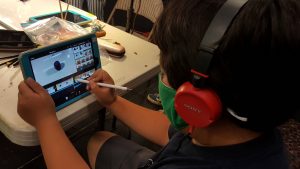 The health of a community means many individual voices being heard and TCMedia is making that a lot easier now than you may think. They have just begun offering classes through Olympia Parks & Recreation and will be teaching adult filmmaking, studio production and video editing. "It's a partnership we've used for our summer camp programs very successfully," says Deborah, "and most of our training in 2022 will be in person. You don't have to be a resident of Olympia to register. You can always just call us and we can give you information."
Finding New Ways to Deliver
Part of TCMedia's evolution over the years includes how they deliver information to the public. There are three cable channels that air programming for local government including public affairs and government information; Thurston County and the cities of Tumwater, Lacey and Olympia information channels; and public access to give people like you and me a chance to delve into issues that are meaningful to them. And, in keeping with the changing platforms, many of these programs are now available on YouTube, Roku and Apple.
One producer who has been with TCMedia since its inception is Glen Anderson, who now hosts a program called "Parallax Universe." Glen has adjusted his program as the changing times demanded. Now, he interviews his guests via zoom and posts his program on both TCMedia's Channel 22 public access as well as YouTube and his own online podcast. "I appreciate the opportunities to do things over a long period of time," says Glen. "We live in a society where things come and go and come and go. And I believe there's value in continuity and reliability and persistence."
Surprisingly, through the changing times, many of the issues Glen has covered over the years have remained the same. "My very first episode in February 1987 dealt with racial justice issues," says Glen, "and well, that's still with us."
Informed, Entertained, Mentored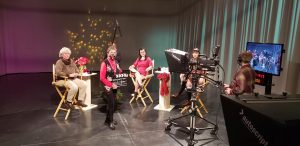 A new producer to TCMedia is Darleen Adkins who launched her program, "In the Know, Women's Show" back in, November. "I like that idea that we have an opportunity as community members to create content," says Darleen, "and I'd like to make some sort of contribution and watch something I would also enjoy. I think a local women's talk show is something that is dependent on the guests, the kind of people I would want to sit down and be informed or entertained or maybe even mentored by. That's the kind of show I'm trying to produce."
To create her program, Darleen first took classes at TCMedia learning how to work the studio cameras, lighting and editing. She then put together a crew of six women, some from the retirement community she lives in and others from around the county. It's been a process, "TCMedia goes above and beyond to support," says Darleen, "and they have classes, you can follow up with any of the instructors there too. They've been wonderful to work with."
Everyone Has a Story
Though it has been more quiet than usual around the studios the past few years, TCMedia has been opening up classes and checking out equipment to producers as conditions allow. This past summer they hosted their usual summer camps for school kids and had a good turnout. Max, a local sixth grader, got to take classes there during his summer break. "I got to learn how to do Claymation," says Max, "and how to make your drawings move on a computer." Now Max has his hopes set on an iPad and to get to try digital drawings and create his own stop motions animations. His dream production is a stop action show of favorite Star Wars characters. So, it seems some things in life remain popular regardless of changing trends or technology. A sentiment the people at TCMedia know well.
"So, yes, the production tools have changed," says Deborah, "but the need for personal empowerment, for your story or the story of your community, never has. The content is key."
Your Help Bridges Understanding
"The last two years have been hard," says Deborah. "We have been incredibly busy, but the public side of things, you know, we closed our doors on March 13, 2020 and we provide a lot of services to nonprofit organizations who use our media to help tell their stories in a variety of ways." Though the studios have reopened and people are slowly coming back in, the daily operations are just reviving. "We are a 501(C)3, so a donation is 100% tax deductible," she adds. "And it takes a lot to provide those services. We keep our fees minimal so that everyone has access to our classes, the studio and we offer some grants too."
"When people learn to speak for themselves," continues Deborah, "when they find their voice and we are able to empower them with the tools and the training, they can create a media piece that they can then share with a broader community. And that truly does help to build bridges of understanding."
Your donation can help create those bridges; you can make your donation here.
Recently, several community leaders came to the TCMedia studios to share their insights on TCMedia's value to the community. Those stories can be read on the Thurston Community Media website.
To learn more, you can visit the TCMedia website and check out their program schedule and class offerings, or give them a call at 360.956.3100.