The long months we spent impacted by COVID-19 kept us turned inwards. We've become accustomed to shopping online, dining to-go, and venturing out as little as possible. But the holidays are a perfect time to give back. Whether time, talents, food or sponsoring a family's Christmas wish, giving makes everyone feel a little brighter in these gray days. Thanks to the United Way of Thurston County, caring and sharing go hand in hand this holiday season.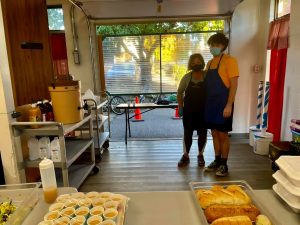 Locally the United Way works hard to improve health, education and financial stability. Once needs are spotted, their team works with and invests in local nonprofits who combat those crises. They work with a network of community partners on everything from seasonal assistance during the winter months to organizing volunteers for COVID-19 vaccination sites. In fiscal year 2019/2020 they turned $2 million in donations into more than $6.3 million in total community impact.
But there is still so much more to do. "There was already a great need prior to the pandemic as the last ALICE research showed that one in three families in our community were struggling," says Director of Volunteer Programs Lindsay Fujimoto. "That need grew with the onset of the pandemic as it exacerbated the needs of vulnerable families and created new barriers for others."
ALICE stands for Asset Limited, Income Constrained and Employed. Our state overview explains that in Washington even before the pandemic "33% of households still struggled to make ends meet. While 10% of these struggling households were living below the Federal Poverty Level (FPL), another 23% were ALICE." Since the arrival of COVID-19, "Low-income households reported losing employment income at a markedly higher rate during the pandemic—60%—in comparison with a 40% rate for middle class and high-income households."
Locally the United Way faced this new obstacle head-on. "We aimed to meet the growing need amid the unique challenges posed by the pandemic," says Fujimoto. "For volunteering, this meant shifting to at-home and/or socially distant and outdoor opportunities. Many opportunities have also focused on responding to the pandemic, including sewing masks or volunteering at vaccine clinics."
In any way you're able to help, the United Way is always looking for donors and donations to benefit the community. "Everyone can make a difference," stresses Fujimoto. "Whether through donating or volunteering, individuals can move the needle on the needs of our community. For volunteering, there is currently a high need for non-medical volunteers to help with vaccine clinics at Capital Mall and other locations throughout Thurston County."
These clinics are run in conjunction with Thurston County Public Health and Social Services (TCPHSS). Volunteers help guide people through the process and make sure the clinics run smoothly and have a positive atmosphere.
Drive Through and Give
You can also help at the annual Shelter Shower. This year's drive-through event takes place on Thursday, December 16 from 12 p.m. to 3 p.m. The United Way is collecting donations for SafePlace and Family Support Center of South Sound via online Wish Lists.
Items needed include gift cards for groceries, supplies and household goods to places like Target, Fred Meyer, Safeway and Walmart or to local restaurants and gas stations. They also need phone charger cables, toiletries, blankets and bedding, suitcases and laundry detergent. At this time, however, no furniture, used clothing, children's items and opened products are accepted.
Volunteers will collect items in a drive-through setting at 3525 7th Avenue SW in Olympia. Volunteers will wear masks and gloves and drivers are encouraged to mask up as well. Can't make it that day or time? Consider donating online and staff will stretch every dollar to help as many people as possible.
"Together we can do so much, and I hope that folks continue to join and connect with United Way of Thurston County to see how much of a difference we can make by Living United," says Fujimoto.
You can say up-to-date by subscribing to their newsletter, visiting the website, or following the United Way of Thurston County on Facebook and Instagram.
Living United means something different to everyone. But thanks to the United Way of Thurston County, it means turning every $1 donation into $3.13 of impact right here at home. Whether you can provide time, talents, goods, services, or just a few dollars, the community will benefit for years to come.
Sponsored