The South Puget Sound Community College volleyball team closed out its season with a hard-fought loss to undefeated conference champion Pierce College on November 10.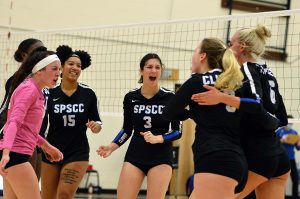 The Clippers, who feature just one sophomore on their roster, finished the year with a record of 6-18 overall record and a 5-7 mark in Northwest Athletic Conference West Region play. However, SPSCC finished the season with a 6-6 record after starting 1-12 with each of its first 13 matches being on the road.
Under fourth-year Head Coach Tusalava Kuaea, the Clippers opened their new home—the newly renovated Health & Wellness Center—by sweeping Green River College on September 24. SPSCC settled into its new surroundings quickly as the team closed out the season winning two out of its last three home matches, including a thrilling five-set victory over playoff-bound Tacoma Community College in the regular season home finale for the Clippers, who finished one win shy of securing a trip to the NWAC tournament.
In the win over Tacoma on November 5, SPSCC rallied to win the fourth and fifth sets to put away the Titans. Sets were 22-25, 25-17, 25-21, 25-18, 16-14.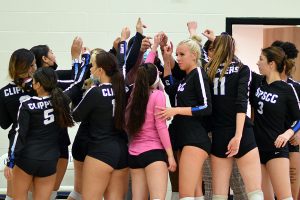 Tied 17-17 in the fourth set, the Clippers got a kill by Layne Martin, which kick started an 8-1 run to end the set. During the run, SPSCC received three kills by Khalia Craig with her third and final giving her squad a 24-18 lead before an attack error by Tacoma ended the set.
The final set was once again a back-and-forth contest with a Craig kill putting the final touches on a Clippers' win.
Craig finished with a game-high 22 kills. She was aided by teammate Jahnessa Hill, who added 19 kills and Emily Snider, who dished out 43 assists. The Clippers also showed they had no problem getting on the court as they finished with a season-high 110 digs. Jayde Grams, who was one of five SPSCC players with double-digit digs, registered 25 digs, which trailed only the 30 digs she posted against Lower Columbia as a season-high.
The Clippers also received 22 digs from Silke Constant, 20 from Hill, 18 from Snider and 12 from Jazlyn Quenga.
South Puget Sound Community College was unable to follow up its win over Tacoma with a season-ending road victory over Pierce. But that's not to say the Clippers didn't push the top seed out of the West Region.
The Raiders won in three sets (25-20, 25-15, 32-30), but were pushed throughout, especially in the final set where the Clippers went toe-to-toe with Pierce and took a 30-29 lead on a kill by Craig before falling.
Craig finished the year as the Clippers' leader in kills with 185. She was followed by Hill (146 kills), Constant (64), Gracie Kaiser (55), Martin (53), Snider (24) and Vasa-Lilo Langi (21).
Freshman Snider paced the team in assists with 387, while Grams had a team-best 219 digs. Constant (113 digs), Quenga (107) and Snider (101) joined Grams with more than 100 digs on the season.
Three SPSCC Men's Soccer Named to NWAC All-Star Team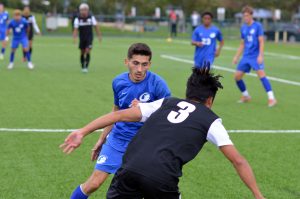 The South Puget Sound Community College men's soccer team placed three players on the Northwest Athletic Conference West Region All-Star Team with midfielders Yuta Shimazu and Dakota Seddon and defender Joshua Coetzee being named to the squad.
"I'm proud of Yuta, Dakota, and Joshua on their selection to the All-Star team, " said Head Coach Jeremy Richtmyre. "All three of these players were a model of consistency throughout the season. Their hard work and dedication showed on and off the field."
The three will play in the 2021 NWAC Men's All-Stars game at the Starfire Sports Complex in Tukwila on Sunday, November 14.
Sponsored