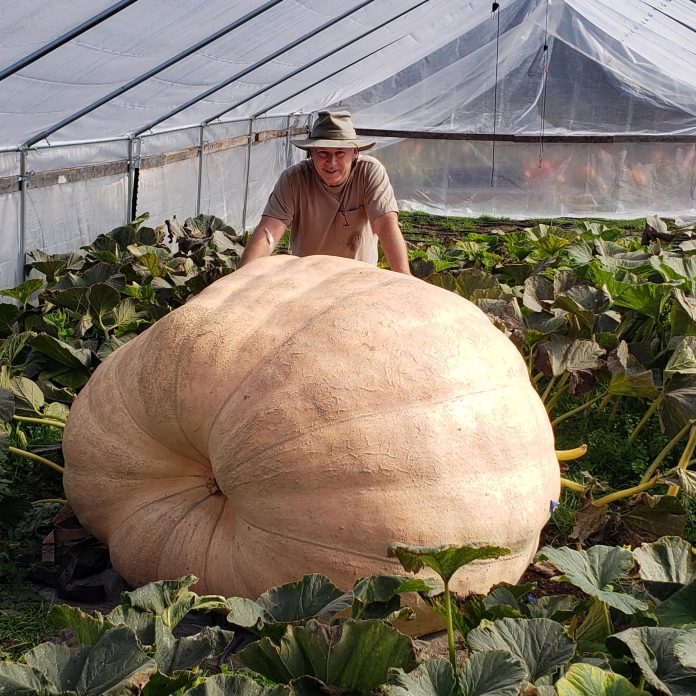 Olympia: It's the Water. Well, in this case, it might be the soil, too, as an Olympia man took first place in the 48th Annual, Safeway World Championship Pumpkin Weigh-Off this month in Half Moon Bay, California. The competition is a prestigious event that attracts the most heavyweight champions of these gargantuan gourds.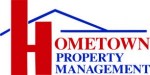 Jeff Uhlmeyer was this year's winner. He homesteads 4.25 acres off Littlerock Road. He had about 12,000 square feet of land under cultivation this year, a noteworthy feat considering he had just moved onto the property last December. He says approximately three-quarters of the cultivated area was devoted to pumpkins, Atlantic Giant pumpkins like the one he took this year's prize with for the heaviest pumpkin, and field pumpkins, like the variety you're used to seeing in supermarkets.
His champion pumpkin, the one he named "Steve," grew to the colossal weight of 2,191 pounds, over a ton in weight, and it all started from a little seed he germinated back in the middle of April.
Jeff has been growing pumpkins since 2009 and attributes his success to his years of experience. "You learn to read the plants and they kind of tell you what they need," he says.
He fertilizes and also takes samples that are sent to a lab in Idaho for tissue tests to ensure that his plants are getting the right combination of micronutrients. He also takes soil samples in the beginning of the growing season to make sure his soil is fit and able to sustain his garden in the long-term.
As for the logistics in managing a huge pumpkin, (and in Jeff's case several pumpkins of Steve's size), he says there's not a lot you can do for it once it gets really big. Jeff grew three giant pumpkins for competition this year and placed third in two other west coast competitions.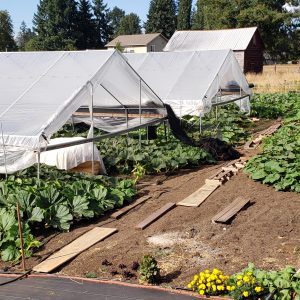 He built greenhouses over the tops of the pumpkins once they got really big, and unlike some growers, does not grow them on pallets but on a piece of fabric laid on top of the soil with a layer of sand to assist the pumpkin with movement while it grows.
"Thirty days into pollination," Jeff explains," these pumpkins can gain 30-50 pounds a day."
Steve grew rapidly at first, and then grew steadily internally as he put on the weight that helped him win big. Jeff says Steve wasn't the biggest pumpkin at the competition, and you can't tell just by looking at a pumpkin who will win. He had no idea of Steve's weight before the Weigh-Off, because as it was, it took heavy machinery just to lift Steve and two other pumpkins onto the truck that Jeff drove down to the competitions.
"A buddy of mine, Andrew Christiansen," Jeff says, "he's in construction, and donated his time and services to lift my pumpkins. He came out to the patch with his four-wheel drive forklift and that day we lifted four pumpkins. Three for competition and one that had to get out of the patch."
Jeff's fourth giant pumpkin was sold to a local carver.
He drove the pumpkins down to the competitions himself, but didn't return with them. They were an incredible amount of weight that he didn't want to haul home.
Although Jeff (and Steve) won a cash prize for first place, $19,719 or $9 per pound, Jeff says he felt fortunate to receive a prize at all.
"It's not about the money," he says. "It's just the love of gardening and the appreciation for what these plants can do. I didn't really do anything extraordinary. Everybody thinks there's big secrets in giant pumpkins, but it's more down to experience. Just gotta have good soil, good seed, and good plant management."
Giant Pumpkin Growing: Sport or Hobby?
When you're into giant pumpkins, you've got to be all-in, and statistics matter. The website Big Pumpkins is a clearinghouse of global giant pumpkin info. It collects data from the Great Pumpkin Commonwealth (GPC), which was established to standardize the hobby to ensure quality of fruit, fairness of competition, recognition of achievement, and fellowship and education.
Visit the GPC Weigh-Off Results and Information Page to view consolidated 2021 Weigh-Off Results by class. The world of giant vegetable growing encompasses more than just pumpkins, and you can see results for every category from pumpkins and watermelons, to tomatoes and marrows. It's all there.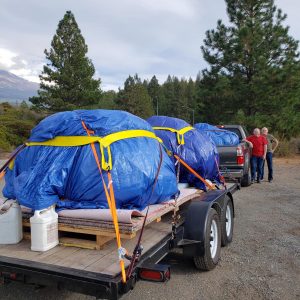 Other Thurston County Winners
Cindy Tobeck, also of Olympia, took Fourth Place in the Safeway World Championship Pumpkin Weigh-Off with a 1,738 pounder. She also grew a colossal squash, a 2,030-pound whopper that won the Bauman's Farm Giant Pumpkin Weigh-Off competition in Oregon.
For tomatoes, she grew the eighth heaviest in the world this year, but was bested by a Tenino man, Jack La Rue, who, according to the statistics on Big Pumpkins, grew the world's heaviest tomato this year weighing an impressive 9.09 pounds! La Rue had several other wins in the tomato category, and it appears that he's the one to beat there.
Congratulations to all of the Thurston County growers. Way to make our region proud!