Art is first the expression of the artist's vision, and then it needs participants to experience it. Often that means those who view, ponder and take further inspiration, but it can also mean those who get their hands in the art making process. Mosaic artist Jennifer Kuhns helps lead those creative ventures by inviting and guiding people to make community art and create an expression for others to see. Kuhns's 2021 Olympia Arts Walk event to make a butterfly mosaic for the Monarch Sculpture Park is one of those such pieces.
An artist all her life, Kuhns's professional path grew over time. Initially, she started making art as entertainment and then began to experiment with a variety of mediums before settling on mosaics. She made jewelry, ceramics, collages and sewed. She did print making and got into recycled art. Each avenue allowed her to explore a broad range of techniques and materials. When someone asked her to repair a tiled bathroom floor with her creativity and use the materials at hand, it was a turning point. From there, she collected broken tile and glass from distributors and learned how to cut and shape them. With a growing family and a desire to move forward financially as a working artist, she participated in an Enterprise for Equity program that leads people through the basics of small business. In addition to that boost, a 2007 pitch for the Arts Walk program cover brought her more attention and commissioned work.
Through Arts Walk, Kuhns began organizing community art projects. Her first endeavor was the artesian well in downtown Olympia, a project that involved the community for six weeks. The city helped promote the event, providing tables and volunteers. The living definition of community was present through the participation of downtown residents, visiting families, state workers and children all having a hand in constructing the mosaic art around the well. "It's engaging people. It's empowering people," says Kuhns. "It's always really fun and moving to bring people together and then watch their response. Often people are reluctant. They say, 'I'm not an artist.' 'I can't do it.' They will just really hold back. Once you get them engaged and they start, they realize, 'I don't have to be an artist.' When they see it all come together later, they are so excited that they contributed, that they helped make that piece." Additional community created art projects resulted in a mural at Arbutus Folk School and artwork at the Plumb Street Village. "It bridges differences," continues Kuhns, "and really brings people together while they are working on something together."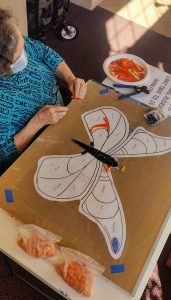 The butterfly mosaic art project followed a similar path. Though completed under pandemic social distancing cautions, the community had many hands in the final piece. During the spring 2021 Arts Walk, participants took turns following Kuhns's design, arranging the small tiles. The site was set up at Arbutus. The finished mosaic piece is part of a renovation effort at the Monarch Sculpture Park and continues beyond the initial phase. Kuhns created the JK Community Mosaics Facebook page to encourage and guide community contributions of additional butterfly pieces to the Monarch park's maze area. The page features YouTube tutorials that guide mosaic design, construction and shipping directions. Volunteers can create their own butterfly mosaic art and ship it to Kuhns to be used in the butterfly maze area.
A half-acre sized butterfly maze is alive and well at Monarch Sculpture Park that follows a lined pathway of shrubs, plants and grasses. An ariel photo on the park's website shows a good view. Visitors follow the maze to its final goal, a bronze sculpture. The garden exhibit itself has begun a transformation, as butterflies do. Artists, amateur and professional, are invited to create and submit butterfly sculpture art to add to the outdoor space. The theme of the exhibit is "We Are All Connected" to represent a positive transformation in the way we connect to and interact with our environment.
Butterflies and other nature images fall in with the folk art, mythology and related symbols that make up some of Kuhns's inspirations. Her big interest in college was cultural studies as well as a focus on mythology. She also finds artistic inspiration from traveling with her husband as they seek out artists and collect art. Home is an inspirational environment too since she lives rurally surrounded by gardens and animals, elements that find their way into new projects. "I like living spaces that are colorful and bright and sparkly," shares Kuhns. "I love creating that for other people, giving people that special, unique thing that makes their environment come to life."
From Jennifer Kuhns's work and her community art activities, what results is something that inspires on many levels. The artist who loves to bring in collaboration of ideas and activity is thrilled to see the events happen. The art loving public, who may not be artists themselves, engage in making a piece of art. Viewing the final result is empowering and uplifting. Those who explore the maze at the park will know the sincerity, adventure and community energy that produced it.