Our local economy has been growing, and part of that growth includes development in industrial and commercial real estate. The Thurston Economic Development Council (EDC), in partnership with the WA State Chapter of NAIOP ( National Association for Industrial and Office Parks), has been hosting a real estate forum for the last 12 years to provide deep industry knowledge and help professionals broaden their knowledge of opportunities and trends in the South Sound region. The 13th Annual Real Estate Forum will be held on October 7 from 11 a.m. to 1 p.m. at the Olympia Hotel at Capitol Lake, formerly Hotel RL. It is $55 per person to register and will include networking at 10:30 a.m. followed by a luncheon featuring guest speaker Didi Caldwell, President and Founding Principal of Global Location Strategies, a national site selection firm.
Thurston EDC Director Michael Cade is excited for the upcoming forum. "We want to broaden the knowledge of the opportunities and the market trends of this region," he explains. "We also want to identify the partners and communities that we will work with." The topics featured in the forum are hugely beneficial to related industries, including real estate professionals, finance professionals, engineers, real estate brokers, and public officials. It can also provide exceptional insight to anyone that simply wishes to know more about what is going on in the market. "We anticipate having a robust discussion of macro trends and about factors that impact our market and what opportunities can be found here," Michael says.
The forum often draws professionals from all over the region because the conversation incorporates national, regional, and local market trends and topics. In order to connect all of these levels together, the Thurston EDC brings in a keynote speaker to comment on and discuss varying sectors and the factors impacting the macro and micro markets. This year, the forum will be featuring Didi Caldwell, the president and founding principal of Global Location Strategies. She will speak to the changing national and local dynamics impacting commercial and industrial real estate decisions as well as factors impacting the South Puget Sound and Thurston County markets. The keynote begins at 12:15 p.m. and finishes around 1 p.m.
The networking component provides an exceptional opportunity to expand local and regional connections across multiple industries. Local vendors also have the chance to promote themselves with booths. "It is a meet and greet where you can build those connections with professionals that  you will do business with here," Michael says. With such a diverse group, there will be a wide range of unique perspectives and robust conversations that will give each participant great takeaways and new connections. If you are interested in having a booth at the forum, contact Thurston EDC Event Planner Holly House by sending an email to hhouse@thurstonedc.com.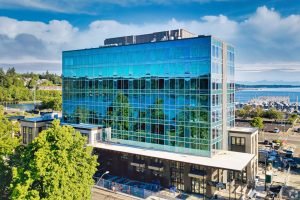 In addition to exceptional conversation and discussion, the forum also features an award every year. "It is focused on an individual or organization that has made a substantial investment into the market here and made a positive impact," Michael explains. The award has a different name every year depending on what the Thurston EDC wishes to highlight. Last year, Views on Fifth was awarded the Transformational Investment Award because of their significant impact on the local market with their luxury apartment complex and commercial real estate development.
After conducting a virtual forum last year, the Thurston EDC is eager to return to an in-person format this year at the newly named Olympia Hotel at Capitol Lake. Bringing people together for discussion is a surefire way to develop new and lasting connections to regional industry professionals and partners. This year's forum will give people the chance to engage in in-depth discussion about commercial and industrial real estate topics and learn from local and national experts. "Our hope is people will walk away with a better working knowledge of the real estate market," Michael says. "People will not only have new contacts in their pockets but also ideas of new opportunities."
This year's event is proudly sponsored by many of our wonderful local businesses. The platinum sponsor is TwinStar Credit Union and the gold sponsors are OlyFed and Port of Olympia. The bronze sponsors are Intercity Transit, SCJ Alliance, and Jensen Milner Cap City Law. The investor sponsors include Heritage Bank, South Puget Sound Community College, and South Sound Business Magazine. The Thurston EDC would like to thank all of these exceptional organizations for supporting the Real Estate Forum and helping bring it back for its 13th year.
If you are in a relevant industry or simply wish to better understand the current commercial and industrial markets with an inside look at the regional economic trends, this is an event you won't want to miss. Be sure to register to reserve your spot!
Sponsored