Children at play are having fun, and at the same time they are learning developmentally at every turn. Playing involves physical skills and making judgements. Am I strong enough to climb over those rocks to get to the beach? How can I pick up jacks without touching the ones I want to save for the next turn? Getting pinched hurts. Cary Hamilton of Olympia Therapy sees what happens when children who have been over protected through their young years are later overwhelmed by anxiety because they are unable to make decisions. "Kids and parents are crashing and burning," warns Cary, who encourages unpredictable play more often to decrease the stress.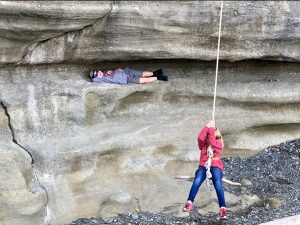 Parents can be challenged to understand that risky play offers big rewards for everyone.
Here's an example of risky play using a family on a camping trip. The kids want to make s'mores. It's alright for the kids to find out that putting a marshmallow close to the fire ignites it. It's okay to let the kids add wood and stir the logs. It's a chance to learn that fire is hot, and more so as you get nearer. Just hearing these phrases "Don't get too close," "Let me toast yours to golden brown," or "You're too young," does not build skills. Parents can teach their children tools. Build the fire together, show how to safely light matches, get a pail of sand or dirt nearby for fire protection, and demonstrate cooking a marshmallow. Let the children participate and watch what happens.
Helping kids acquire skills requires patience from parents. It takes time and consistency. Unfortunately, "Kids don't learn from osmosis," says Cary, who emphasizes that telling youngsters repeatedly to be careful does not really keep them safe. It might be more helpful for them to learn and understand the three points of contact safety rule when climbing, for example.
When a parent continually takes away risks and dangers, kids may initially avoid physical or mental pain, but then they don't learn to make those decisions for themselves. Of course, there are developmental stages and ages. These call for different rules and boundaries, taking a risk still needs to play a part. Children fall when they are beginning to walk. As they go, they learn balance, proprioception, and that it is fine to get up and have another go at it.
No one wants their children to experience undo pain or suffering. That's why it is essential for youngsters to make tiny missteps when they are small and build confidence and judgement along the way. Remember, as time goes by, life's choices and consequences get tougher.
What Are Ways To Engage in Risky Play?
Playing Outside
"Kids who play outside have more emotional stability," says Cary. They are moving their bodies, regulating their brain and getting to know what their bodies can or cannot do. Children grow awareness of their surroundings. That is an important safety tool. Kids who play outside a lot get extra benefits. "They know risk, are critical thinkers and problem solvers," adds Cary.
Cooking
Time in the kitchen is an opportunity to do math, solve problems, make decisions, excite the palate and make an edible finished product. There can be successes, failures, scorched fingers, happy tongues and all sorts of things in between.
Using a Toolbox
Hammers, saws, nails and screws can be wonderful and potentially painful. Building a bird house gives motor and sensory stimuli for brain development. It all helps an individual's competency and self-esteem. "Yes, it hurts to smash your finger," admits Cary, but that is part of the process.
Spending Time with Friends
Kids need time with each other, especially after the months of isolation through the pandemic. They are getting accustomed to being together again, learning to read facial cues and navigating social situations.
Parents need to maintain boundaries for their children, but they don't need to be in their faces 24 hours a day. Ironically, parents lament their kids won't play by themselves but don't see the connection with their own over-involvement. In order to minimize emotional challenges in later life, kids can develop reliance and competency throughout their childhood. These are not given to children. They have experiences and learn it themselves. "Kids are really resilient when we give them the opportunity," suggests Cary, who has a lot of experience working with children and parents. "Sometimes you have to bite your tongue," she adds. Have fun together. It's good for everyone.
Olympia Therapy knows families have challenges. Summer is here and Summer of Connection is getting underway. There are video clips and motivational tips. It's an eight-week session that's free and acts as an introduction to Playful Wisdom. You can contact Olympia Therapy for appointments and the website is full of helpful information.
Olympia Therapy
1534 Bishop Rd. SW, Tumwater
360.357.2370
Sponsored