This year things are getting back to normal and we can celebrate the Fourth of July with some good ol' fashioned fun again, including fireworks! Safety measures are in place at these events to make sure you and your family have fun while remaining healthy. Even better, all these Fourth of July events are free! Be sure to check back here or on the event organizer's website for any up-to-date changes as we get closer the holiday. While our state is supposed to fully open June 30, these events are also following Thurston County Health guidelines and may have different rules. Here are the 2021 4th of July firework displays in Thurston County.
Planning on having a firework show at home? Be sure to check out the Washington State Patrol's guidelines and information resources on which Thurston County cities have firework bans and/or restrictions.
Lacey Fireworks Spectacular
Saturday, July 3
10 p.m.
Free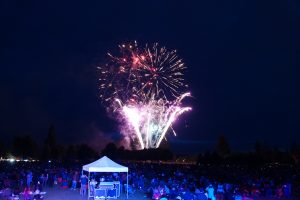 This year, the City of Lacey's Fireworks Spectacular is going to be set up a bit different, but still promises to be a night you won't forget. While they won't be having the concert or activities, they are inviting residents to load up in their cars for a night of tailgating fun! Fireworks will be set off at 10 p.m. at Chinook Middle School. Parking lots for viewing include at North Thurston High School, Chinook Middle School and Envision Career Academy.  Additional good viewing can be found along Martin Way at Safeway, Lowes, Hobby Lobby/Tractor Supply, and the large lot at Capital Christian Church. The lots open at 8 p.m. and the City asks that you don't bring RVs, pets, alcohol, tobacco products, firearms, personal fireworks, or barbecuing (tailgating).
This doesn't mean you can't have a fun picnic in your car, though, or play some games while you wait for the fireworks to start. Think of it as a night picnicking in the car! Short on card games? Gabi's Olympic Cards and Comics in Lacey is a one-stop shop for games and comics that can keep your family occupied while you wait for the fireworks, and it supports local! For food, why not pre-order from your favorite local restaurant and pick it up to go on your way to the firework show? Or, check out Lacey's new food truck court if you want the evening to feel a bit more like the traditional Spectacular.
City of Tumwater's Red, White & Blue Drive-Thru
Sunday, July 4
10 a.m.
Free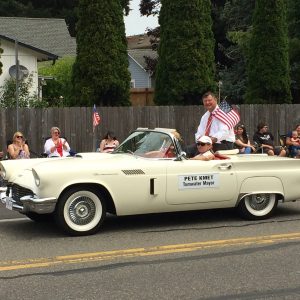 This year instead of the City of Tumwater's parade, they are opting for a "drive by" parade! Get decked out in your red, white, and blue, pile into the family van and head out to see some fun entries, which will be will be stationed around the City of Tumwater's City Hall and down New Market Street. Registration is required and they have three time slots: 10 a.m., 11 a.m. and 12 p.m.
You must remain in your vehicle for the duration of the events. For more information visit the City of Tumwater's website.
Thunder Valley Fireworks Show
Sunday, July 4
10:15 p.m.
Free
Back for 2021 is the incredible Thunder Valley Fireworks Show. It's been called the "biggest and best" fireworks in Thurston County. Presented by Nisqually Red Wind Casino, the fireworks will start at 10:15 p.m. on the July 4. You can find optimal viewing at Tumwater Hill and North Street area, according to the City of Tumwater. Otherwise, find your own great spot, cuddle up with your honey or a cup of coffee and enjoy the show! For more information visit the City of Tumwater's website.
Independence Day Celebration
Thursday, July 4
7 p.m. – 11 p.m.
Cowan and Memorial Stadiums
Free
If you are a DOD ID card holder, you can attend this special Fourth of July event at JBLM. There will be food truck vendors, so come hungry! Fireworks will start at 10:15 p.m. Masks are no longer required for those who are fully vaccinated. Be sure to park in authorized spaces only. For more information visit the JBLM website.