In 1938, audiences gathered around the living room Victrola to hear a spooky radio theater production of Orson Wells's "Dracula." Adjusting to pandemic restrictions and in the spirit of old-time radio, the Yelm High School Drama Club performs Wells's script for a listening audience, chilling listeners over the internet. The show was produced in an online streaming format, beginning June 4, starting at 7 p.m. and running to 12 a.m. June 7 through the Yelm High School link. Classic radio drama intersected with new technology complementing the talents of a dedicated, hard-working group of students.

Every spring the club puts on a play or musical in the school's performing arts center. However, packing the theater with an audience and gathering actors in front of the stage lights was not an option. Due to COVID-19 pandemic safety regulations, interactions came to a halt until new avenues were found. The Yelm High School Drama Club adapted and used Zoom video conferencing for rehearsals. The club, eager to perform and hone their skills, utilized the Wells's script and planned for a combination of retro and nuevo. Furthermore, their Director Beth Olson usually features a supernatural play or musical in the spring, such as past productions of "Zombie Prom" and "The Addams Family." With a few edits for length, "Dracula" was a good fit for putting on a paranormal spring production over the internet.
"It has been really rewarding to be able to do something," says Yelm High School drama and English teacher Beth Olson about not being able to put on plays during the pandemic. "I wanted to make sure the graduating seniors had an opportunity to get something on their resumes. Theater is nothing if not adapting."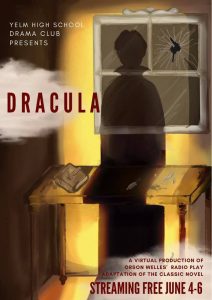 Ready for a new approach, the audition and selection process got underway, yet generated much of the familiar energy. Day one of the audition process arrived and applicants read lines aloud through Zoom. The level of eagerness rose on day two when a list of call back names was posted. At the call backs, students demonstrated how they might fit a particular role or interact with other actors in their roles. Finally, the final cast list was expected to be posted. In years past, Olson encountered students waiting near the hallway bulletin board, hoping to see the names of the final cast. Now a digital affair, the emails rolled in from those wanting to know when the cast list would be posted online.
Production began, and students settled in to rehearse and record from home. Costumes came from whatever they had on hand, enhanced by a raid of the drama club wardrobe. All recordings were compiled and produced by former student Matthew Tolar who arranged video frames of students pertinent to the scene and created a thematic backdrop to replace the black surround of a conference screen. Instead of Wells's traditional foley artist sound effects, computerized sound effects were selected for each scene.
The actors took the stage to screen adjustments in stride, recognizing the benefits of change. They faced their audience more closely, stage front on a computer screen instead of separated by an orchestra pit.
"It's been interesting," says Ilan Azpilicueta, who plays Dracula. "We can change the script for the time period or sound. Manipulating the script takes some of the pressure off."
"I had to work on facial expressions since they will be seen closer," says Suzie Kofoed, playing various roles including sound effects assistant.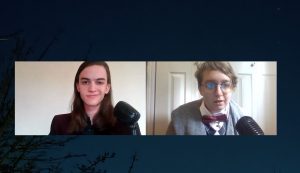 "Facial expressions are more influential than physical movement," says Tessa Jordan, taking the part of Van Helsing. "Our vocal expression is as well because of its roots in the radio play."
While Orson Wells's "Dracula" is in the public domain, it remains a classic, and debate surrounds any literary interpretation and new rendition. Again, the students immediately recognized the benefits of change and adaptation.
"It is good not to listen to the show," explained announcer Max McDaniels, "because it gives us more license to be creative. You don't need a stage or a radio booth to have a show. A lot of us are playing characters that you can have anyone play the part, as long as you know what you are doing."
The cast emits energy and zeal for not only their individual roles but for being able to share their production to such a broad audience, one that goes beyond the visible theater seats. Future drama club members are likely audience members in such a performance.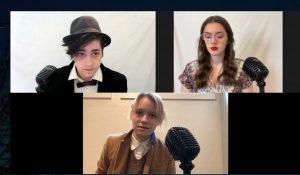 "I hope the audience recognizes how many small roles we have in our show," shared Koefoed, "and I hope the younger audience will also know how important each role is no matter how small or big it is."
"It is more accessible to younger kids with it streamed," added Jordan who is also part of the design crew. "I hope it encourages them to sign up."
After all of their efforts to obtain a role in the production and their invested hours of rehearsal, all of the digital footage was in the hands of the editor. In unprecedented times and in an unprecedented method for the club, cast and crew pulled off another spring production.