This last year has come with its fair share of hardship, forcing small businesses and organizations in our community to overcome many new and unpredictable obstacles. Their resiliency through these difficult times is admirable, and the Thurston Economic Development Council (EDC) wants to highlight these amazing efforts. The Thurston EDC is awarding the Economic Courage Award to nominated local businesses and organizations, and is also putting together a summer celebration for the community called the Hootenanny. This event will be held on July 22 from 3 p.m. to 6 p.m. at the Thurston EDC Center for Business and Innovation, located at 4220 6th Avenue SE.
The Hootenanny will be a great way to celebrate a year of survival and adaptation in our local community. Holly House, event manager for the Thurston EDC, is very excited about having the chance to bring people together to celebrate. "Every year we do a formal gala, but this year it felt like we needed to let loose and boogie," she says. The Hootenanny will likely feature delicious barbecue, local bluegrass band The Oly Mountain Boys, and fun activities such as a dunk tank, corn hole and a petting zoo. Be sure to register so you can join the fun!
In addition to good food, fun, and music, the Thurston EDC wants to capture stories of the last year from our tenacious business owners and nonprofits. "We want to celebrate the courage we all needed just to stay in business this year," Holly shares. This prompted the Economic Courage Awards, which will be given to nominated businesses and organizations in our community that displayed economic courage and resiliency during this last year. We all know people that have adapted and gone above and beyond during these challenging times, so you are encouraged to nominate a local business or nonprofit for the award.
To kick things off, the Thurston EDC's Executive Director Michael Cade nominated Morningside, which is a nonprofit that has been headquartered in Olympia since 1963. Their focus is helping people with disabilities find jobs and supporting them during their employment. When the pandemic hit, the individuals they serve immediately experienced a huge shift. "Working from home was not an option, transportation became limited, and options for employment interactions dwindled," Michael says. "The leadership team of Morningside chose to develop efforts beyond their regular programs to ensure that their clients stayed connected with the world that was quickly closing to them."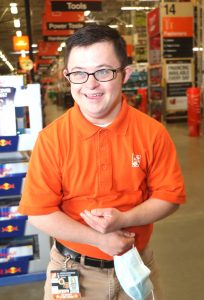 Jonathan Pleger, president and CEO, has been with Morningside for 10 years and is extremely impressed with his staff's creativity and adaptability to continue serving their clients over the last year. Once guidelines had been established, Morningside began developing processes to serve their clients remotely. "We had a number of clients that were considered essential in janitorial or food industry roles, and we had to be able to support them," Jonathan says. "Our IT department worked very hard to make all of that possible."
Individuals with disabilities are already overcoming great adversity to gain employment and stay active in the community. "Individuals with disabilities saw overnight their vulnerabilities exposed at a greater extent and a disproportionate impact," Michael says. When the pandemic hit, some lost their jobs or were kept in lockdown because they lived in adult family homes with people that were more susceptible to COVID-19. Someone may already be feeling isolated due to a disability, so being unable to leave the house to even go to work made this even more difficult. To help counteract this, Morningside job coaches remotely conducted regular check-ins and coached clients on ways to stay healthy both physically and mentally while unemployed.
Morningside, like many businesses and organizations, faced difficult challenges in order to continue to serve the community. "I think we have become more efficient as a result of this," Jonathan shares. "There are people counting on us, so we figured out how to adapt and expand to continue to help them." One of the most noteworthy additions in the last year is the development of the preemployment transition services, which helps high school students gain skills and locate opportunities for their desired career. "The Division of Vocational Rehabilitation (DVR) has been a good partner and supported us," Jonathan shares. "A lot of students were slipping through the cracks, so DVR was anxious to get this program out for them."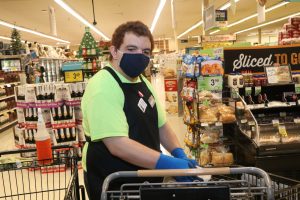 Despite the strides and adaptations Morningside has made during this time, they are eager to return to in-person services once it is safe to do so. "This really reinforced the person-to-person necessity," Jonathan says. "We will still use Zoom and Microsoft Teams to do quick check-ins with clients that might not need as much support, but as soon as things open up, we will gradually return to more in-person services." Morningside's staff, leadership, and clients have all displayed exceptional resilience and adaptability during this last year, which is why they have been nominated to be one of the Economic Courage Award recipients at the Hootenanny.
The combined efforts of our community are truly commendable, and the Thurston EDC is proud of the businesses and organizations that have risen to the challenge and overcome. "We also recognize the businesses that didn't make it," Holly says. "Like a phoenix rising from the ashes, people that created businesses once will do it again, and we will be here to help." The Thurston EDC would greatly appreciate your support to celebrate this resiliency, and they look forward to seeing you at the upcoming Hootenanny to present more Economic Courage Awards.
Sponsored