The weather is warming up and it's time to get your Thurston County garden in order! But where to start? It can be tricky to know what plants will work best in your soil, amount of daily sun or just choosing between evergreen and deciduous, annual and perennial. That's where the experts at local Thurston County nurseries come in. They know our environment and can help you pick out the best plants, whether you are looking to create a stunning afternoon tea garden, an indoor plant oasis, a vegetable garden, or a kid- and dog-friendly yard. To get started, head to one of these plant nurseries and garden centers in Olympia and surrounding areas.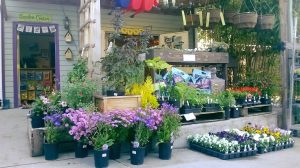 Olympia Food CO-OP Garden Center
921 Rogers Street NW, Olympia
360.754.7666
You may not realize it, but the Olympia food CO-OP has a great garden center full of "organic and ethically sourced garden and urban farm supplies." Even if you live in the city, you can find everything you need to grow a small vegetable garden on your patio or to keep chickens. While the main garden center is at the westside location, the eastside does carry a lot of the products as well.
The Plant Place Nursery
​3333 South Bay Road NE, Olympia
360.870.8999
The Plant Place Nursery sells both retail and wholesale for those looking to relandscape an entire yard, or just add a few new plants to their garden. Owned by Puget Sound Landscaping, which has been operating in Olympia for almost two decades, it's safe to say they know plants and our local soil, and how best to pair the two for a beautiful garden that grows.
The Barn Nursery
9510 Old Hwy 99 SE, Olympia
360.943.2826
If you are looking for plants as well as garden decorations, gifts and homemade items, a stop into The Barn Nursery is a good choice. They have everything from edible plants and roses to shrubs and flowering trees. Inside you will find all sorts of garden décor and gifts, including pottery, pillows and local honey.
Eastside Urban Farm & Garden
2326 4th Avenue E, Olympia
360.972.2993
If you want to eat what you grow, Eastside Urban Farm & Garden boosts over 130 varieties of fruit and nut trees, plus tons of herbs, vegetables and other edible plants. This garden center in Olympia focuses on "organic, holistic & regenerative agriculture and homesteading practices in both the products we offer, and the information we provide." So, if you are looking into organic farm-to-table and don't know where to start, they are good people to ask.
Bark & Garden Center
4004 Harrison Avenue NW, Olympia
360.352.2955
Bark & Garden Center in Olympia has a wide selection of plants, including those for inside as well as outside. Maybe you want to try growing a dwarf lime in your sunroom or have always wanted a majestic magnolia in your front yard. Their knowledge staff can help if you are unsure what plants will work in your soil. Be sure to check out all their charming garden décor as well, found throughout the center. If you are looking to add whimsy to your garden with some unique lawn ornaments, don't skip this place.
Ornamental Grasses of Puget Sound
2009 South Bay Road NE, Olympia
360.507.8403
You may think of grass as boring, but it can be quite the statement in a garden when the right type is selected. Ornamental Grasses of Puget Sound offers many ornamental grasses and groundcovers, as well as native shrubs, ferns and other plants. They have over 50 varieties of low maintenance ornamental grasses for you to choose from and with 40 years of experience, can help you when making your choice.
Underhill Plants
301 4th Avenue E Olympia
underhillplants@gmail.com
No yard? No problem! You can bring some green inside with house plants that release oxygen back into your home and can even help filter the air—the philodendron is a good choice for this task. Underhill Plants is an indoor plant store in Olympia that can help you find the perfect plant for your space. From low maintenance cacti to beautiful lilies, they have something for everyone.
Gordon's Garden Center
308 E Yelm Avenue, Yelm
360.458.2481
For over 30 years Gordon's Garden Center in Yelm has been helping people beautify their surroundings. Be sure to ask for Kellie, "The Rose Queen," should you have any questions about this favorite bush. They offer design consultation for those looking for a complete re-do of their yard. Check out their gifts, containers, baskets and all the gardening supplies you need while you are there. This garden center in Yelm also has organic veggie starts and organic seeds.
Scatter Creek Nurseries
17101 Vircon Drive SW, Rochester
360.273.6730
Scatter Creek Nursery is a seasonal nursery that carries a variety of small plants and hanging baskets to spruce up your yard after the long winter. You can definitely add some color to your yard after a stop here (ask to see the super bells!). They also have fun events throughout the season including Mother's Day events and a petting zoo for the kids! Check their Facebook page to see when they open for the season.
Black Lake Nursery & Feed
3617 Black Lake Boulevard SW Suite C, Olympia
360.878.8354
During the spring and summer, Black Lake Nursery & Feed has a seasonal plant nursery. This is a good stop if you need to pick up some feed for your horse, dog or pig while shopping for your garden. They have lots of supplies to help you get your soil ready as well.
Lael's Moon Garden Nursery
17813 Moon Road SW, Rochester
360.273.9567
Come take a walk through Lael's Moon Garden Nursery and just relax for a bit. They have a lovely display garden to walk through that is just heavenly in the spring, summer and into fall as the leaves change. This plant nursery in the Olympia area offers over 1,000 varieties of plants, from shrubs and trees to edibles and perennials. They can help you select the right plants for your soil and offer plenty of gardening tips too.
Jason's Greenhouse
11337 Bald Hill Road Se, Yelm
360.458.2412
Jason's Greenhouse grows all their own plants and is a great place to go and meander through the rows of beautiful color. They have a myriad of choices, from trees and shrubs, to vegetables and annuals. For 20 years Jason and his staff has been helping families choose the right plants for their home.