Since February, rain or shine, you may find certified life coach Molly Knutson-Keller on a long walk, deep in conversation with someone seeking personal or professional guidance. Knutson-Keller, a former long-time associate pastor at Olympia's Gloria Dei Lutheran Church, recently opened a movement coaching business, WalkTalkCoach. This new personal coaching enterprise combines her love of walking outdoors with her mission to help people advance through life's challenges, including stress caused by the COVID-19 pandemic.


Knutson-Keller says the idea to launch a walk-and-talk coaching business developed while on her regular walks with a friend in California, before she and her husband Doug and children Betsy and Dexter moved to Olympia many years ago. "I am a serious walker," she says. It felt natural to her to employ that type of exercise as a life coaching platform. "The idea of using the mind/body movement for transformation never left me." A walk she took with her son sealed the deal. "My son was a big influence on me," she adds. "He said, 'Mom, when we go on walks it is like therapy for me.' He was only 16 or 17 then."
Knutson-Keller explains that life coaching on relationships, careers, parenthood, health-related troubles, or other issues, while walking, enables the client to have a mind-body connection which leads to clarity and self-discovery. A 2008 WebMD article validates this approach, describing that many scientific studies show the positive effects of exercise on the brain. The article explains that counselors are pairing outdoor movement with coaching and therapy, incorporating principles of sports psychology and the restorative benefits of nature. A 2013 American Psychological Association article likewise backs the walk and coach method. The article says research shows that creativity, self-awareness and other positive therapy outcomes can increase during movement.
While the idea for WalkTalkCoach has been percolating with Knutson-Keller for years, she notes that it took her a while to start up the business. "It takes me a long time to make a change," she says, "and I need to do a lot of research and planning."
To that end, she did her homework before pivoting to a personal coaching business. She considered that she had gained extensive counseling experience not only at Gloria Dei Lutheran Church, but also while serving as pastor at homeless shelters, a prison, a hospital and on a college campus.
Knutson-Keller's education also prepared her for her new venture. She has a master's degree in divinity. She is a certified life coach through the Certified Life Coach Institute and is pursuing her International Coaching Federation credentials through the Deep Coaching Institute certification program.
On the operational side, Knutson-Keller worked with the Washington Small Business Development Center's Jennifer Dye in Lacey to learn successful strategies for a new small company. Knutson-Keller launched a website, opened a Facebook page and Instagram account, and started a blog. Knutson-Keller also resigned her long-time associate pastor position. She weighed continuing to work at the church part time. "But I decided to go all in," she says. She opened her full-time business this winter.
This timing seems just right. With COVID-19 causing unique and historic global traumas, personal coaching can be a tool to help alleviate today's pressures impacting family and work. "Maybe COVID-19 has gotten you down," she says. "Maybe you sit at your desk all day and want to get your movement and coaching in at the same time, or you don't like the idea of traditional therapy."
She describes that dealing with COVID-19 stress can be extra difficult when people have restricted their personal outlets in order to comply with quarantines and other pandemic protective measures. "Our circles are smaller," she explains. "And, we are all in decision-making fatigue. Can I let my kid do X, Y or Z? Every decision has a ripple effect. Things that we would normally do (before COVID-19) now take so many decisions." She says getting outdoors to safely walk while social distancing, and confidentially talk with someone independent from the person's bubble, can help both physically and mentally.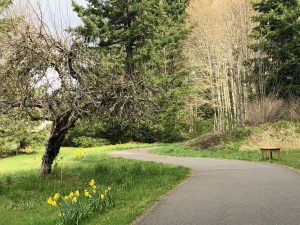 Knutson-Keller's clients set their walking pace during sessions. No level of fitness or stamina is required. She conducts coaching sessions at Ken Lake, the Ralph Munro Trail, the East Bay Trail, Priest Point Park, the Chehalis Western Trail and other local walking routes. Given the variable Northwest weather, she gently reminds clients to wear the right gear, although she also keeps umbrellas handy. She provides indoor and online coaching options if needed, including for clients who may have physical challenges that affect walking.
Personal coaching sessions typically last one hour and pricing information is on her website. Clients may choose a one-time coaching session, or multiple or recurring sessions. Knutson-Keller remains an ordained minister and all sessions are confidential.