According to a study by the Temple University's Hope Center for College, Community, and Justice, more than half of Washington community-college students had trouble paying rent and nearly one in five reported being homeless and having to sleep outside, in a car or at a shelter. Another 40% reported going hungry or not being able to buy nutritious food.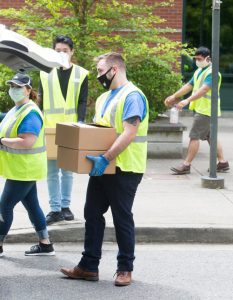 That survey was conducted in 2019.
If those numbers were so dire before the pandemic struck, we can only imagine what they look like in 2021. South Puget Sound Community College (SPSCC) has responded to the findings, increasing wrap-around student services for everything from basic needs to technology and counseling. The school's Personal Support page provides links to assist with childcare, financial resources, food, housing, transportation, veteran support and the campus Diversity, Equity and Inclusion Center (DEIC).
A button linking to the page is prominently placed on the SPSCC home page, an intentional move according to Dean of Student Engagement and Retention Jennifer Manley. "We put this icon front and center because we wanted to make sure that students were able to access resources without having to do a lot of site navigation," she explains. "We've had less face-to-face interaction in the past year, so this is our way of making it easier to get personal support."
Near the start of the pandemic, SPSCC was awarded a grant as part of a pilot program through the State Board for Community and Technical Colleges. The Supporting Students Experiencing Homelessness (SSEH) initiative provides $131,000 over two years for basic needs such as laundry, shower facilities, meal plans, short-term housing or housing assistance and case management services.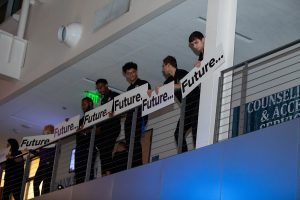 When students click on the Housing and Basic Needs link on the Personal Support page, it will lead them to an application. The next step is an intake phone call with Lehualani Keka or one of her colleagues. "That's when we're able to hear the story behind the application," she says. "It's so important in helping us to customize a personal support plan and create action steps." Keka is one of the case managers for the SSEH program who handles those calls. As the campus Able-Bodied Adult Without Dependents (ABAWD) navigator, she is already familiar with how to connect students with off-campus resources. "There are so many different things people need help with," she says. "It could be as small as paying a $50 phone bill or as big as paying a $2,500 rent bill. I have connections with local food banks, the Family Support Center and the Community Action Council. It's about connecting with the students and hearing their stories to figure out which route we need to take."
When students click on links such as childcare or technology, they aren't required to fill out an application but are instead walked through a multitude of resources, some on campus, some not. For example, depending on the need, a parent might be directed to on-campus childcare, the Women, Infants and Children Nutrition Program (WIC), the Washington State Department of Children, Youth and Families, or ChildCare.gov (for military families).  "Students can customize and navigate the site based on the resources and services they need," says Manley. "Of course, they can still reach out to Lehualani or me, or to the specific departments to get more information."
Once a student has contacted the Personal Services department, case managers do weekly check-ins to offer support and monitor action items. "We're very hands-on in that way," says Keka. "We don't want to let go of anyone until we know they're on the right path and don't need us anymore." Typically, she meets with around seven students per week and does intake procedures for an additional one to three new applications.
The South Puget Sound Community College Foundation is another key source of funding for emergency resources when students apply for basic needs. They offer up to $500 for expenses like medical bills, utility bills and car repairs. "It's everything you can think of, as long as you have a receipt to verify that need," says Keka. The Foundation also provides technology grants for items such as computers, laptops, or even headphones. Once students have reached their final quarter at the college, they can apply for a completion grant of up to $1,000.
Although the pandemic has exacerbated the challenges SPSCC students face, it didn't cause them. "There's always been a need," Keka points out. "Now that COVID is here, we're just shining a light on it. We see students in this vulnerable state because we're in the middle of a pandemic, so the first thing we want to do is make sure they know they're not alone. There is somebody here cheering them on."
Learn more by visiting the Personal Services page on the SPSCC website.
Sponsored