Legal and judicial decisions are being made behind the scenes each day. Some remain relatively unknown while others impact many cases and lives. The recent State of Washington versus Shannon Blake decision is one of the latter. Some of Thurston County's most influential legal minds explain what it means and what happens next.
In this case, police found a small baggie of drugs in the coin pocket of Shannon Blake's jeans, and charged her with drug possession—a felony punishable by up to five years in prison and a hefty fine. But Blake stated she did not use drugs. She said her friend purchased the jeans secondhand and gifted them to her two days prior. Although Blake claims she was unaware of the drugs, she was found guilty because Washington law does not require proof that a defendant knowingly possessed drugs.
On February 25, 2021, the Court concluded the law unconstitutionally criminalized "passive and innocent nonconduct" and that Ms. Blake was convicted although the prosecutor did not prove that she "did anything except wear jeans that had pockets." The Court expressed concern that the law could extend criminal liability to those who "pick up the wrong bag at the airport, the wrong jacket at the concert, or even the wrong briefcase at the courthouse. Or a child might carry an adult's backpack, not knowing that it contains the adult's illegal drugs.'"
The Court's opinion "potentially invalidates any conviction for unlawful possession of a controlled substance going back to the first enactment of that statute in 1971," says Jon Tunheim, Thurston County Prosecuting Attorney.
Patrick O'Connor, director of public defense, admits that "The Blake decision will affect thousands of people's lives. The scale of the decision is so far reaching that we're still processing the impacts. Thurston County Public Defense is leading the effort to identify everyone in Thurston County who is currently in prison where the Blake decision requires a vacation of any unlawful possession of a controlled substance conviction. Many individuals will also need to be resentenced to a lower sentence as a result of the decision."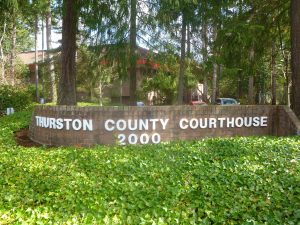 Going through this many cases won't be easy. "It's a heavy lift for us so we're approaching these tasks in phases," says O'Connor. "The first phase is underway, which is to identify those incarcerated at the Department of Corrections who are entitled to immediate relief. We've already identified 125 individuals who will impacted by the decision but it's just a start. Due to the pandemic, our trial attorneys are already overwhelmed with pending cases so it's been challenging to dedicate resources to respond as quickly as we have in the short term."
Presiding Superior Court Judge Erik Price agrees that things will take time. "Meetings are ongoing with local and statewide community justice partners to discuss the impacts of the Blake decision. While we know these impacts will be significant, including addressing pending cases, vacating convictions, reviewing legal financial obligations, and the likely resentencing of thousands of cases, we don't yet know the full consequences, or how our other court operations will be affected. The Courts and other justice partners are also actively working with the state to explore the possible fiscal and personnel resources available to respond."
Along with vacating convictions, some individuals may receive reimbursement for their court costs. But, explains Tunheim, "Ultimately, it is a judge who decides whether the person qualifies for a refund but often the court will accept an agreement of the parties. The latest estimate I've heard is that these refunds in total may exceed $155 million."
Going through all relevant cases will take time, especially considering tremendous COVID-19 backlogs. "The primary issue from this decision is that it could not come at a worse time," admits Tunheim. "Even though it eliminates drug possession cases from the system, the re-sentencing of cases required by this decision adds an incredible amount of work to a system already overburdened with backlogged cases that could not be pursued during the pandemic. We estimate it will take many months if not years to fully address all of the affected cases."
But that doesn't mean impacted individuals should wait. Though slow moving, a system is already in place, says O'Connor. "Immediately following the Blake decision, Thurston County Public Defense established a data base to track requests from the public," he continues. "Our staff have been receiving hundreds of phone calls and messages from former clients over the past several weeks impacted by the Blake decision. We have been dedicating resources to assist anyone who is eligible for such relief and we will continue to assist former clients."
Navigating the legal system is complicated. If you think State v. Blake impacts you, reach out today. To start the process, O'Connor advises anyone with a prior conviction for unlawful possession of a controlled substance here in Thurston County, please contact our office at 360.754.4897 or email chloe.sagara@co.thurston.wa.us with the subject line, "vacate my conviction." "We will take your information and your case will be reviewed by staff in the weeks and months to come," he says.
Sponsored