When Buds & Blades Landscaping owner Rick Longnecker brought his team to Penrose & Associates Physical Therapy in Olympia at the beginning of the season, he wasn't sure how they would respond. The goal was for them to learn about stretches and safe ways to perform job-related tasks that could prevent injury. As often happens with mandatory work-related training, Longnecker expected there would be some resistance.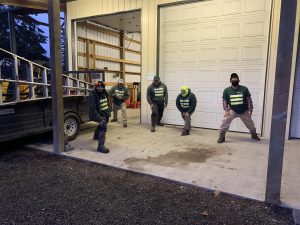 Ten months later, that resistance has not materialized. "I thought there would be guys that would buy in and others that wouldn't do it at all," he says. "That wasn't the case. Every morning we're doing stretches before they hop in the trucks and head out." 
Buds & Blades has been recognized by the National Association of Landscape Professionals for its safety record, but still, injuries would happen. Then, while he was considering ways to minimize risk, Longnecker's back went out. He experienced spasms and was sometimes unable to move for days at a time. Seeking a solution, he found Penrose & Associates and was impressed by their treatment methods. 
"They take a holistic approach," Longnecker explains. "They look at what's going on and how to get you so you're not hurting, but also how to prevent this from happening in the future. They gave me realistic exercises that are easy to follow and remember, and applicable to what I might be doing in my job." 
He was inspired to share that information with the rest of the team. In March, the whole staff spent several hours at the clinic learning exercises and being assessed for functional movement. A few weeks later, the Penrose group visited them on the worksite to observe how they were performing various tasks. "They showed us what we were doing wrong and what we were doing right," says Longnecker, "along with tools to correct problems and ways to prevent injuries.' 
Approximately 80% of Buds & Blades staff are native Spanish speakers. Fortunately, one member of the Penrose team is also fluent and could explain everything to the group in their first language. "That really helped to bridge the gap," says Longnecker. 
Since that early training, the company has had no injuries related to muscle strains. Moreover, the daily stretching has formed a sense of community among the workers. "The guys are in a better mood in the morning," Longnecker notes. "It gets us all on the same page and promotes a bit of wellness." 
He appreciates Penrose & Associates' customized approach to care. "It was geared toward our vocation," he says. "They took that into consideration and then encouraged us to get on a better trajectory. It wasn't like, 'Here's where you are. You have to live with it,' but instead, 'Let's get you well and put you on a better path.'" For more information or to schedule an appointment, visit the Penrose & Associates Physical Therapy website or call 360-456-1444.
Sponsored