Running and robotics. Ask Roberto Andino what his interests are and you are likely to find these two different-than-day-and-night activities towards the top of his list. And as much as he has enjoyed participating in both over the last four years, the Timberline High School senior never thought the two would intersect. How could they? It's running and robotics.

"Yeah, it's definitely two things I didn't think would go together," Andino admitted.
Well, you can credit this year's cross country season with merging two of his favorite past times.
Andino, who participated in the 3A state championship meet last year as a junior, competed in his final high school cross country season this year in a self-designed mask. He estimates the project took two to three months to create with his final mask being his estimated 10th version.
"I was just dissatisfied with the quality of regular, cloth masks and other three-layered surgical masks," said Andino. "They were really difficult to breathe through. They would get stuck in your nostrils, and basically suffocate you if they got wet. Another common problem was they would fall underneath the nose which negates the purpose of wearing a mask."
So, with a skillset in 3D printing, 3D modeling and prototyping combined with a comprehensive background in robotic engineering and technology, Andino set out to upgrade his mask while training for the start of his final cross country season.
"I built the mask because I just wanted something I could train with," Andino said. "Another problem I had was my glasses were fogging up. I was completely useless when my glasses would fog up, and when I take them off I can't see anything."
His first step was to print off a standard mask designed for runners from the school's 3D printer in an attempt to see what everyone else was doing. Tweaks, adjustments and improvements were made over the following weeks with Andino's new design redirecting airflow away from the bridge of the nose and out the bottom and sides.
"I went through quite a lot of versions. This one is somewhere around the 10th," Andino said about the mask he wore during the season-ending South Sound Conference South Division championships at LBA Park.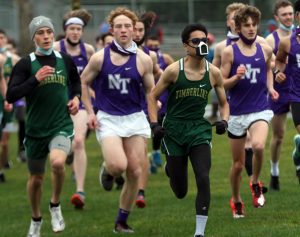 With his own personally-made mask secured in place, Andino capped his high school cross country career by finishing 11th at the championships meet, covering the 5,000-meter distance in 18 minutes, 4.5 seconds.
"The four years that Roberto has been here, he's been a tremendous leaders," Timberline Coach Kevin Gary said. "This year in particular. With COVID going on and us coaches not being able to coach athletes in the offseason, he was the one for us who stepped up, led in with workouts. He took that leadership role and took it to the next level."
When Andino wasn't busy fine-tuning his masks, he was taking the reins on the Blazers' program, guiding the young team through workouts.
"It was something I wanted to do," Andino said. "I saw everyone was down mainly because the lockdown lasted for so long and no one was really running that much. I thought running would bring people together and motivate them. If we had a season. I wanted us to be ready for it. That's why I did it."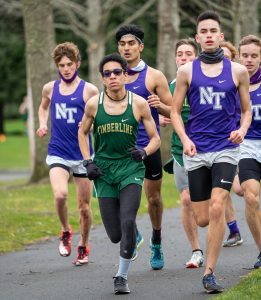 Andino's leadership paid off immediately for Timberline as the boys squad opened the season by earning Team of the Week honors by The Runner WA after defeating Capital for the first time in 37 years. Andino placed second overall in a personal best time of 16:44.3 for the 2.84-mile race, which also earned Meet of the Week by The Runner WA.
"It was really satisfying (to receive Team of the Week honors) because I had a hand in training the team," Andino said. "It was really important to me that I got to do all four years (of cross country). I thought I was going to lose this last year. I just tried to do my part by going out and running as hard as I could and pushing the team."
Andino was one of six Timberline runners to compete at the conference championship meet. Sophomores Riley Wilson (18:55.3), Ryan Lambert (19:28.4), Jacob Linggi (21:50.8) and Ethan Hong (22:10.0) joined Andino and senior Kodi Smith-Cruz (22:11.9) as meet participants.
"We're just kind of building it step by step. For us it was huge just to start beating some teams. We set smaller goals this season and then we will try to build on that for next year's squad," Gary said about the program. "If I had to sum it this season, I'd say we've improved and we've definitely made some gains this year that we can look forward to paying off next season."