Students at Jefferson Middle School in Olympia are rolling out a hilarious sitcom full of laughs. They are writers, camera operators, lighting and audio technicians, editors and producers. They are also resilient collaborators and inspirationalists. While the catchy sitcom, "The Studio," tells a humorous story, a closer look also tells their heartwarming story of talent and perseverance.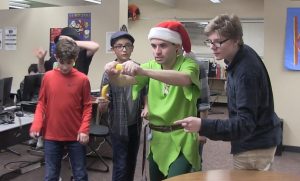 "The Studio" may have been inspired by the popular television series "The Office," but it is a production that has very much taken on its own identity. It started in Jonathan Moore's visual communications classroom at Jefferson, where he supports the students in an after-school program. Moore is the school's audio-visual communications teacher. The purpose is to impart television filming to middle school students and create a show for the community. The hope is that it will serve as a bridge into high school programs. Moore leads and guides the student-driven production, and they create, troubleshoot and make the decisions. He describes "The Studio" as an experience and is impressed with the team's performance, what they can create and accomplish.
"The amazing thing is that we have such a diverse group of students from so many different walks of life coming together for one shared experience," says Moore. "But, most important to me is the ability this program has to allow students to teach their fellow students. Older students are able to teach younger ones and pass along their knowledge. This program is about creating a legacy, learning new skills and abilities, and then being able to spend the rest of your school career giving back to the new students, teaching them better than I could ever hope to teach them."
The Creative Team
Charles, executive producer, creator and head writer writes the scripts, and the team discusses and configures plans for filming. The students have invested thousands of hours, and their very dedicated writer has invested into the tens of thousands of hours. A lot of paper gets used for scene sketch drafting and re-drafting. Symbols and icons represent cameras, microphones and people. Spreadsheets are involved. The result is an overhead view of the room, a map.
"It's super fun to work with my team," says Lucas, director and producer of "The Studio." "When I come in after school, I know it might be a rough day, but I know my friends and I will enjoy the work we did at the end of the day. It takes time to plan together. Everyone has these amazing ideas that they've envisioned. We have to be very patient and open to each other's ideas."
Every one to two weeks, the cycle is repeated very much the same way television sitcoms and weekly dramas are produced by Hollywood entertainment companies. Every week, two new scripts are written, a shot list made, new sketches drafted, and then they shoot the scenes.
"It's very fun working with 'The Studio' crew to overcome challenges," says Sawyer, the show's director, "because we always listen to each other's opinions even if we don't agree with them. It takes a lot of patience to be able to do this kind of project because everyone has to be satisfied with it to move forward in the operation."
Dedicated to their craft, the students studied a variety of traditional television sitcoms, watching the episodes carefully. Head writer, Charles, suggested the show's homage to "The Office." Jimmie, chief editor and producer, watched, or studied rather, every season of the series. The wit from classic sitcoms and famous movies is sprinkled throughout the scripts. "This is my brother Daryl, and this is my other brother Daryl," will get a chuckle from fans of the "Bob Newhart Show" for sure. This team recognizes clever humor and catchy lines, so what do they prescribe to make a good situation comedy?
"Humor," claims Charles. "That's really the most important thing. You can have different characters, different moods, themes, but it all has to come back to laughter. If you have writers who understand the actors, and actors who understand the writers, the relationship is symbiotic. We are fortunate to have that in The Studio."
"Definitely the writing," says Oscar. "The comedy and jokes are incredibly important to keep the audience engaged, but a clever and cohesive plot are necessary to keep the show held together and smooth."
"Editing," says Jimmie. "People tend to look over it because some take it for granted when it is good. You can have the most problematic clip but can still fix it with the power of editing and I think that goes uncalled for most of the time."
Facing Adversity and Redoubling Efforts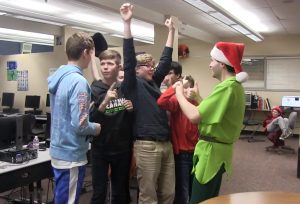 In March of 2020, the fast-paced studio life came to an abrupt halt with the COVID-19 school closures. Each member of the team remembers the details and emotions of that afternoon, realizing they would be separated, and their program paused indefinitely. Everyone went home despite their scheduled scene shoot for that afternoon. They had hours upon hours of digital footage but had not finished every scene. However, creativity cannot be capped, and the team set about finding a way to work together, continuing to meet virtually throughout spring and summer. With no in-person opportunities for new scenes or retakes, they had to work with existing footage and take a clever approach to filling in the gaps. They created scenes remotely and seamlessly added them to the already existing, yet incomplete, episodes.
The Future
The students are open to the show taking the lead and becoming what it will, to organically develop. Some of them consider careers in the filming and video technology industry. Their experiences with creativity and technology have allowed them to consider the possibilities.  Oscar, director and producer, initially was a camera operator doing some occasional acting, then went on to directing and more acting. Whether this team goes on to the media industry or another direction, the value of the skills and experience is priceless.
"It takes a special type of dedicated individual to write smart comedy, act smart comedy, and edit it in such a way that it maintains its intelligence, its wit," shares Moore. "Dick Van Dyke, Mary Tyler Moore, Bob Newhart, they all had stellar writing and acting teams. We're fortunate to have that in 'The Studio.' This is the hardest working group of individuals, of any age, I have ever worked with in my life, and I hope people can see how much time and energy they have put into the creation of this show. They believe in what they are doing, and I believe people will see the thousands of hours, the incredible attention to detail, and the heart that went into this show and really appreciate it."
Be on the lookout for this team and their work, not only on the screen in your living room, but perhaps at the Emmys and the Oscars.
Watch "The Studio" on YouTube!