Jen Carte's life is intense. While working at Royal Life Center she utilizes her practiced LPN (licensed practical nurse) skills with people in the midst of detoxifying from drugs and alcohol. It is hands-on moderate to acute care for people with serious underlying issues, and regularly COVID is thrown into the mix. "Usually, at least one person is testing positive," Jen says of her workplace. Away from work, Jen is a parent of two daughters who are 11 and 13. She is finishing her last credit requirements in order to attend a bridge program where she will earn her RN, registered nurse, certification. Tending her own mental and physical health is essential, as well as her children's. There's not much time in a week left over. Did I mention Sky, the horse?

"Some people are fortunate to find their thing to do," explains Jen, who at 16 knew from deep within that she would be a nurse. "I was made for it," she says simply. She earned her CNA (Certified Nursing Assistant) and later earned the designation as medical technician. Jen likes the varied aspects of nursing. "It's amazing," she adds, "You can go anywhere, live any place and pick any population." She has done post-acute care but doesn't prefers pediatrics. "Healing is pretty fabulous," she says. Medical surgery is of interest and she looks forward to getting back to working with hospice. Now the people in her care range in age from 18 to 80.
In the first days of the pandemic, Jen worked at both Royal Life Centers in Sumner and Lacey. "I had a permit to drive to work," she remembers. "It was the eeriest thing in the world," she says, with hardly any traffic on the roads. "The first COVID out-break was terrifying," she adds.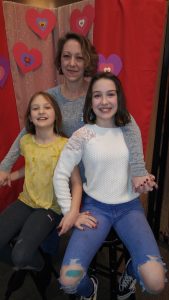 There was no testing, supplies were limited, and PPE, personal protective equipment, took on a more serious meaning. "When a unit shut down, it was like going in and out of a bio-hazard unit." After work, Jen would drive home, remove her clothes in the garage and head straight for the shower. Nothing but Jen went into her home. "A whole new level of clean," she says with a smile. That protocol hasn't changed.
Now there is adequate protective gear including N95 masks and she is tested at least weekly. When a patient has COVID, it's not new but, Jen sighs, "We're tired." She knows it is possible for nurses and other staff to contract the virus, and she does not want to have it or spread it.
Her work life has dramatic impact on family life. Jen has two daughters: Quinn, a sixth grader at Komachin Middle School and Dynah, a fifth grader at Chambers Prairie Elementary. Not surprisingly, her girls are required to wear masks. "I think it's sad for them," continues Jen about the effects of the pandemic. "They get things cancelled." Jen has been upfront with friends and other parents from the beginning. When her daughters are invited for a visit with friends, conversations are required. Jen wants them to know about her possible work exposure, and she wants to know how the other family handles health risks.
All three have been attending school remotely. Like everyone else, pandemic restrictions put a kibosh on previously regular activities, such as seeing friends. "There was no school and no friends," says Jen. "We got a horse." Sky boards at a full care stable in Tenino. Dynah continues with lessons while Quinn prefers time with all the other animals at the barn. Everyone is active, outside, away from the house, and over time they have developed friends there.
Dynah is starting hybrid school, which will mean time away from the family and house in a new environment with others her age. She's ready. Quinn plans to finish this school year remotely. As life continues to open up, the girls will have choices to make about gymnastics and dance classes, to name a few. More life to juggle.
For her own mental health, Jen runs. "I'm so grateful I am not a gym person," says Jen, who likes being outdoors. A couple of times a week she throws in HIIT (high intensity interval training) into the mix. A three to four mile run around the neighborhood is good for her mind and body.
There is only so much time and energy in a day. Jen deals with guilt about not being able to fix everything – like the state of the world and cramming work and school into her life. "I can't make it better, and it's okay," she affirms. For right now, it's good enough. Some evenings the family simply sits together and watches a show on television. Being together, breathing and having time together is important.
Thank you, Jen, and to all people who provide health care.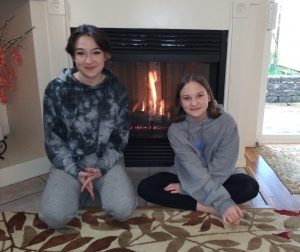 You don't have to work in a care facility to have stress about the pandemic. "There are times when the paranoia catches up with me," remarks Jen, and she is a health care specialist. It can be true for any of us. It can be helpful to spend time in the fresh air and find ways to make connections with others, even when it's done electronically.
There are resources for all sorts of help:
Recovery Services/Harvest: 360.704.7170 or 800.825.4820.
Crisis Resolution Services: A 24-hour telephone and face-to-face outreach for mental health emergencies, providing services ranging from crisis intervention to involuntary detention. 360.754.1338 or 800.270.4820.
The national suicide hot line available 24 hours is 800.273.8255.
Help is available for addiction and treatment information at 800.662.4357.