Locate your binoculars. The time has come for an extraordinary adventure to nearby Mason County's Hood Canal to visit our regional birds. Whether you know it or not, you, too, can be a bird enthusiast. While the sunshine feels warmer, spring is poking its fingertips out from branches and bulbs. With flocks of reasons to Explore Hood Canal, and the ability to adjust your itinerary for all ages, the time is now. My husband and I took flight from our house on a remarkably sunny Saturday morning (in our car) in hopes of finding a few birds and glowing in anticipation with the unfolding change in pace from our usual activities. Now is the time to take a day trip to birdwatch around the Hood Canal.
A friend guided me to Merlin, a free app, which I downloaded before we left. I took an extra minute to get all the info on birds of the Pacific Northwest and coast. You'll have an ornithologist in the palm of your hand. When you spot a bird but are unsure of its species, answer five quick questions. Merlin narrows the field and gives you photographs to match your find. Amazing. My mom had a well-worn copy of Birds of North America. Every time we eyed a bird, she penciled the date next to its picture. Seeing an indigo bunting for the first time is a thrill I still remember.
Our journey started on Highway 101, driving west out of Olympia. Soon you can turn off onto Old Olympic Highway to Kennedy Creek Natural Area Preserve. Be ready, I didn't see a sign. There's a parking area 0.2 miles down the road on the right. If you pass the road, suddenly you are on the other side of the water, though you can visit from both sides. Both migratory and residential shore birds are provided for by the estuary. This is home for birds with fabulous names such as short-billed dowitchers, buffleheads and Bonaparte's gulls.
Stay on 101, skirt Shelton and you'll be heading to Potlatch State Park. There's overnight camping, but the beach along Hood Canal is for day use. It's rocky and damp, so boots are a good idea. Have fun poking about. Potlatch has plenty of picnic tables if you bring your own lunch or snacks. The view in tones of blue and gray is huge, and I found it soul satisfying to simply sit and watch the ducks make Vs in the water.
Next time we'll picnic. This time we had decided to eat at Alderbrook Resort & Spa, which is less than 10 miles from Potlatch. Driving on Highway WA 106 E we saw Union City Market. The building looks like a hardware store but looks can be deceiving. Going inside is like entering a Harry Potter wizard-style tent where you get to discover a world of carefully curated choices. Art treasures line the walls and selected clothing items are displayed. There's Olympic Mountain Ice Cream and raw cookie dough. You can get a coffee drink or a smoothie to go with a giant peanut butter, oatmeal with raisin, or chocolate chip cookie. I noticed Sassy Seafood tuna, wine, fresh groceries and souvenirs. What fun! Friendly staff are on hand to help.
Alderbrook Resort was bustling with activity, and it turned out the restaurant was fully booked for lunch. Seating is currently limited, but will increase as restrictions ease. There was take-out and outdoor seating available for us. Alderbrook has overnight lodging, activity rentals and a long dock to walk out onto the water. The views are expansive and photo worthy. It's a great place to stay for a weekend getaway.
Our next stop was Twanoh State Park, which has a set up much like Potlatch. There is a day use area along the water and across the street are camping sites with hiking trails. There is good birdwatching there as the canal's waters are warmer, which is attractive to waterfowl.
According to Explore Hood Canal you can "look for buffleheads, common and Barrow's goldeneyes, common loons, western and red-necked grebes, ruddy ducks, scoters, marbled murrelets, and greater scaups."
Our final birding stop was Mary E. Theler Wetlands Nature Preserve. With easy walking trails, a small play area for children, and a long walkway out onto the tide lands, this stop was a winner. We met a binoculared couple from Olympia. "We've seen kinglets and chickadees," reported the wife. With marshes, meadows and riparian forests, the diversity of habitat is inviting to eagles, hawks, herons, ducks and swallows. It's all free, but you can make a donation.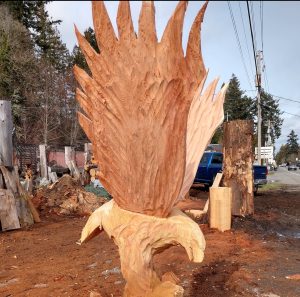 We headed back to Olympia on Highway 3. Ready for coffee? There are a couple of espresso stands Espresso 143 and Sail On In in Allyn. Stop at Bear in a Box and George Kerry's Chainsaw Carving School. We were lucky enough to see a chain saw in action! The sculptures are epic.
We returned home late afternoon with time for a nap before dinner. The trip was stimulating and energizing and made even easier because it didn't require extensive planning. Check out the destinations to plan your time for your group of birders, hikers or walkers. Explore Hood Canal has ideas, information and helpful suggestions.
Sponsored