The pandemic has left many of us stuck inside missing friends and family. Despite some of our best efforts, parts of the shutdown have been lonely or just downright boring. If you are an animal-lover, adopting a dog may be just the thing to keep you busy and bring some joy and companionship back into your life. Olympian Rae Anne Toth, a realtor with Re/Max Northwest Realtors, decided to adopt a dog in December, and it has proven to be one of the best choices she could have made. She shares what the experience was like and how her new dog, Papi, has changed her life.
Before the shutdown, Rae Anne was always very active in the community and loved spending time with people. "I was never home," she jokes. The pandemic unfortunately brought on a series of months with limited contact and nowhere to go, so Rae Anne decided it was time to look at getting a dog again. She went on Facebook and found a few group pages for families looking to rehome their pets. One of the pages is specific to military families that are unable to take their furry companions with them when they are restationed, which is where Rae Anne found her new dog, Papi.
Papi is a 4-year-old American dingo and boxer mix. His prior family was being relocated to a new military base and could not bring him with. Being rehomed can be overwhelming for a dog that has been with the same family their whole life, so Rae Anne wanted to give Papi a chance to become familiar with her before taking him home. She went up to the prior family's house three times a week for two weeks before adopting Papi so he could get to know her and feel safe with her. "I wanted to make sure we were a good fit," Rae Anne explains. "I feel like he adjusted really well because he already knew me."
Papi is a fun-loving, energetic, and affectionate dog. "He attached onto me very quickly," Rae Anne says. "I have the time to give him the attention he needs." He is always ready to go, so he has been just the motivation she needed to get outside and get moving more often. Rae Anne has always been active, but the pandemic certainly put a kink in her routine. Now that she has Papi, she has the perfect motivator to stay active. Previously, she would try to coordinate hikes and walks with friends, but this has proven difficult with the pandemic. Walking as a single woman can be a little scary sometimes, so instead of having to walk alone, she can bring Papi with her. "It has been so nice having a companion to go do these things with," she shares. "Now I can go whenever I want and feel safe."
Many people are hesitant about adopting older dogs because they often come with their own behavioral problems, either from abuse or different training styles. Rae Anne knew there may be some things she would have to work on with Papi, and she encourages people to be prepared for this before they decide to adopt. Papi, for example, had some barking issues initially, so Rae Anne has been taking the time to work with him on this.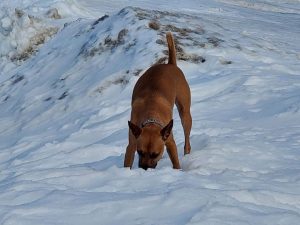 Adopting a dog can be hugely rewarding but requires commitment of time, energy and love. Despite the work it takes, Rae Anne has found the experience to be incredibly worthwhile. By taking the time to train Papi and really connect with him, she now has a wonderful companion for any activity, from taking hikes at Priest Point to snuggling in bed on a rainy morning. Papi's company and personality has really helped Rae Anne reconnect with the world and appreciate the little things in life again. "I enjoy seeing how much love he has for life," she says. "Something as simple as walking on a trail makes him so happy." Gaining this perspective and sense of gratitude is essential for weathering through tough times, so Rae Anne has been so thankful to have found Papi.
If you feel like you've been in a rut, adopting a dog may be the answer you've been looking for. With the time, energy, and patience, you too can find comfort in a four-legged friend. Consider adopting a pet locally in the area to support furry friends in our community looking for homes.