Admit it, you've got high hopes for 2021. A new year brings fresh starts, endless possibilities and even a dollop of hope. While things aren't entirely back to normal, it's still possible to celebrate holidays…albeit with a little extra planning. This Valentine's Day treat your loved ones—and yourself—to a safe staycation at Olympia's charming Marie Bed & Breakfast.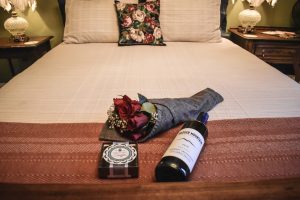 Forbes stresses the importance of taking "good care of yourself and others while you're sheltering in place—without breaking the bank—during a time that otherwise may feel stressful and exhausting." Keeping spirits up can make new challenges easier to face, tackle and overcome. And what's better than getting away from the same four walls you've been staring at for nearly a year? At the Marie Bed & Breakfast, you'll find beautiful finishes, delicious food and a little pampering to restore the weary soul.
The home was built in 1892 and its timeless elegance is everywhere. For Valentine's Day, ask about their romance special which includes a bottle of wine, box of chocolates and fresh-cut bouquet waiting in your room for only $35, February 12 through 15. Thurston County residents receive 20% off room rates in any of their suites or cottages so book that second—or third night—while you can.
To check availability and reserve your space, simply email hello@mariebnb.com or call 360.915.8039. Innkeepers are happy to answer questions and make your Valentines perfect, whoever you choose share it with.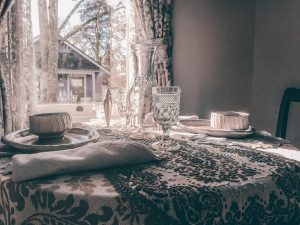 During COVID-19, owner Alicia Elliott and her staff are happy to offer contactless check-in and a delicious continental breakfast with staggered mealtimes. Surfaces and common areas are sanitized frequently, and masks are required for all employees and staff.
Want to explore a new (or new to you) area while relaxing at the Marie? Ask the innkeepers about local attractions and restaurants like the nearby The Park Side Café for curbside orders or to pick up a to-go batch of snacks, drinks and entrée items.
For Valentines, nourish your love with their take-and-make special. It includes starters, main courses, desserts, wines and coffee options. Enjoy Lion's Mane mushroom crab cakes, creamy coconut carrot soup, Prosecco sparkle donuts and cinnamon chai lattes just to name a few. Ordering from the holiday menu must be done in-person, by emailing hello@theparksidecafe.com or calling 360.352.8344 before February 10, 2021. Pick-up will be scheduled for either Saturday, February 13 or Sunday, February 14.
The Park Side Café's menu has options for a hearty, plant-based breakfast, lunch, dinner or mid-day nibble. With seasonal specials like hot butternut cheese mac and peas or pumpkin snickerdoodle cookies, there's something for every taste. Ingredients are fresh, locally-sourced and perfect to take back to the B&B after a lovely, brisk Westside ramble.
To order food, read through their online menu and order there for pick-up or delivery. While browsing, head over to The Rolling Pin's page as well. Located upstairs from The Park Side Café, they're also accepting online and phone orders for curbside pickup seven days a week.
And, like the Café, they're eagerly getting ready for Valentine's. "If you haven't picked out a gift for that special someone yet this year," suggests Elliott, "The Rolling Pin has what you need! We are offering two special Valentine's Day bundles, one that features 'The Couple's Cookbook' and the other featuring the 'Wine Food Cookbook.'"
"The Couples Cookbook" is full of recipes for newlyweds and its bundle contains the book, two beautiful placemats and an eight-inch cast iron skillet. The Wine Food bundle includes a corkscrew, silicone molds (homemade chocolates, anyone?) and book about the choosing, storage and best food pairings alongside a variety of wines. There are also 75 wine-inspired recipes to tempt any palate. Both specials are available on a first-come/first-served basis as supplies are limited. Call 360.754.3955 to reserve yours today.
Want to make your own bundle? Check out their heart and lip-shaped cookie cutters, cookbooks of pies and cookies, decorating tools galore and other Valentine's goodies. Order online or by phone for curbside pick-up or schedule a flat-rate Thurston County delivery. Staffers are always happy to answer questions, tackle conundrums or provide skilled advice.
It's easy to fall into a slump and just let the holidays pass you by. But enjoying them is an easy way to bring a spark of excitement into our repetitive quarantined lives. Treat yourself to yummy food, new culinary toys or a socially distanced getaway this Valentines. Whether solo, as a date night or within the safety of your chosen pod, it's healthy self-care at its finest. Don't delay, book a special today.
Sponsored