Andrew Kollar had a challenge. As Community Relations Coordinator for Yelm Community Schools, he was in charge of making sure that more than 150 families in the Yelm School District received Thanksgiving meals and Christmas in 2020. Because of fundraising issues related to COVID-19, however, traditional avenues to secure those meals went out the window.
"We knew that this year, the meals weren't going to be coming from one place the way they had in the past," says Kollar. "We needed an entire community of organizations and businesses to come together to help meet that need."
Fortunately, the town was up to the task. Between donations and meals from Bounty for Families, Longshore and Warehouse Union ILWU Local #23, Yelm Chiropractic & Massage Center, For the Love, Grocery Outlet, Walmart Yelm, Anytime Fitness Yelm, TOGETHER! and VFW Post 5580, all the families in need were able to take home a Thanksgiving feast. "It was a huge community effort, and it was exciting to see so many different people and organizations willing to help us out and provide those meals to families," says Kollar.
While Kollar worked with community organizations to secure resources, school counselors and the staff of the Office of Student Support, who specialize in making sure individual student needs are met, worked tirelessly to contact families.  The counseling team led the effort by calling, emailing and doing whatever means necessary to identify and connect families to food resources provided by the school and other community organizations during the holidays.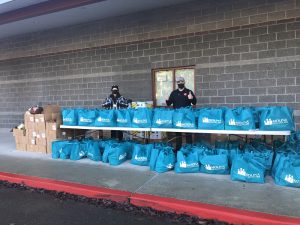 A similar effort unfolded during the following month as local groups led toy drives. Anytime Fitness Yelm, King Cronic and The Barbershop supported Toys for Tots, while the Prairie Hotel, Yelm City Hall, Timberland Bank, Bliss Experience, the Yelm Chamber of Commerce, Ma and Pa's Family Diner and The Cattleman restaurant contributed to the Yelm Lions Club Toy Drive. Meanwhile, Molina Healthcare donated $5,000 to Yelm Community Schools to purchase 150 Christmas meals for families in the district.
All year, the Yelm community has been effective in coordinating programs to mitigate the economic impacts of the pandemic, especially as they relate to hunger. Yelm Community Schools distributed over 200,000 meals in 2020 through their free Grab n' Go Breakfast & Lunch Program, along with distributing more than 300 weekend food bags per week, provided by All Kids Win. Through their 10 Weeks of Summer program, the Yelm Rotary Club distributed thousands of bags of food each week for families who qualify for free and reduced lunches within the school district, a number that increased dramatically in the past year. Bounty for Families distributed 3,680 boxes of organic produce through the U.S. Department of Agriculture's Farmers to Families Food Box program in the same period.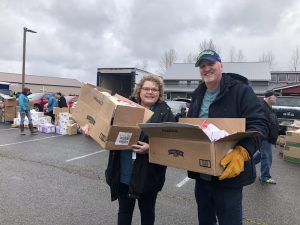 And then there is Yelm Prairie Christian Center (YPCC), a local church that provides weekly allotments of dairy, produce and other groceries to anyone who needs them. In March YPCC began collaborating with God's Portion Food Bank in Centralia. "They have food from the government that was already purchased from vendors and leftover food from restaurants that they are unable to use," says Pastor Brad Carlson. Some weeks they give out as many as 1,000 food boxes in one hour.
By now, Carlson has overseen at least 50 distributions. "What's amazing to me is that people are coming, not for themselves, but to distribute the food to their neighbors, families and friends," says Carlson. "It's been exciting for us to see that people are so interested in giving. Some of the people who came originally to get food come back to volunteer because they like what we're doing and want to be part of it."
Kollar agrees. He's been part of fundraisers and food drives before but never so closely involved as this year. "It's just amazing to see how many people want to help their neighbors," he says. "Before entering this role, I didn't realize how impactful it can be to partner with other organizations to support those in need." He is currently spearheading efforts to ensure families are connected to community resources, especially those related to food, and making that information accessible to those who need it. Here are some of those resources.
Grocery Outlet owners Stefanie and Greg Vinyard allowed Andrew Kollar, center, to store donated holiday meals in their freezers until they could be distributed. Photo courtesy: Yelm Community Schools

Emanuel Lutheran Church, 206 3rd St SE, Yelm will provide to go meals 6 p.m. to 7 p.m. Tuesdays

Yelm Prairie Christian Center, 501 103rd Ave NE, Yelm will provide to go meals 6-7 p.m. Thursdays
Yelm Community Services Food Bank, 624 Crystal Springs Rd., Yelm is open 1 p.m. to 3:45 p.m. on Thursdays. Community members are asked to stay outside of the building to adhere to the self-distancing efforts to prevent the spread of COVID-19. This is available for anyone with an ID and lives within Yelm Community Schools Boundaries.
Crossroads Community Covenant Church Food & Clothing Bank, 11520 Bald Hill Rd., Yelm is open 3 p.m. – 5 p.m. Saturday.
Rainier Emergency Food Center, 11318 Vail Cut Off Rd. SE, Rainier is open 9:30 a.m. to 12 p.m. Wednesdays and Saturdays.
For a more comprehensive list, visit the Food Resources page on the Yelm Community Schools website. Families struggling with food insecurity are encouraged to reach out to their student's school counselor to get connected with additional resources.
Sponsored