The Thurston Economic Development Council (EDC) is known for providing Thurston County business owners with access to resources that help them grow their businesses. In the last five years, the EDC has developed two distinct programs under the ScaleUp umbrella, and both are now enjoying statewide attention and demand for a variety of reasons: ScaleUp Training and CB&I Consulting.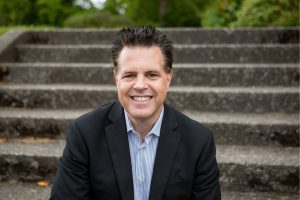 ScaleUp Training
ScaleUp Training is a hands-on series of classes and lessons designed to help business owners plan strategically and identify new opportunities for growth. The EDC has been hosting the series for Thurston County businesses since 2015. The Washington State Department of Commerce took notice of the program's success in 2019. When the COVID-19 pandemic struck in early 2020, the Department of Commerce acted quickly to allocate a significant sum of funding to help the EDC execute a virtual iteration of ScaleUp Training.
"ScaleUp Training helps address key plateaus that established business owners often contend with," explains James Davis, the program manager for ScaleUp Training. "We help them enhance their strategic alignment, optimize their market strategy and master their finances." Participants will also learn how to drive performance using metrics, build organizational systems that increase capacity and develop strategies for automating important parts of their business. This training is ideal for candidates who own businesses that gross over $100,000 annually and have been operating for over two years.
Renowned local business coach Daryl Murrow has been teaching classes in the ScaleUp Training series since its inception. "We want business owners to take a look at their businesses through a lens they've never used before to see what's working, what's not working, and where there are opportunities for growth," Murrow explains. "Right now, evaluating opportunities is more important than ever."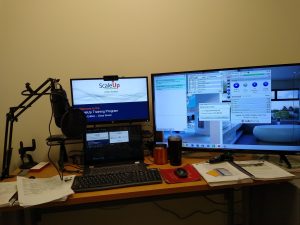 Murrow has developed an eight-week online course suited to work around the demands many business owners currently face. This course includes self-paced learning modules and live instruction that lay the foundation for participants to examine and evaluate their businesses. During the live instruction segment of the class, Daryl will dive deeper into concepts and provide a space for participants to pose questions and gain from the shared experience of their cohort peers.
There is only one required group meeting per week, on Wednesdays from 8:00 a.m. to 11:00 a.m. "It will be less lecture, less discussion, and more hands-on problem solving to help people get the work done," Murrow explains. "This kind of strategic planning can be really overwhelming to people. We break it into bite-sized chunks so that business owners can experience that sense of accomplishment."
"I really applaud the Department of Commerce for wanting to offer these types of tools for business owners," Murrow goes on. If you want to be a part of the limited enrollment for the pilot program starting Wednesday, January 13, visit the registration page on the Department of Commerce website. A second eight-week session will start Wednesday, March 10, so if you're not quite ready yet, keep an eye on the EDC's Facebook page for more info in the new year.
CB&I Consulting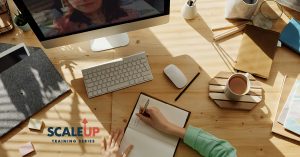 CB&I Consulting gives business owners access to and funding to pay for experts and consultants in specific areas such as website creation, e-commerce development, accounting, human resource practices and more. This program did exist before the COVID-19 pandemic, but the shift that COVID-19 brought on was not insignificant. The funding sources that became available as a result of the pandemic now make it possible for qualifying business owners to access these resources at no cost. CB&I Consulting now pays the experts and consultants on behalf of the qualifying business.
Think of CB&I Consulting as an access point to grant money that funds very specific, tangible business enhancements. There are a massive number of grants available to business owners right now, and CB&I Consulting gives you access to them through one application.
"Resiliency is an important part of a successful business," says Sean Moore, the manager of the EDC's Center for Business and Innovation (CB&I). "We really want existing businesses that are going to make it through this to be better prepared to weather the next downturn, whatever form that takes." Resiliency in accounting systems, human resource policies, and how a business sells its goods and services are all vital. This is what CB&I Consulting can help you with.
If you are a Washington State business owner feeling like you need help adapting to the post-COVID world, CB&I Consulting is your answer. This bears repeating: Grant funding pays for you to access experts and consultants in website and e-commerce development (including mobile optimization), accounting and bankruptcy, and human resources. Special funding and resources specific to the hospitality industry are also available.
You can access all of it through one application. Click here to start the process now. You may notice that the application is on the Washington Center for Women in Business (WCWB)'s website. You do not need to be a female business owner to apply or access resources through CB&I Consulting.
To learn more about the wide variety of resources available to business owners across the state, visit the EDC's website or call their hotline at 1-888-821-6652.
Sponsored