What do you get when you mix an extremely dedicated program with an unbelievably generous community? The answer is something quite similar to Griffin School District Parent Teacher Organization (PTO)'s Season of Sharing.

Julie O'Hara became the lead organizer for the Season of Sharing only a handful of years after its conception. Ever since then, she has had what she refers to as the immense privilege of watching this foundation grow. "The Season of Sharing is a program created and monitored through Griffin's PTO to help out past, present, and future Griffin school community members who may be struggling this holiday season," Julie explains.
One of the main goals of this organization is simply to give as much as possible to the families in their area and create an enchanting holiday season for every community member. To accomplish this, Jolene Ungren, a Griffin middle school counselor, meets with different members of the community who may need extra help during the holidays. To begin, they reach out to the kids in the Griffin community, making sure to cover both basic needs (like shoes and coats), as well as hobbies and gift ideas. The last thing they ask about is family needs. These include towels, bowls, toilet paper and anything in between. Everything remains completely anonymous.
Once needs are sorted out, a tag is written up with an item identified by the student or family. Different community members are given a chance to adopt one of these tags. They buy the item(s) listed, wrap it and send it back to the foundation organizers. Sometimes more than 20 tags can be attributed to one family.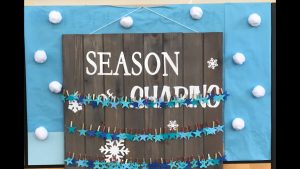 While this is undoubtedly heartwarming and thoughtful, it is not the creation of this program alone that makes the Season of Sharing infamous, it is how this is received by its community that reveals the generosity of the Steamboat Island area. "Every year I have been blown away by the effort and care I have seen this community give," Julie proclaims. "Lots of families have a tradition where each member will adopt a tag. Griffin is especially good at peeling back the layers of a family in need. We get to know them personally and offer them help for things they didn't even know were available. One year a previous Griffin bus driver noticed a child on his route who could not afford to decorate his own home for the holidays. This bus driver went out of his way to buy a Christmas tree, boxes of ornaments, and lights for the family. He brought it over himself. I have rarely seen kids so excited before. The kindness in this community is amazing. Everyone is always going the extra mile."
This year more than ever, that extra mile is needed. There are about 25% more families in need this year. The number of tags has doubled. Not only has the amount of people in need gone up, but the help people are asking for is so much more basic, with families even teetering on the edge of homelessness.
Julie goes on to say that this has always been the most difficult part of the job. "Your heart is with the children who are in need," she says. "Griffin is such a wonderful family that even though everything is anonymous, you know these kids, and you care about these kids. And you want them to have every advantage."
Apparently, the Griffin community feels the same way. "People are so excited to help this year," Julie says, tearing up about the generosity of her community. "Every donation is precious and cherished. We have had first graders come in and adopt tags, using their allowance to buy the present. Someone showed up last week with a $2,000 donation. People want to help; they understand that these are our neighbors. We love each other. We have community members who barely have enough for themselves come in and volunteer their time and money. It is overwhelming and staggering to see the generosity of people in our community. Completely staggering."
And it is not just single individuals who are eager to help, local businesses of all shapes and sizes have stepped up to do their part, usually going as far as to adopt a whole family's worth of tags. A shortlist of local businesses who have donated to the Season of Sharing include the Lion's Club, Discover Aquatics, Sunrise Hair Design, the Griffin Firefighters, Saint Christopher's Community Church, and the Griffin Foundation and PTO.
Over and over again, Julie expresses her gratefulness and joy at being part of this community. A community that has always looked out for one another and wants nothing but the best for their neighbors.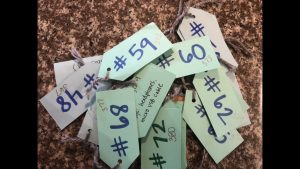 Presently, 70 tags are still up for adoption. For anyone looking to help, Julie recommends either adopting a tag or donating to the Griffin Utility Fund, the Griffin PTO Fund, or the Griffin Foundation (checks are accepted and can be dropped off at Griffin School).
Julie ends her interview by stating simply, "This is a labor of love, and it is the best job a person could have."
Even in the bleakest of situations, it is up to us to make the difference, just like the Griffin community.