In today's world, many people suffer from poor sleep, low energy, and chronic pain. Unfortunately, relief for these things often comes from prescription medications that may have some adverse side effects. Feeling better in one area shouldn't mean feeling worse in others, and that's where companies like Sweet Life come in. Sweet Life produces all-natural CBD products in Tenino with the goal to provide better sleep, more energy, and less pain, for pets and people alike. These cannabinoids come in capsule and tincture form and do not contain any THC, so people can experience the benefits of CBD without the intoxicating effects. The co-founders Jon Sutherland and Andre Pilon set out with the mission to produce these all-natural alternatives at a much more accessible price point so that everyone can benefit from them.
Pilon and Sutherland were connected through Pilon's brother in the beginning of 2017 while working on other business ventures. At the time, Sutherland was developing disposable vaporizers and was trying to get connected with cannabis companies. Meanwhile, Pilon was overseeing a grow operation, and was looking for ways to break ground in the industry. After meeting, they decided to work together selling caffeinated vape pens, but changes occurred in the vape industry and with their caffeine supplier, causing them to rethink their plans. Sutherland and Pilon found they wanted to break away from vaporizers and do more with CBD. "I wanted to create a CBD product that had other supplements and enhanced the effects of the CBD," says Pilon. "We did a lot of research and development to learn how certain substances work with one another." After much trial and error, the three-capsule series was born.
Sweet Life offers three different capsules to help support better living: Sweet Fuel for energy, Sweet Dreams for sleep, and Sweet Vibes for everyday relaxation. The first product the company produced was Sweet Fuel, a CBD-caffeine combo. "The goal with the energy line was to develop a healthy alternative to caffeinated beverages that was long-lasting and gave a really good uplifting but relaxing effect," says Sutherland. The initial target audience was truckers, since Pilon had done some trucking himself back in the day and knew the demands of the job. They started distributing the energy line in convenience stores as a 5-capsule pack for people on-the-go, and soon found that the product could benefit a much wider population.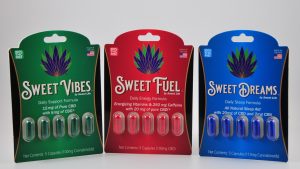 Sweet Life had every intention of breaking ground in more stores at the start of 2020, but due to the shutdown, all meetings to accomplish this goal were postponed or cancelled. The silver lining is that they had time to really dive into developing and producing other products. "The shutdown really allowed us to ramp up research and development, so we perfected our topical pain and joint rub Sweet Moves, added on a sleep aid, and designed a more relaxed pill called Sweet Vibes," says Sutherland. Sweet Vibes combines CBD and CBG, the latter of which helps relieve inflammation and chronic pain. The sleep aid, Sweet Dreams, is a combination of CBN and melatonin to improve sleep. "It has a couch-locked effect similar to Ambien," explains Sutherland, "but without the negative side effects that come with a prescription drug like that."
Sweet Dreams, Sweet Fuel, and Sweet Vibes are now offered in two forms: capsule form as a 5-day supply for an as-needed approach or a 30-day supply for more regular use, and tincture form for a more concentrated dose. They also have a tincture for pets called Sweet Paws that is designed to relieve chronic pain or anxiety. This bacon-flavored tincture is currently the only pet product, but they are working on developing more. "We would like to expand the pet line to be more pet-specific with flavor profiles for cats and dogs, and with different strengths based on weight," Pilon says. They are always keeping their eyes open for new opportunities to expand in the CBD market.
With every new product, it is a priority to ensure proper research and development is done. Once they have perfected the combination, the batches are locally produced and then tested in an independent third-party lab. Every product comes with a Certificate of Analysis showing the lab results, which can be accessed through a QR code printed right on the packaging. You can trust that these products contain the ingredients listed, as opposed to other manufacturers that may use fillers or omit essential ingredients altogether. "It is important to us for our consumers to be able to go back and see that they are getting the value and getting what we say we put in the product," Sutherland says.
Even at these higher standards of practice, Sweet Life is committed to offering all products without the high price tag. "A lot of manufacturers are asking too much money just because it says CBD," Pilon explains. "CBD is pretty plentiful these days, and it is a travesty how much people are paying for it." If you are struggling with low energy levels, poor sleep, or chronic pain, check out Sweet Life. With safety, purity, and health at the forefront of all they do, Sweet Life is the perfect choice for cannabinoid alternatives without breaking the bank.
To learn more, visit the Sweet Life website.
Sponsored