The RV had been there for over a week. Sitting in the parking lot of a building managed by The Rants Group, the vehicle was taking up parking spaces reserved for employees, but its owner, a homeless man, couldn't drive away because it had broken down. After some difficult work with this gentleman trying to resolve the situation, The Rants Group Vice President Danielle Rants went in a different direction. She contacted the Capital Recovery Center (CRC), a local nonprofit mental health agency. The staff there helped the man get parts for his RV to get it running again and set him up with a cell phone.
"They did a bunch of little things to help him get his life back on track," says Danielle. "In the end, he was moved off the property and it felt like a success story because he wasn't just moved down the road where he couldn't get the help he needed. We were able to connect him with those services."
The reason Danielle knew about the agency is simple: she is one of its five board members. Like her father and grandfather, The Rants Group President and CEO Pat Rants and founder Ron Rants, Danielle invests time and energy into the community through participation in local nonprofits. Collectively, the company focuses on organizations that support mental health, education and youth.  "It's about being involved in groups that can do things that I can't," says Pat. "I'm not an expert in working with kids or education, but I do have some expertise in helping organizations grow so they can do what they need to do."
In a similar vein, Danielle used her finance and accounting skills to support the CRC while they were restructuring and bringing in new leadership. "They're very focused on their mission," she says. "There aren't always people with financial expertise in the nonprofit world, but someone needs to be tracking income and expenses. I've enjoyed being part of something that's helping people."
Several times a year she has an opportunity to meet with participants in the agency's programs, including recovering opioid addicts who have been treated through the CRC's Olympia Bupe Clinic. "It's heartwarming and motivating to see them," she says. "They all enjoy being there and see a lot of benefits that they're getting from the organization."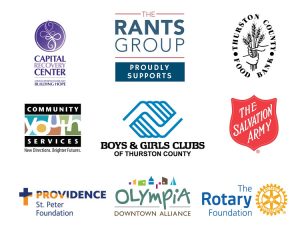 The experience has changed how she views those coping with mental health and addiction issues. "I've learned that everyone has a story," she says. "There are so many people out there that are struggling. It's reminded me to take a minute and think about what somebody may have gone through that is influencing how they're behaving now. A lot of people just can't help themselves, and they need organizations like CRC to guide them and help them recover."
Pat has also gained perspective through his time as a board member and sometime board chair of organizations like Community Youth Services (CYS), the Providence St. Peter Foundation and Saint Martin's University. "I've learned how complicated the system is," he explains. "The network of nonprofits does much of the work and the government does much of the funding. It takes a lot of resources just to get to the point where a staff member can work with one child or somebody suffering from mental health issues."
Like Danielle, he's been able to apply that knowledge to connect people with services they need. He recalls a time when his children were still young enough to have a babysitter. The teenaged girl was good at tending the kids, but coping with a difficult home life and experiencing mental health challenges. The Rants family invited her to stay with them for several nights while they got in touch with CYS. "They were able to give her the help she needed," says Pat. "It felt good to get her connected with them, but it was also a personal lesson on how hard this stuff is. We were able to help her get through a rough period, and that's the kind of thing we don't necessarily see by working on boards because they're a few steps removed from the actual service."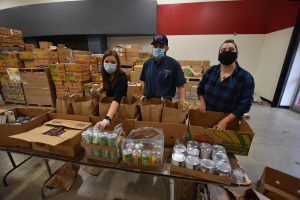 That community spirit is also evident in The Rants Group staff. Recently the entire team took turns doing shifts at the Thurston County Food Bank warehouse. "It was a cool experience to get out of the office with everybody and bond as a team while also helping the community," says Danielle. "We plan to do that more often." In fact, the group enjoyed the experience so much that they plan to replace their usual annual outings to bowling centers or laser tag arenas with service-oriented activities.
The important thing is to stay involved, according to Pat. "Problems can seem overwhelming," he says, "but if you stay in it, even one organization contributing time and money with everybody else makes an impact and things move forward. It comes down to a lot of people doing little things that make life better."
Learn more by visiting The Rants Group website or calling 360.943.8060.
Sponsored