In the past few weeks, multiple people have approached Clara Robbins to learn how they can support the South Sound YMCA's Giving Tree program. The annual holiday event serves families through the Family Support Center and in 2020, demand is higher than ever. "I've had a lot of people asking how they can participate this year," says Robbins, membership coordinator at the South Sound YMCA. "Despite everything that's happening in our world, people are excited at the opportunity to donate these gifts and make a difference for families."
This is the third year the two nonprofits have collaborated on this program, but the relationship is longstanding, according to Family Support Center Executive Director Trish Gregory. "We've had years of their staff doing cold-weather clothing drives and knitting hats and scarves for our families," says Gregory. "We appreciate their compassion and willingness to utilize their network to provide for basic needs and help us make sure that kids who might otherwise go without, have things under the tree on Christmas morning."
YMCA staff collect donations, which are then transferred to the Family Support Center team for distribution. Priority goes to families who are already using the center's services, including those who may have experienced a housing crisis or domestic violence situation. "We have a large number of families on our current caseload that we're working to serve first," says Gregory.
Anyone who wants to contribute can do so in several ways. At the Briggs YMCA, members and guests can take a tag from the tree in the lobby that will help to direct their shopping. For online shoppers, a YMCA Giving Tree Wish List has been established on the Target and Amazon websites. "If people don't want to come into the branch in person, they can go to those sites, purchase a gift, and have it sent directly to the Family Support Center," says Robbins.
Desired items include cold-weather gear and unwrapped toys for boys and girls of all ages. "A lot of times older kids may be forgotten," says Robbins. "We're looking for not only toys for the smaller children but makeup or art kits and games that will be relevant for teenagers as well." Diapers and baby wipes are in high demand along with gift cards that allow parents to balance basic needs with holiday giving.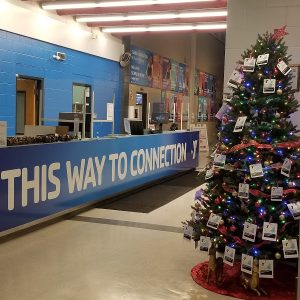 Gift cards can make a significant impact by easing parents' burdens, says Gregory. "It's more than just concern about holiday giving. It's the guilt they feel when they don't have enough money to keep food on their table, pay their bills and also provide gifts for their kids," she explains. "Gift cards are incredibly helpful as they allow families to prioritize and buy the things they really need as well as the exact items their kids want for Christmas."
She recalls a family that arrived toward the end of the distribution period last year on Christmas Eve. Because of the lateness of the hour, they weren't expecting that anything would be left but to their surprise, some gift cards remained. "The mother left in tears because she was able to get some things for her kids for Christmas," says Gregory.
Not surprisingly, the need for donations is higher than in previous years as families cope with the continuing fallout from the COVID-19 pandemic. "It's extreme," Gregory notes. "We're doing our best to focus on basic needs items like blankets and cold-weather gear plus easy-to-make meals and snacks. We've found that families have greater needs across the board, not just for holiday gifts but for general resources that they need year-round."
Gregory sees the program as a great example of how the community works together to support vulnerable populations. The Y has been a strong partner, she notes. "They utilize their network of people who are already coming in to use their services and are part of their network to support our work."
For the Y, the Giving Tree program is a good fit with their overall focus on strengthening the community. Their emphasis on social justice includes the idea of creating a safe place for everyone as well as a place that people can express their authentic selves and pursue their passions, according to Robbins. "When we get to facilitate giving children an art kit for Christmas or making sure they have the tools or sports equipment they need, it has so much meaning," she says. "It's a very fulfilling experience for everyone involved, both the people who donate and the people who receive."
Donate to the Giving Tree program or visit the South Sound YMCA website to learn about volunteering.
Sponsored