Reid Hemphill remembers playing in the arcade at Dirty Dave's Pizza Parlor for the celebration of his ninth birthday. At the time he didn't know that he would marry into the Wilson family and later become the restaurant manager. "We want to be dynamic and nimble with the times, while sticking with the core of the foundation," explains Reid. "Ultimately that is in the spirit of Grandpa Dave." The homestyle, boisterous, quirky restaurant continues to reflect the founder, Dave Wilson, a man who people loved to know.
"It's not my job here to reinvent the wheel," continues Reid, who is deeply committed to perpetuating the family-friendly pizza parlor, a place deeply woven into the fabric of our community. Dirty Dave's has long been a go-to place for lunch and a perennial favorite for sports teams' gatherings. Some families came every Friday night for spaghetti. At the moment, in-room dining is unavailable, but the drive-through window is open.
Reid is honored to have an important role in the restaurant's future. Almost three years have gone by since long-time manager Terry Thorsell passed way. Technically, Terry wasn't a member of the Wilson family, but in spirit, he was a son and brother. He worked for Dave at Los Hermanos and started at Dirty Dave's in 1991. People referred to the restaurant as his work home, and truly, Terry was loved and was part of the Dirty Dave's experience. It's been a challenging position to fill. The family came to understand that it would be best served by a family member.
Previously, Reid worked in engineering and in the finance and banking industry. "I had a career path in a suit and tie," he says. Then he came to a new realization. "I wanted something else that was more about what mattered to me and made a difference." Reid stepped into the manager position on May 18, as COVID-19 was well underway. The pandemic continues to bring new layers of challenges to the business. Reid is responsible for front line workers and guest safety, as well as providing great food. He's not just taking care of things but caring for people.
If you are wondering how Reid is part of the Wilson family, the romance started back in high school (unless you count that ninth birthday party). Reid was a senior at Timberline High School when he met Stephanie, a freshman and granddaughter of Dave and Lorna Wilson. Her parents are Greg and Kelly Wilson. Their friendship bloomed and they married in 2005. Both worked in the community, but not for the family business. All that has changed. Stephanie is the marketing director and Reid is the manager for Dirty Dave's, and together they are the parents of two young children, a daughter Freya who is almost four and a son Bowie who is one.
Dirty Dave's has been open since 1972, so there's a good chance you've eaten there. "You know what you want when you come to Dirty Dave's," says Reid. Taste buds have memories. My husband's pick is the meatball sandwich, and my neighbor loves the Gay 90's pizza with cashews. However, if it's new to you or you just want to check out your choices, you can read the menu.
Dirty Dave's menu is focused on pizza but also includes sandwiches, pastas, soups and salads. The salad dressings are made from scratch, as is the pizza dough, using the same recipe for years. In this uncertain world, it can be comforting to know some things don't change. The kitchen slices its own meats and make its own sauces, meatballs and sausage.
"We are not fast food," reminds Reid, meaning it's better to call ahead so they can have your order ready when you arrive. Inside pick-up is getting ready to happen soon. Please remember that pandemic regulations fluctuate, and restaurant owners must respond accordingly. Wear your mask, please.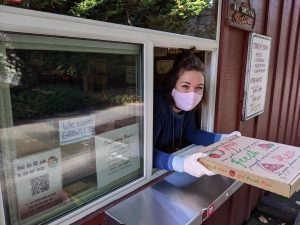 "We are a family of this community," says Stephanie. Dirty Dave's has supported teams, school events and other local activities for decades, and will continue to do so. Remember that your patronage keeps their business and their employees going. "I am the third generation, taking great care to be mindful of who we are and who we want to be for the next 40 years," states Reid.
You might not have a full-on arcade at your house, but a few boxes of pizza (that someone else cooked and cleaned up!) is sure to bring on a party atmosphere. If you really want to be popular, drop off an extra Dirty Dave's pizza at your neighbor's house. Check out fun gifts and more on the Facebook page.
Dirty Dave's Pizza Parlor
3939 Martin Way E, Olympia
360-456-1650
Sponsored