Grab some cocoa, climb in the car and put on the holiday music station: It's time to look at holiday lights! While a lot has changed this year, being able to drive around and look at lights with your loved ones is one tradition you don't have to give up. Here is where to find holiday light displays in Olympia.
Oly Lightstravaganza
1515 10th Avenue SE Olympia
In a local winter wonderland, Oly Lightstravaganza leaves not one inch of their property in the dark. Delivering a healthy dose of the holidays to Olympia's Eastside neighborhood, Oly Lightstravaganza boasts an enchanted forest of almost 100,000 lights. A magical sight from any angle, viewers can take in an extensive display of multi-colored luminaries, rainbow arches and majestical trees, in addition to sightings of familiar faces like Frosty the Snowman and Mr. and Mrs. Claus.
Traditionally a walk-though display, this year's rendition of Oly Lightstravaganza will look a little different. Due to current COVID-19 guidelines, visitors won't be able to enter the display, but they can view the lights from their car or from the sidewalk.
In addition to Oly Lightstravaganza, surrounding homes are setting up their own holiday light displays, allowing visitors to create their own neighborhood light tour on and around 10th Avenue.
Frazier Family Christmas Lights
1630 26th Avenue N.E., Olympia
A longtime Christmas showcase, the Frazier Family Christmas Lights delights visitors with lighted figures and familiar characters in celebration of holiday cheer. Through snowmen, a life-size snow globe, candy canes, icicle lights, and characters like the Smurfs, Big Bird and Rudolph, the magic of the season abounds.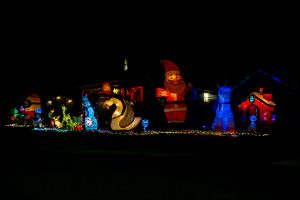 North Street
North Street, Olympia
Along North Street, near Olympia's Carlyon North neighborhood, those seeking out lights can find many homes decked out with holiday cheer. A highlight is on the cross street of North and Lenore, a home featuring several inflated figures, including Yoda, Minions and a holiday-themed swan.
New Bridge Community Church
812 Central Street SE, Olympia
Across the street from Oly Lightstravaganza, New Bridge Community Church will host an accompanying display of colorful lights on the trees lining their 10th Avenue parking lot entrance. A partnership with Oly Lightstravaganza, both sides of the street will now be decorated with holiday cheer.
Candy Cane Lane at the Kelley Ranch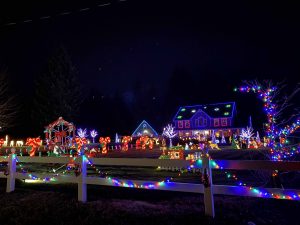 5410 66th Avenue NW, Olympia
Just off of Steamboat Island Road, Candy Cane Lane at the Kelley Ranch is a holiday oasis. Featuring a vivid front yard display of lights and familiar holiday figures, visitors can take in life-size candy canes, illuminated animals, a Christmas train, and a larger than life wintertime Ferris wheel figure. Candy Cane Lane springs to life the Sunday after Thanksgiving and runs through New Year's Eve. Lights will be turned on from 5:00 p.m. to 10:30 p.m. each night.
Lakemoor Lights
2296 Lakemoor Drive SW, Olympia
Harmonizing holiday lights with nostalgic soundtracks, Lakemoor Lights invites visitors to enjoy a multi-faceted holiday experience. A display unlike any other, Lakemoor Lights features a full light show, matched to popular music scores, including Star Wars and Harry Potter. Visitors can enjoy the show from their cars from 4:00 p.m. to 10:00 p.m. each evening in December.