When memberships to the new Shelton Family YMCA became available on October 1, the goal was to sell 100 charter memberships by the end of the month. Within the first two weeks, that goal had been reached. By October 14, 117 charter memberships had already been purchased even though the new center won't be open until March 1. "People are excited about being YMCA members," says South Sound YMCA Executive Director Kyle Cronk. "There's a lot of civic pride about having this in the community."
Local support has been a key factor in not only bringing the Y to Shelton, but determining what programming it will offer once it opens. Youth sports, swim lessons and family activities are a given, according to Aubree Fudge, Senior Director of the Shelton Family YMCA, but other potentials will emerge through conversations with those who will be using the facility. "We're doing outreach to a lot of organizations and businesses to see what else we can do," says Fudge. "I can't say exactly what that will look like. We're a listening ear because the Y is here to serve the community and strengthen it."
One priority will be figuring out how to best serve the town's significant Guatemalan population. Plans are also afoot to collaborate with Peninsula Credit Union to offer financial literacy courses. "We want to help people not only be physically healthy but financially healthy as well," says Cronk who understands the impacts of socio-economics on individual mental and physical health. "Everything is related", he continues, "and the more we can do to support the whole person, the healthier our community will become."
Excitement about the project has continued to build, especially among those who have signed up for charter memberships and had a behind-the-scenes tour of the building while it is still in the construction phase. "It's really fun to see how passionate these folks are and what they want to be able to do with that facility here in the future," says Fudge. "I've had wonderful experiences already working with volunteers and connecting with people around Shelton."
Continuing To Operate Through COVID-19
At the Y's existing downtown and Briggs locations, the staff has played a vital role in supporting families during the COVID-19 pandemic.  When it began, one of the first challenges was figuring out how to safely open and what activities to offer. The result has been effective. Even if families have been able to come for just a brief visit, it makes a difference. "One family that signed up back in September told me, 'This is the best part of our week,'" says Fudge. "I was so happy to hear that. It's been a tough balancing act for us to provide as much as we can with limited hours and staffing. When those bright spots happen, it fills your heart."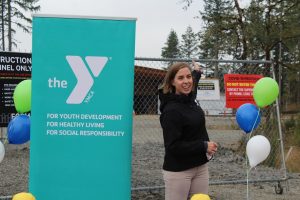 Navigating the tension between bringing people together and promoting public health has been a challenge the Y staff continue to embrace. Early on, the team stepped into the childcare gap as many facilities around the region shut their doors and began providing critical services, especially for children of first responders and essential workers. "If you go to any of our branches or childcare sites now, we are the safest game in town," says Cronk. "People are interacting in appropriate ways. They are masked up and they're thriving in that environment."
Shelton School District Superintendent Dr. Alex Apostle is looking forward to seeing a similar scenario unfold in Shelton once the new facility opens. He sees the Y as a significant community asset that can offer multiple benefits to the district. "We had conversations early on about the Y offering support for students who may be experiencing difficulty academically," he says. "We talked about starting programs after school or even on the weekend where we could work together."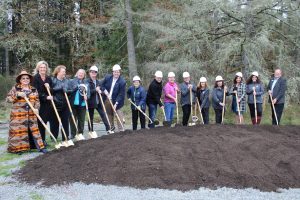 Since the pandemic began, supporting families has become more important than ever. The Shelton Y will be well-positioned to fill that need, Apostle believes. "The YMCA will be offering tremendous opportunities for families to be together in a very positive environment where they can participate in sports and different activities," he says.
Although the site has been under construction since the groundbreaking ceremony in November 2019, some still can't quite believe the Y is coming to their town, even when they visit the building site. Yet despite the chaos of the pandemic, wildfires and the resulting smoke of those fires that ravaged the west coast this summer, the project has stayed on track, missing just two days of construction.  "I keep saying that Shelton is our pandemic silver lining," says Cronk.
To learn more, visit the South Sound YMCA website or call 360.753.6576.
Sponsored