After decades in the automotive industry, John Paine wanted to create a new type of dealership that valued quality customer service and transparent pricing. Taking the stress out of shopping for a car or RV, Paine opened Carstars Auto & RV Sales in Olympia, a dealership that offers a wide range of pre-owned automobiles as well as new and pre-owned RVs. Extensively-trained in both automotive sales and finance, the Carstars team walks with customers throughout the entire car shopping process, providing information and support every step of the way.
Established in 2015, Paine opened Carstars after 20 years of experience and working almost every job in the automotive industry. Today, there are now two Carstars locations, Aberdeen and Olympia. Both dealership locations carry a range of vehicles to suit every style and automotive need. Available brands include Ford, Kia, Honda, Dodge, Nissan, Subaru, Toyota and more.
"We don't have one specific niche," explains Paine. "We offer everything. All of our vehicles are pre-owned. And then we have an RV side. For RVs, we do new and pre-owned. We also have a full-service department and a 7,200-square-foot shop in Olympia."
Not only a car dealership, Carstars in Olympia also offers RV storage, in addition to new and pre-owned RVs, including selections from Forest River Primetime and Coachmen. Specializing in travel trailers, Carstars carries several models that can be attached to a small truck or SUV. From a 16-foot travel trailer, to a 40-foot RV, Paine says demand for recreational vehicles has skyrocketed during the COVID-19 pandemic.
"For RV sales, the demand is higher than it's ever been," says Paine. "People want to get out of their house and go do something, but they don't want to stay in hotels and don't want to get on airplanes. So, with the demand so high, inventory is low. It's not just Carstars, but with everybody right now. So, if people are thinking about it, now's the time to do it."
Family owned and operated, Carstars works to also treat customers like they are family. After decades of working in automotive sales and working directly with clients, Paine witnessed the common pitfalls of the car purchasing process. Typically, customers may tour a car lot with a salesperson, but then are later transferred to other employees throughout the purchase. Paine says that process could feel confusing, inefficient or impersonal to the customer.
"One thing I noticed when I was in the car business, that customers really didn't appreciate," says Paine. "Was when you go to buy a car, you get a salesperson, and then it comes time to negotiate, and that salesperson has no knowledge of the negotiation. They kind of play middleman to this person that's hidden behind a closed door, that some customers never get to meet."
Creating a more streamlined purchasing experience for customers, Carstars employees are given comprehensive training not only in automotive sales, but also in financing. This allows the customers to stay with one employee throughout the entire process, fostering a more efficient purchase.
"The person that shakes your hand when you get there, is the same person that shakes your hand and says congratulations at the end," says Paine. "Employees have the autonomy to make the decision based on what's best for the customer and what's fair for the business. So, you stay with the same person the whole time. There is no shuffling customers around to finance, or going back and forth with a sales manager."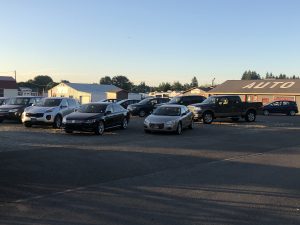 Carstars also allows customers to browse available inventory online before visiting in person. If a shopper is interested in an online listing, they can contact Carstars through phone or email to learn more or to schedule a test drive. In addition to online browsing, Carstars also offers customers online pre-approval for available financing options.
"We are what's called a CUDL dealer," explains Paine. "There are not very many independent dealerships that are part of the CUDL Network. That's usually exclusive to franchises, but I did finance for a long time and built those relationships. Carstars does have the CUDL network, so customers can come in and they don't have to go to their bank to do all the paperwork. They can do all the financing right here."
Through transparent pricing, onsite financing and well-rounded employees, Carstars is in the business of cultivating a much more personal take on the car-buying experience.
"We are a family owned dealership," explains Paine. "We get cars from the same places that the large dealers do, but we don't have the overhead that they have. So, it's very easy for us to be very competitive. Carstars is the place if you want to go somewhere where you're most likely meet the owner and definitely deal with the owner's family, a no roadblock type of experience, come visit Carstars. We're a down to earth, small family-owned business."
To learn more about the Carstars selection of vehicles or to browse available RV models online, visit the Carstars Auto & RV Sales website.
Carstars Auto & RV Sales
8500 Old Hwy 99 SE, Olympia
360-956-1373
Sponsored