Since its launch in 2017, The Community Foundation's Give Local campaign has been a force for positive good in Thurston, Lewis and Mason counties. From the very beginning, Olympia Federal Savings (OlyFed) has been a major sponsor and vocal supporter of this online fundraising event.

What is Give Local? It's a two‐week online giving campaign in November hosted by The Community Foundation to boost support for nonprofit organizations around Thurston, Lewis and Mason counties. The 2020 iteration of Give Local starts November 9 and ends November 20. Giving is easier thanks to spsgives.org, a portal hosted by The Community Foundation.
"OlyFed is passionate about supporting The Community Foundation because they help address so many vital issues in our region," says Ryan Betz, vice president marketing and public relations at OlyFed. "Funding from The Community Foundation's Give Local campaign provides strength and stability to so many local nonprofits who see to it that we continue to improve the quality of life for everyone who calls the South Sound home."
This year, more nonprofits than ever have enrolled to participate. When the event started four years ago, about 50 nonprofits participated. This year, donors will have nearly 100 to choose from. Anyone who has a little extra to give this year will find a cause they care about. Organizations supporting youth, elders, health and wellness, housing, the arts, environmental protection, education and so much more are represented in this year's roster of beneficiaries.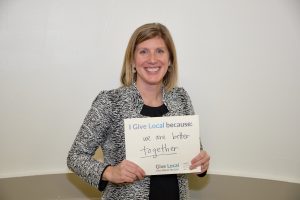 "This year is an important one," says Mindie Reule, president and CEO of The Community Foundation of South Puget Sound. "Now more than ever, nonprofits are at the forefront of supporting our communities and restarting our economy. As a community, we need to support these nonprofits so we can emerge stronger and more equitable than ever."
Mindie is sensitive to the fact that people are hurting this year. Budgets around the region have been squeezed due to the economic impacts of the COVID‐19 pandemic. She understands that not everyone is in a position to give this year. She also wants to assure folks that very small gifts can also make an impact. "I believe deeply in the power of collective giving," she says. "Lots of smaller gifts add up and make a huge difference in our community." In the 2019 campaign, the average gift was under $100.
An aspect of Give Local that makes this especially true is the Bonus Fund. The Bonus Fund is a $100,000 lump provided by The Dawkins Charitable Trust. At the end of the two‐week Give Local campaign, The Community Foundation tallies the total dollar amount brought in thanks to all of the generous donors. They calculate the percentage of the total amount each nonprofit generated. The Bonus Fund is then distributed to each nonprofit based on those proportions. If a nonprofit generates 5% of the total funds donated, they will receive an additional $5,000, or 5%, of the bonus fund.
Yes, you read that right. It means that even if you can only donate $10 to your favorite nonprofit this year, it will be amplified by the Bonus Fund. Another opportunity to make your donation go further happens on both Wednesdays of the campaign. On November 11 and November 18, your name will be entered into a drawing if you give $25 or more to any participating nonprofit. If your name is drawn, you'll earn an additional $100 to donate to the nonprofit of your choice.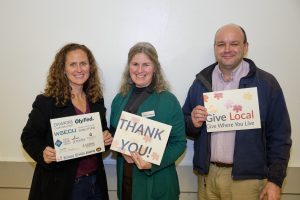 These "Giving Wednesday" drawings are made possible by sponsors like OlyFed. OlyFed's sponsorship also involves covering the credit card fees associated with online giving. Typically, credit card companies take 2.5% of any online donation. OlyFed steps up to cover these fees so that 100% of your donation goes right to your favorite nonprofit. This measure allows even those modest donations to add up in a much bigger way.
"I'm grateful for OlyFed's partnership and ongoing support to Give Local," says Mindie. "It demonstrates their spirit of giving generously to this community." She wants to encourage everyone to check out the platform at spsgives.org starting on November 9. Find nonprofits you've never given to before or give generously to organizations you know and love.
"Across the board, nonprofits have been hit," Mindie explains. "Human services nonprofits are seeing increased demand. Arts nonprofits are seeing declines in revenue because they can't hold shows and gatherings. Many types of nonprofits have had to cancel fundraisers or move them online. This year, it's really important to give as generously as you are able."
"We are honored and grateful to be one of the founding sponsors for Give Local," adds Ryan. "Because it takes place online, it's easy to participate." To learn more about Give Local, you can visit The Community Foundation's website. When November 9 arrives and you're ready to give, log on to the giving portal at spsgives.org.
Sponsored