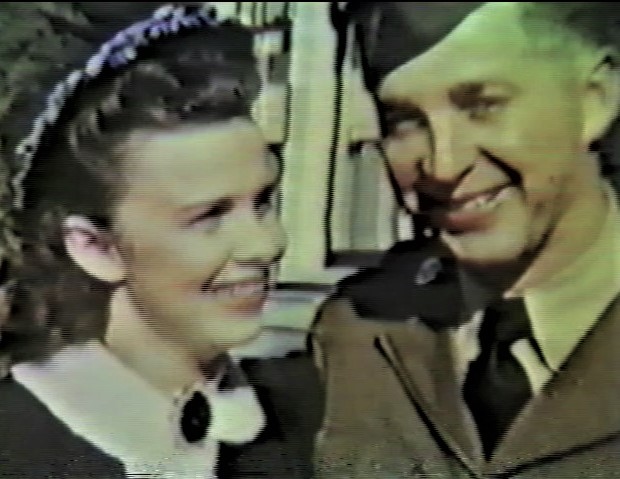 The Tenino Depot Museum, which is open for visitors, currently has a WWII display telling the story of one small town on the Homefront.  After the bombing of Pearl Harbor, every American was asked to do their part and it was no different for Tenino.

Tenino sits on what was once known as Military Road, now called Highway 507, and it was not uncommon to see the war effort up close as troops marched through town.  A recently recovered film, housed at the museum, shows formations of soldiers in training marching through Tenino during World War II.  My father also has memories of tanks sitting on flatbed railcars, most likely destined for the war effort.
V-Home in the News
An April 23, 1943 edition of the Thurston County Independent—later renamed the Tenino Independent—is a snapshot of hometown life nearly a year and a half into the war effort.  Headlines include, "Is Yours a V -Home?  Do IT NOW!"  and "Dim-Out Time: Sunrise at 6:04; Sunset at 8:10"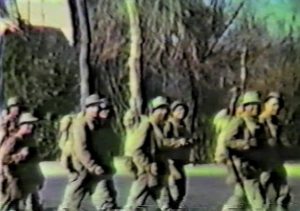 So, what is a V -Home?  According to an ad by Puget Sound Power and Light Company, "Washington's Victory Home mobilization is underway.  A V-Home is a fighting home, backing up the boys in service 100%.  A V-Home is prepared, conserves household goods, guards the family health, carefully observes government regulations, buys war bonds, and participates in essential war efforts such as Victory Gardens, fat salvage, tin and scrap salvage."
In Tenino, local Air Raid Wardens under the leadership of citizens James Corcoran, Frank Newell and Frank Knitch would, in the days following the April 23 issue, be conducting home visits to assist homeowners in preparing a V-Home.
The Thurston County Independent assures homeowners "No attempt will be made to 'snoop', according to Robert Austin, coordinator, but to aid in presenting an aggressive home front."
"On the first visit, the warden will present a leaflet entitled 'Be Prepared, Make Yours a V-Home.' A sincere effort to comply with the nine-point pledge contained on the back of the leaflet will entitle the resident to display the V-Home emblem."
Threats from Above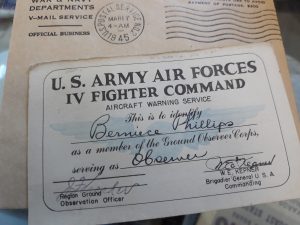 The major threat to towns up and down the west coast was a repeat of Pearl Harbor, and to avoid providing a target to enemy bombers at night, homes had to black out their windows. Consequently, a black out bulb from Dr. Wichman's house is part of Tenino's exhibit.
Marilyn Ritter, who was born in 1927, remembers the precautions against enemy bombers, which included citizens called "Aircraft Warning Observers" who were trained to identify enemy planes.  The Westminster House, once a community house owned by the First Presbyterian Church of Tenino, served as a watch station in Tenino.  Before it's demolition, the Westminster House tower contained many signatures of bored Observers who put in their time watching the skies.
"During the war the Westminster House had to be manned 24/7," says Marilyn Ritter. "You had so many hours. Yes, we had air raid drills and we had to cover our windows with something black so no light could be seen.  Most people used tar paper on the outside."
Food and Rationing
In addition to observing the black out, a V-Home grew a Victory Garden.  Another ad in the Independent says, "The 1943 Victory Home conserves food by producing its own supply of vegetables."  This was taken so seriously that the Tenino City Council considered a leash law to stop the canine threat to gardens.
Ask anyone their memories of the Homefront in Tenino and they will mention "rationing."  Ration books were issued to every US citizen. At first it was used to ration sugar, a commodity that was limited because of restrictions on importing.  Soon it was expanded to meat, cooking oil, and canned goods.  With canned and processed food shipped overseas to the Allies and limitations on fresh food due to gasoline and tire rationing there is little wonder why the Victory Garden became so important.  When a household ran out of a particular ration stamp, they couldn't buy anymore.
According to the National WWII Museum, many found the rationing system confusing.  A March 5, 1943 Gallup Poll asked Americans the question, "Do you understand how the food point rationing system works?"  Only 53% of men answered "Yes" while 76% of women answered "Yes."
Ration Booklets, issued by the United States of America, Office of Price Administration, came with a stern warning.  Booklets could not be transferred or used by someone else.  Anyone who didn't follow this rule could face "Punishments ranging as high as Ten Years' Imprisonment or $10,000 Fine, or both."  Price gouging was also strictly forbidden.
"It was really hard to get sugar and butter," remembers Marilyn Ritter "we had to have coupons for that. And shoes!  There wasn't any leather, and the ones you'd get, when they got wet, they just fell apart. All the leather went for things for the war effort so, we couldn't get leather shoes. Life was certainly different. And you had to get ration stamps for gas. Because my Dad had the theater in Pe Ell they gave him enough stamps. So, we had plenty of gas."
Many remember when a shipment of silk stockings arrived at the pioneer merchant Campbell and Campbell.  Even my father, Roger Reeves, though very young at the time has memories of his mother standing in a line that stretched around the block to a get a pair of prized stockings.
Marilyn Ritter was old enough at the time to stand in line, "I remember when Campbell and Campbell had a sale on silk hosiery. We were lined up around the block to get some silk stockings.  The ones we had would stretch and bag at the knees, so we painted our legs in those years.  We had this paint that we smeared on your legs and it dyed your hands too but that's what we did, we went bare legged."
Once Americans decided to enter the war, the war effort took off.  The combination of the threat of attack combined with a strong message from the other Washington compelled our nation to buckle down and succeed.  To learn more Tenino history follow the Tenino Depot Museum on Facebook.  Or come in for a visit, open Friday, Saturday and Sunday's from 12:00 p.m. to 4:00 p.m.