Good home inspectors rely on keen senses to help them uncover potential areas of concern for every home and property. The team at Boggs Inspection Services uses their senses of sight, sound, smell and touch to discover damage and defects that can make a home unsafe or cost the homeowner big. While attuned senses go a long way, the Boggs team doesn't stop there, they utilize infrared technology to see through walls and identify problems that attempt to remain hidden. But there are two types of testing that even highly attuned senses and specialized tools alone cannot test, and for those Boggs Inspection Services relies on specialty environmental laboratory services.
What's in the Water?
When you turn on the tap, you want fresh, clean and safe drinking water. Though our senses of sight and smell can alert us to a potential problem with our water, many water contaminates are undetectable to our perception. Harmful chemicals or microscopic pathogens can only be discovered with water quality testing performed by experts in a laboratory.
Well water is especially important to get tested, as it is often susceptible to a number of environmental contaminants. Industrial or agricultural runoff is a big concern, but even leakage from nearby septic systems or residential use of pesticides or fertilizers can make its way into the well.
Municipal water systems are tested regularly, but even city water can have problems.  "We recommend that everyone get their water tested, whether they are on well water or city water," says Dwayne Boggs, president and CEO of Boggs Inspection Services. Some home loans like FHA and VA loans, even require a completed water test before a potential homeowner can qualify for funding.
When performing a water quality test, Boggs inspectors collect samples at the source of the incoming water and ship them to a certified laboratory for testing. In about five to seven business days, the results are ready. "If you are concerned about the quality of your water, or are particularly sensitive to water conditions, we urge you to get water quality testing done," Dwayne adds.
The Air We Breathe
With cool cloudy days and long rainy winters, homes in the Pacific Northwest make ideal environments for mold growth. Mold can be dangerous to human and animal health, and it can be very expensive to repair. Boggs inspectors utilize their senses to uncover sources and locations of potential mold problems.
Musty smells, dark staining, and moist walls and floors can all be indicators of a potential mold problem. "Mold spores surround us everywhere, indoors and out," says Dwayne. "All they need is the opportunity in the right environment to begin growing."
Even in the absence of visible indicators, mold can grow behind walls, under floor spaces or between cabinets. The more mold spreads, the greater the impact to human health, and the more expensive it is to repair. Boggs Inspection Services performs air quality testing for molds that are hazardous to human health, and checks to make sure they are not growing out of control.
Using specialty equipment, Boggs inspectors sample air from different locations around the home. Since mold spores are everywhere, they also take outdoor samples for a control test, so the spore values can be compared. Then they ship the samples to the laboratory for a thorough analysis. "The homeowner will receive a detailed report of the air quality indicating which allergens and molds are in the air in their home and at what levels," says Dwayne. "Based on the findings of that report, we can guide them through the next steps, if any, that they need to take."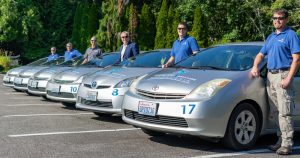 But even an experienced home inspector might be fooled by what they see. "In one particular case our inspector went into a space and found himself surrounded by grey splotches all over the walls. Every indication suggested that the dark spots were obvious signs of mold," says Dwayne.  In the large space, mold remediation had the potential to cost thousands of dollars. The inspector went to work collecting samples to be sent to the lab. When the results were returned, the whole team was surprised. "It was bird dander," Says Dwayne. Though bird dander is a potential allergen, cleanup is much less costly than the expensive remediation that the home buyer faced had the splotches been mold.
Clean air and water are paramount when it comes to human health. Water and air quality testing can help ensure a safe and healthy home for you and your family, and it can protect one of your greatest financial investments, your home. "If you need an air quality or water quality test, contact us through our website," says Dwayne. Boggs Inspection Services performs inspections in Pierce, Thurston, Mason, Lewis, Grays Harbor, and south King county.
Sponsored