Jewelry is something to be treasured. Whether it's a family heirloom or statement piece you saved up and splurged on, what we choose shows our unique style and individual taste. If you own a ring, necklace, or bracelet that desperately needs some TLC, bring it to Kluh Jewelers in Lacey for in-store repair or repurposing.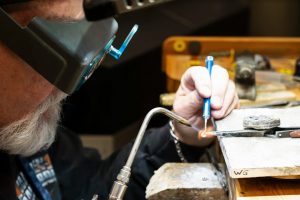 "As far back as I can remember," recalls owner Matt Kluh, "we have always had an in-store jeweler. When I was a kid and we had our store on Capitol Way, the jeweler was Ernie Belcher. He always had candy in his bench that he would give to me and other kids."
Today, the Kluh staff offers free jewelry cleaning and inspection. Then, if repair is needed, they'll walk you through your many options. "Like refinishing a fine piece of furniture or painting a car, repairing jewelry involves many steps to bring it back to like-new condition," says Matt. "Each step requires a detailed eye or the completed job will not meet our standards."
The goldsmith, Steve, has spent more than 35 years working with the Kluh Jewelers team and over 40 as a goldsmith. "He truly loves what he does," says Suzanne Kluh, owner, "and treats every piece like something from his family. Unlike many shops, your piece never leaves our store." You can see Steve hard at work through the window into his workshop of tools and toys.
To show off some stellar examples of their work, check out the bi-monthly Behind the Bench series on Facebook. Here, intriguing problems are addressed with before and after photos of their handiwork and craftsmanship. Their most common repair is ring sizing. "Rings tend to shrink over time," laughs Matt. "Joking of course! We also repair a lot of tips and prongs to make sure diamonds and gemstones stay secure."
The lifespan of stone-supporting prongs depends on the type of metal used and wear-and-tear of the wearer, but the Kluhs estimate they last between 3 and 10 years on average. By stopping in for a cleaning and inspection every six months, the staff can check each prong for damage. Don't risk losing a centerpiece diamond or gemstone when you least expect it.
If a prong shows loss of integrity, the store recommends replacing them all. This keeps their strength evenly matched but also means they'll be the same height and width, something that's almost impossible to duplicate when swapping out just one. "It's less expensive to repair tips than replace a missing stone!" says Matt.
Using their array of technology, everything from hand tools to a new state-of-the-art laser welder, Steve works on just about any type of jewelry. Turnaround time is based on volume, but averages around five days with express service available on request. Final work is always warrantied to be free from defects. For repair work, however, an in-person visit to their Lacey showroom is recommended. "Come in and get a quote," says Suzanne. "There are just too many variables for an email quote."
If an item is damaged beyond repair, extremely old, or not to your taste, Kluh Jewelers can remake it or turn the materials into a brand-new custom design. "Sometimes a piece of jewelry has been loved for generations," Matt shares, "and is just worn out. At this point we can help remake an identical item or help create your dream jewelry.  All you need to do is bring in the damaged piece, ideas for redesign or photo inspiration to get the process started.  From there we can restyle the gemstones, recycle the metal, or purchase the item."
Family-owned since 1958, Kluh Jewelers and their iconic Kluh Bug, are a dedicated part of Thurston County history. From parades to Lakefair Princesses, they support the community they've chosen and have been seen out and about at events and festivals…and will be again when things start up again.
To learn more, join their email list, follow them on Facebook and YouTube, or visit the Kluh Jewelers website. Check out their weekly Did You Know? trivia facts and Facebook riddle contest for a chance to win a $25 gift certificate.
They're open from 10:00 a.m. until 6:00 p.m. Monday through Friday and until 5:00 p.m. on Saturday for in-store shopping during the summer.  To keep everyone safe, Kluh Jewelers is operating with many protective protocols such as maintaining strict social distancing, adhering to cleanliness guidelines, sanitizing frequently used tools and surfaces, and requiring masks for all visitors and staff. Curbside drop-off and pick-up also available by calling 360-491-3530.
Sponsored