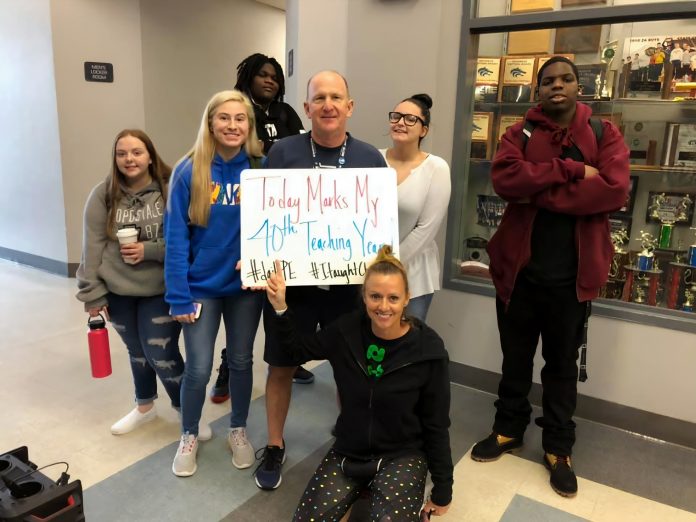 For many students their favorite class, outside of lunch, is probably PE. Physical education is a break from sitting quietly at a desk and allows a chance to move, play and learn. January 2020 marked the 40th year of education for Black Hills High School PE teacher Greg Bert. He knows and understands how vital these classes are to our children's overall health and well-being.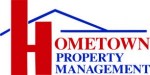 Bert's calling hit at an early age. "I knew in high school that I wanted to be a PE teacher and a track coach," he recalls. "I wanted to somehow teach the lessons that I learned in my own physical education classes. I looked up to my two inspirational junior high PE teachers, Joel Kahn and Arthur Merriman, who was in the 101st airborne in World War II. They both gave me a lot of confidence."
Growing up in Brentwood, California, Bert moved to Tumwater in 1996 with his Portland-native wife and their three children. "We visited the Pacific Northwest a lot and knew that when our kids were of school age we wanted to raise them in the Pacific Northwest! We have no regrets."
A graduate of University of Southern California, Bert was blessed with great mentors and professors. "They taught me that PE is more than just athletics and coaching," he says. "They taught us that we need to remember the education part of physical education: PE is not just throwing out the balls!"
Over a 40-year career, he's taught everything from elementary school to community college and even a PE methods course at Saint Martin's University. A National Board Certified PE teacher, he's also a former State High School PE Teacher of The Year and Northwest Region High School PE Teacher of the year.
As with any educational curriculum, PE changed over time. "We strive to teach our students lifetime sport and lifetime fitness activities that they are apt to use as adults," Bert shares. "High school needs to prepare students for the next level, which is adulthood. So we ask ourselves, what do our students need to be successful and to live an active and healthy lifestyle throughout their lives?"
The answer, as he's discovered, isn't what you might think. "They do not need dodgeball and many of the team sports that are traditionally taught in high school PE programs," says Bert. "They need activities that they feel successful in, can experience the joy and confidence in movement, can do alone or with another person, and that do not require a lot of skill to perform. We like to teach activities that they are apt to use as adults: circuit training, tennis, badminton, pickle ball, fitness walking, Nordic walking, golf, disc golf, Frisbee golf, yoga, dance, two-on-two volleyball, group fitness skills, indoor cycling, and many other lifetime activities."
Fellow PE teacher Lisa Summers has taught alongside Bert for many years and together they've even co-authored a PE textbook. "Greg values the role and importance of educating through the physical. It's been his calling," she says. "It's his why! He continues to be an example of living a healthy life for his students and community. We are so honored and recognize his body of work and the work he continues to commit to."
Summers also admires how much Bert's teaching style allows for open conversations with colleagues and students. "He connects with other PE teachers from across the country; he reads articles, books, and journals; and he attends workshops and conferences." But, she laughs, "He's also very comfortable sharing Chuck Norris jokes and somehow making those relate to PE. I think his students past and present all appreciate how prepared he is each day. He helps students find many ways to be successful and welcomes everybody!"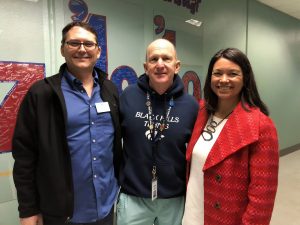 Outside of classroom, coaching, gym, and field, Bert and his family are also active and outdoorsy. "I am learning how to play golf with my wife Renee and doing a lot of fitness walking and cycling," he says. "I enjoy working out at the Valley Athletic Club; I have brought many of their teaching tips to my classes at Black Hills. I am also an avid history buff, like to write in physical education teaching journals, and enjoy seeing our three kids grow up into to young adults—Ryan, Lindsay and Katie. I am so proud of them!"
And even with four decades of experience under his belt, Bert's not slowing down. He works with the school's Future P.E. Teachers Club, advocates for the #EinPE (education in physical education) movement and maintains a passion for his chosen profession. "My hope as a teacher is that we can somehow as a nation find a way to not marginalize physical education in our schools," Bert admits. "We need to find a way for elementary school students to have daily physical education, we need to not waive PE credit in our nation's high schools especially since we know that vigorous activity is essential for heart and brain health. PE is a great laboratory for students to learn how to get along and respect others. It is the original social-emotion learning environment!"
While the school day has changed in many ways, PE is timeless fun. Take a minute to look back at the amazing teachers and coaches in your life and thank them for their dedication, caring, and support over the years.