Inspired by storytelling, placemaking, and the human body, Olympia-based artist Isabelle O'Connor creates a wide range of art, focusing primarily on wood and linocut printmaking.

I was first introduced to Isabelle's work while visiting an art show at The Evergreen State College in 2017. It featured a series of woodcut prints of Mount Rainier, each depicting a different view of the mountain from various towns across Washington. For example, one print featured Mount Rainier above a line of treetops from the view of a kayaker, while another showed a reflection of the mountain in a car's side-view mirror.
The eight prints were bound in a booklet accompanied by letterpressed stories that recounted the history of the mountain and described how it was formed. Isabelle shared with me that the prints were inspired by the classic series Thirty-six Views of Mount Fuji by Japanese artist Hokusai. She also took inspiration from Tom Killon, a printmaker who creates pieces to accompany poetry. "I wanted to create an intimate experience with the art, something that people can interact with through turning pages," she shares, "We all have moments with Mount Rainier, and I wanted to capture that magic."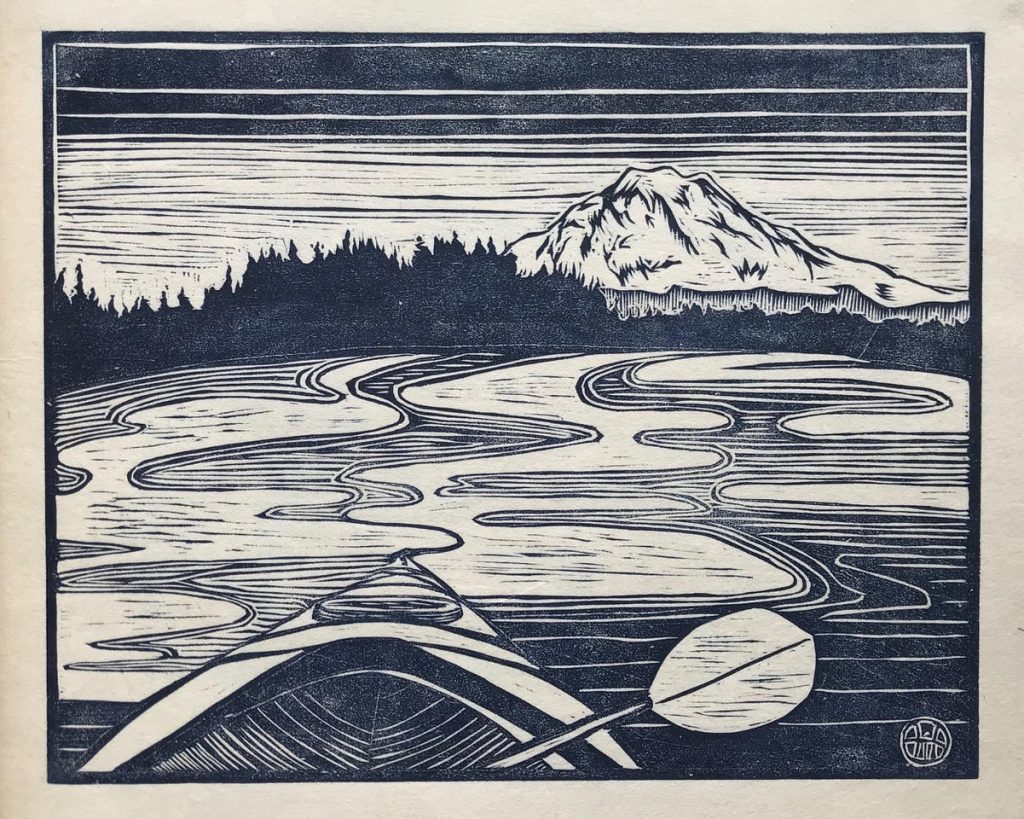 Isabelle was first introduced to printmaking during her time at the Oxbow School in Napa, California—a single semester arts school for high school students. She had previously attended a Waldorf school for her primary education, and found that she thrived in alternative learning environments, rich with various forms of making and creating. When she began high school in her rural Vermont hometown, the lack of arts resources incentivized her to seek out a program that would allow for the continuity of her arts education. "I think that played a big role in shaping how I view artmaking: making things just felt like a part of everyday life," Isabelle says in reference to her Waldorf education.
Upon beginning her semester away at the Oxbow School, Isabelle was immediately drawn to printmaking. "I love printmaking because of the elaborate process and the rich history, I feel like my work is a collaboration with the medium itself. Each print is a mystery up until you pull your first proof. That feels exciting. I also love the community aspect of printmaking. There are usually other people working in the studio, which feels different compared to other art forms which are easily created in solitude," she says.
After returning to Vermont and completing high school, Isabelle briefly attended art school in New York. Shortly after, she enrolled at The Evergreen State College to continue studying printmaking, along with mythology, storytelling, gender studies, and art history. When asked about her move from the East Coast to Olympia, Isabelle told me that she attributes her childhood in rural Vermont to why she feels so comfortable in the woods of Washington. "I had never been to Olympia but I felt really drawn to the West Coast so I made the move spontaneously," she shares. "I fell in love with the area quickly. Olympia is the first place I've felt at home, aside from where I grew up."
Isabelle explained that the imagery of her work is deeply influenced by symbolism and academic research, and many of her academic passions can be easily seen in her art, with imagery relating to folklore, myths and women often appearing in her work. Describing her artistic inquiry, Isabelle shared her interest in exploring concepts of home and physical space, and how that led her to start making art about bodies.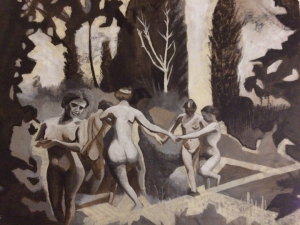 "One of my most recent projects was about the connection between women and bathing throughout art," she says. "Bathing has such a rich history that connects to early religion and spirituality. both topics that I'm personally drawn to. Women and water are deeply connected through their cyclical natures, and how they've been associated with each other in mythology, folklore, religion and art history." Isabelle explains that her initial interest in exploring concepts related to sense of place and home led her to start thinking about bodies as spaces we inhabit and thus to creating art about bodies.
This particular series of women bathing began with graphite drawings done directly on pieces of maple. Often finding herself drawn more to the original woodcuts than to the prints she created with them, Isabelle wanted to experiment with making final drawings directly on wood. These reveal how the grain of the wood mimics the ripples of water.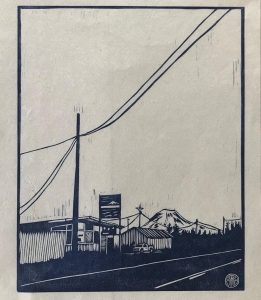 Isabelle also works with illustration, and is currently working on a series reimagining characters from the Greek tragedy The Oresteia. She was also recently commissioned for the cover art of the Community Farm Land Trust's South Sound Farm Map, a directory for local farm and food resources.
Isabelle has often worked with Community Print in Downtown Olympia, and highly recommends them to anyone in the local area interested in an introduction to printmaking or letterpress.
Looking toward the future, Isabelle plans to continue her education (she is studying to become a holistic health practitioner), and intends to continue with art throughout her career. To keep up with what Isabelle is currently making, visit her website or Instagram.