This time of year we all feel like we're running in circles. But for one local teacher, running in circles took 24 hours and raised money for charities nationwide. Many public gatherings, events, parades, and marathons have been cancelled for 2020, but Micah McBride and Doug Martin created Loopfest as their midsummer mini-marathon.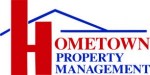 McBride, originally from Poulsbo, moved to the Olympia area in 1996. He currently teaches PE at Chinook Middle School and enjoys golf, mountain biking, skiing and hiking with his family. He was the head volleyball coach at North Thurston High School from 2000 to 2012, is an active staffer of the Oly Reign Volleyball Club, and has coached many of his kids' various sports through the years.
What he has not considered himself over the years is now his claim to fame. "I am not even really a runner," he says. "The past two months leading up to this event is the most I have ever run in my entire life. With my students and athletes, I am always encouraging them to find their greatness, I want them to live outside of their comfort zone and grow as people. I felt the Loopfest Challenge was a great opportunity to put my words into practice and set an example. I looked forward to the mental and physical challenge of the event, and doing something I've never done before."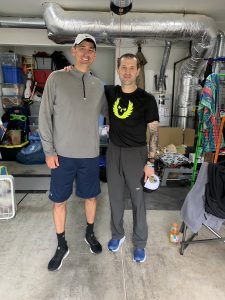 And what a challenge it was. Starting at 9:00 a.m. on Saturday, June 20, McBride and Martin ran three miles on the hour, every hour, for a full 24 hours. The 3-mile loop meandered through Olympia's east side, where Martin lives, and the rest of each hour was spent recovering.
But it's not just a fun idea come to life. Loopfest raised money through Facebook pledges, family, and friends for two charities McBride is passionate about, the Thurston County Food Bank and the NAACP. "I have worked with the Thurston County Food Bank for the past few years, taking students from my classes at Chinook Middle School to volunteer for our Day of Compassion," he explains. "We also felt like it was important to support the NAACP as well. We chose the Food Bank for the amazing work it does in our community, and we chose the NAACP because we wanted to support an organization that fights systems of oppression." The event raised nearly $3,000 from sponsors who chipped in by lap or towards the entire circuit.
"During the first half of the event the sitting and resting was more difficult than the running," he admits, "because the body would cool down and it was a little challenging to get the body revved up to go again. Toward the later stages fatigue and muscle soreness set in, but that was the fun mental challenge to just keep getting out of the chair and finishing the next loop! It was also so great to see how many friends and family came out to support, cheer us on, run some loops with us and bike. It was an amazing 24 hours!"
Because so many public fundraising events are postponed or cancelled altogether, organizations like the Food Bank are in need more than ever. They help provide free lunches to all children under 18-years-old all summer long and distribute groceries to families and individuals county-wide. If you're able to donate time, money, or food, they'll see that it's shared with as many residents as possible, all year long.
Drop off locations for food items, as well as suggested donation items, can be found on the Thurston County Food Bank website. Financial donations, in the form of checks, cash, or credit card payments, can be taken on-site or through their contact page. And if you'd rather donate a few hours of your time rather than run 72 miles over 24 hours—which most of us would!—call 360-754-5703 extension 105 for details.
For students, especially those within North Thurston Public Schools, acts like McBride and Martin's echo the school's dedication to becoming a Compassionate Community. District-wide coin drives have raised more than $25,000 and students, faculty and staff are celebrated for being Compassion All-Stars.
Sure, organized events are sidelined…for now. But McBride and Martin show that anyone, anywhere, can create a fundraiser and rally friends and neighbors for a good cause. Social organizations are facing funding shortages but helping out doesn't have to cost a lot. Volunteer; donate food, clothing, and household items; or call a few friends for a socially-distanced car wash or dog walking day. Thanks to social media, anyone can raise a few much-needed dollars for a good cause. Let the success of Loopfest guide your way.