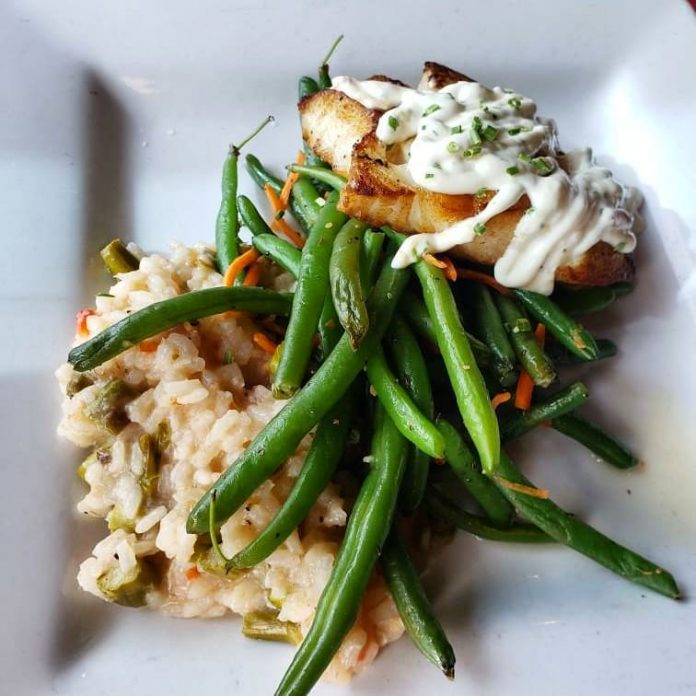 Fans of Olympia's iconic water-side restaurant Budd Bay Café will be happy to learn that their doors are open and they are seating diners at 50 percent capacity. They are eager to move into a Phase 3 status with 75 percent capacity as soon as they're able.
Pam Oates is a co-owner and general manager of Budd Bay Café. As with many restaurants, the state-wide "Stay Home, Stay Healthy" order impacted their business significantly over the course of the few couple months. They started, stopped and restarted their curb side pickup and delivery service.
They have also been taking advantage of the loosening of regulations around to-go alcohol sales, offering bottled beer and wine, and pre-made cocktails in sealed glasses. Don't miss their Shelter In Place (SIP) Kits for a Quarantini or a T.P. Manhattan. They are even offering a commemorative limited-edition growler for draft beer fill ups.
Pam is most excited to have guests back in the restaurant. "It will be a slightly different aesthetic," she explains. They will be able to accommodate about 75 guests at a time at 50 percent capacity. Groups of five guests or fewer will be seated at intervals with at least one empty table between them. They will be using paper table cloths and all of the staff will be wearing masks and gloves. They will be disinfecting surfaces constantly. What was once a six-page menu and a three-page wine list is now a two-sided single-use menu.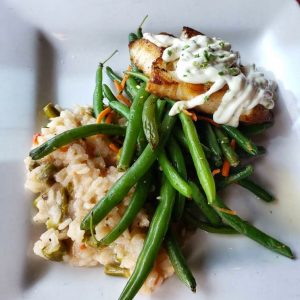 Although the menu offerings will be reduced from the six-page version, regulars can still look forward to signature seafood, beef and chicken dishes as well as pasta and salads. Right before the COVID-19 outbreak, Budd Bay welcomed a new member to the team in the kitchen. The new chef has already innovated their halibut offering and it was instantly a popular take out special. Another one of his additions, a red curry shellfish linguini, is a must-try. They will also be bringing back their weekend brunch menu with a few new tempting items.
"We still want to be open," Pam says. "We have a lot of regular guests we really miss. They're like our family, just like our staff. We're just trying to get some semblance of a routine and to keep our staff employed." She hopes the community will come out to support them but is careful to explain what could be one of the biggest challenges. Operating at 50 percent capacity means that if the community does visit the restaurant for a meal in high volumes, then there will be longer wait times than what guests might be used to.
Weather permitting, they will have about 10 outdoor tables available. Curbside pickup and delivery through DoorDash and Uber Eats will continue to be available even as table service re-opens. Cocktails, beer and wine by the bottle will also continue to be available to go with food orders.
Budd Bay Café has been an Olympia favorite since it opened its doors in 1988 and Pam has been there the whole time. "In 32 years of working here I've never seen anything like this," she says. "The circumstances completely changed our business model."
Pam sounds hopeful as she anticipates the reopening. "Olympians are resilient. We are tight-knit community," she says. "We've been abiding by what the governor wants us to do. It makes me proud to be a part of this community and we're going to continue to be there for them as they continue to be there for us."
Support Budd Bay Café's reopening by dining in, calling in a take-out order or ordering through a delivery service. The family at Budd Bay will proudly prepare your meal!
Sponsored