As the summer season begins, Lacey Parks & Recreation continues to provide residents with virtual and in-person activities. Although certain programs may look slightly different than previous years, Lacey Parks & Recreation is still offering opportunities for children and families to connect with their community, learn, and have fun. From magic tricks, to a modified day camp, Lacey Parks & Recreation has entertainment options for a variety of interests.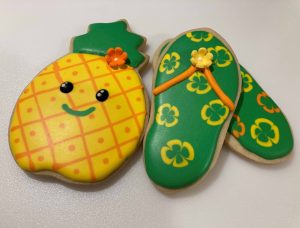 In response to the COVID-19 pandemic and accompanying social distancing guidelines, Lacey Parks & Recreation staff have had to remain nimble in the types of activities they can offer to participants. Since many in-person, group activities are still limited under Phase 2 of Governor Jay Inslee's Safe Start Washington plan, many of Lacey's recreation classes are being held virtually. When Thurston County moves into Phase 3, Lacey Parks & Recreation is preparing for more in-person events, with strict social distancing measures in place.
"COVID-19 has completely changed how we prepare for our programs and classes," says Jordanne Beasley, recreation coordinator for Lacey Parks & Recreation. "We've had to modify from every angle. Right now, we're looking at smaller class numbers, social distancing measures, and increased cleaning and disinfecting procedures. Just thinking of the safety of the participants as well as the staff."
Throughout June and July, Lacey Parks & Recreation will host several virtual recreation classes aimed toward children and families, including a cookie kit/decorating class, magic tricks, and a Zaniac Zoom class, featuring performers from previous Lacey Summer Entertainment Series.
Have fun frosting sweet treats at home in the "Cookie Kit Class." Each kit costs $15 and after registering for the class, participants will pick up their cookie kits from Lacey City Hall on Monday, June 29. The kit includes three sugar cookies, frosting, cookie toppings, and written instructions from May's Sugar Stop. Before the decorating begins, each participant will receive an email link to a step-by-step video tutorial on how to create their cookie designs.
"Magic Tricks and Secrets Live" is a three-part Zoom class lead by local Magician, Jeff Evans. "Magic Tricks and Secrets" is both a magic show and instructional class on how to perform magic, using everyday household objects. The series will take place each Thursday from July 9-23 at 7:00 p.m. Participants have the choice to register for one night, or all three. People who register for all three classes will be sent the "Magic Tricks and Secrets" DVD, an autographed poster, and some special gimmicks to help practice newly learned tricks. Registration is $20 for a single class and $60 for all three classes.
A two-part program, the "Zaniac Zoom Class" will take place virtually on June 22 and 29 at 2:30 p.m. Hosted by Alex Zerbe, a performer in Lacey's Family Entertainment Series, the "Zaniac Zoom Class" will teach participants a variety of skills, including juggling, balancing, beatboxing, and some simple magic tricks. The registration fee for the Zaniac Zoom Class is $20.
For hours of virtual entertainment, Lacey Parks & Recreation also created the Play at Home web page. Play at Home is a way to bring educational and recreational activities to children and families who are unable to attend in-person events. The web page contains six categories with links to different projects and activities that can be completed at home. Categories include, Arts & Crafts, Entertainment, Fitness & Fun, Kids Activities, Virtual Tours, and Iso-PLAY-tion.
Revised to comply with current social distancing guidelines, Lacey Parks & Recreation will also host the Summer Fun Tour Day Camp beginning the week of June 29. Lacey Parks & Recreation staff have modified the camp's schedule and layout to ensure the safety of participants and staff. With the revision of camp activities, increased sanitation efforts, and a smaller ratio of instructors to campers, Lacey Parks & Recreation will ensure a fun camp experience, while maintaining a healthy environment.
When Thurston County enters into Phase 3 of Safe Start Washington, Lacey Parks & Recreation will offer the new Thursday Family Entertainment Series at Lacey neighborhood parks. Tickets are required to help limit the events to 50 attendees, (as required for Phase 3 events) and can be reserved now. The popular movies in the park are still in the plans for August, but location and attendance limits will change based on the phase status.
Although many of Lacey's summer programs are currently offered in alternative formats, Lacey Parks & Recreation staff are still excited to provide fun and educational activities to local children and families. "Even though we're limited in what we can offer right now, it's been great to realize we still have things out there for people to do," says Beasley. "And it's made us be more creative and think outside the box. Every time I get a notification that someone registered for a program, it makes me smile! It makes me realize people are still looking for ways to recreate and we've been able to provide them with that opportunity during this challenging time. I hope we can continue to give them more variety as time goes on."
To learn more about City of Lacey summer recreation options, or to register for summer programs, visit the Lacey Parks & Recreation website.
Sponsored