Olympia may not have the proper climate to grow coffee, but we do our share of roasting and drinking it. Batdorf & Bronson Coffee Roasters continues its history of investing in relationships with coffee growers and producers across the globe. These long-term friendships add another layer of flavor and depth to the numerous coffees available by the cup or bag of beans. Coffee drinkers are an essential link in this line of relationships, each person absorbing the benefits of years of attention.
When you get coffee at Batdorf & Bronson Coffee Roasters, you know what you are going to get. "Our customers appreciate that consistency," notes Bob Benck, Batdorf & Bronson's Coffee Roasters coffee buyer who has been part of the team for almost 25 years. There are both continuing and rotating varieties, but each element is highly scrutinized to ensure just the right taste. "We have taken that consistency seriously."
Consider for a moment the complicated business of buying coffee. Crop yield and taste are influenced by the weather (not controllable), and plant diseases, such as leaf rust, appear. International currencies fluctuate. The on-going world pandemic has influenced supply lines and new roads to success are being paved. Every purchase is unique. Decisions must be made without the aid of a crystal ball. Other considerations involve fair pricing to all the hands that touch the coffee before it arrives in your cup.
These days getting your favorite barista to make a coffee your way can be integral to your regular routine. However, 20-plus years ago, when Batdorf & Bronson Coffee Roasters was emerging in Olympia, coffee was a new world. Batdorf & Bronson Coffee Roasters was there, caring about where the coffee came from, how it was grown and who was growing it. Every day customers ask questions about the coffee's ecological, environmental and human impact. It is organic? Fair trade? These things have always been important to Batdorf & Bronson Coffee Roasters.
Bob's trajectory for his coffee journey began when he was a student at The Evergreen State College and participated in a three-month exchange program with Olympia's sister city in Santo Tomàs, Nicaragua. There he studied Spanish, literature, Hispanic life and art, and though he didn't know it at the time, it created a foundation for his future relationships with coffee growers and producers in Central America. "It gave me a path," explains Bob, "for a meaningful career."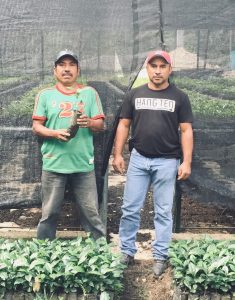 Bob is proud of the relationships he and the company have with coffee growers and producers in many countries. It's not just about going to a farm and snapping a photo. It is about meeting people on the farm, seeing how business is done and who's doing it. Batdorf & Bronson Coffee Roasters sources coffee from several Central American countries including Costa Rica, Nicaragua, Mexico, Honduras, Guatemala and Colombia. Beans also come from other coffee areas such as Papua New Guinea and Ethiopia.
On Wednesday mornings Batdorf & Bronson Coffee Roasters goes live on Facebook for coffee chats. Recently, I watched a Zoom chat with Bob and Pablo Gonzalez who lives outside Antigua, Guatemala on the family coffee farm (finca). The purpose was to taste a line-up of five coffees. This eventually happened, but the best part was seeing Bob and Pablo talk with each other about coffee and their friendship. Their conversation doubled as a Spanish lesson (for those who want some practice) with Bob as the translator. Their recall of past visits and funny anecdotes showed the relationship was both personal and professional. The session happened remotely with Bob at his home in the kitchen with the cups of coffee behind him. During the broadcast, Bob's wife and daughter popped into view in order to say, "Hi!" to Pablo. It was genuinely sweet. Clearly, these people are friends.
Definitely visit the Batdorf & Bronson Coffee Roasters Facebook page to find fun videos about home brewing, conversations with coffee growers and other caffeine related topics.
Coffee is a daily ritual, a luscious luxury, a perfect way to start the day or compliment a dessert. The tastes vary from country to country, region to region and even field to field. Then there is the art of processing and roasting. You might be tantalized by a velvety mouth feel or intrigued by notes of pecan, nougat and molasses. Talk to the helpful team at Batdorf & Bronson Coffee Roasters to help you decide your next purchase. It's a wonderful world. "I want Pablo to know where his coffee ends up," says Bob, meaning that he did not want it disappearing into a blend on a grocery store shelf. It's waiting for you right here in Thurston County.
Here is a list of Batdorf & Bronson's Coffee Roasters certified organic, Fair-Trade certified coffees and relationship coffees:
FTO Costa Rica "Cerro del Fuego"
FTO Nicaragua "Santo Domingo"
FTO Guatemala "El Volcan"
FTO Whirling Dervish and Whirling Dervish Decaf
FTO Peru Decaf "APROCASSI"
Guatemala Finca El Valle
Nicaragua Finca Los Placeres (French and Italian Roasts)
Organic Bolivia "Buena Vista"
Costa Rica "La Minita"
Batdorf & Bronson Coffee Roasters / Dancing Goats Coffee Bars
Check locations for current hours.
Dancing Goats Coffee Bar – Downtown Olympia
516 S. Capitol Way, Olympia
360-786-6717
Dancing Goats Coffee Bar – Farmer's Market
111 Market Street NE, Olympia
360-528-8555
Batdorf & Bronson Tasting Room
200 Market Street. NE, Olympia
360-753-4057
The Dancing Goats Coffee Bar
4219 6th Avenue SE, Lacey
360-359-4622
Dancing Goats Espresso Bar at Bayview Market
516 Fourth Avenue W, Olympia
360-352-4901 ext. 3
Sponsored