Residents of Olympia's Northeast neighborhoods, take note: You now have a new walking map. Not a typical map of roads and trails. You will have a psychogeographical walking map produced by the artist who calls himself GrocerySpy.

GrocerySpy, a state employee named Tom Boucher, has produced four other psychogeographical walking maps of neighborhoods in Olympia. In 2017 came his first, for the Wildwood neighborhood, and for which he began collecting data in earnest in 2016. He published two more maps in 2017: one for the South Capitol neighborhood and one spanning into northern Tumwater for neighborhoods he calls Governor Stevens and Carlyon North. Its southeast corner captures Olympia High School.
His 2018 release, a 2-sided, 19-by-13-inch map of downtown packed with entries, gives you the sense of the infinite as you draw upon memories of all the minutia you've noticed on your own walks, and consider what everyone else must notice on theirs.
"Psychogeography is some mixture of the following," the GrocerySpy explains in the margin notes of the Downtown map. "Looking for evidence that the world can become re-enchanted in a way that respects equally emotion, mystery, and fact. Attempting to find the invisible city that lives next door to the visible one. … Pursuing the trivial until it turns important. … Using the landscape as an index to your memories."
What then is a psychogeographical walking map? In this case, they are maps of the streets of Olympia made in a digital illustration program and filled in with notes and images Tom collects on his long walks. Each map has a legend. Tom catalogues recurring objects and takes measurements of phenomena of fancy. For example, every house with prayer flags bears the same colorful symbol on the map. He gauges and notates the distances frog song can be heard from a pond and pizza can be smelled from a parlor kitchen. He appreciates wind chime density and histories of curious places.
The forthcoming map marks the first time the neighborhood for which the map is made has endorsed and supported the creation of the map. Residents of the Northeast neighborhoods came together to brainstorm with Tom as he prepared to create the new map. They propped up oversized maps and covered them with sticky notes to gather stories, noteworthy landmarks, and houses with "curb appeal" (think pleasant gardens, expressive trees, quirky yard art).
Peter Guttchen, the Northeast Neighborhood Association (NENA)'s current vice president, helped organize that meeting. He has been an advocate for the creation of a Northeast map since his daughter found the original maps at Gallery Boom. Peter and other leaders from the five neighborhoods that make up the Olympia Northeast Neighborhoods Alliance (ONNA) feel that the new map aligns with the goals of their 2016 Subarea Plan. The ONNA Subarea Plan "allows residents to work more proactively with city staff to achieve their identified needs." It presents three primary goals and objectives, then outlines possible actions they could take to achieve the goals.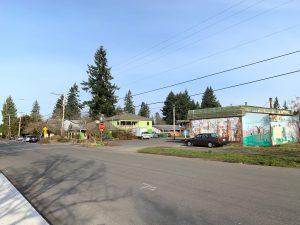 One of the goals is to increase mobility by promoting "improvements to make NE Olympia more walkable and bikeable." ONNA has successfully made physical improvements to its sidewalks and trails with the help of the funding made accessible by the plan, but the map represents something else. The maps are a mental – a psychogeographical – enhancement to the walk- and bikeability of their neighborhoods. They present an opportunity to ensure all residents know what their community has to offer on a geographic level, including recent developments like the paved path on 26th Avenue at Gull Harbor Road that leads safely to the trails of Priest Point Park.
That project was successfully funded and completed as a result of the five Northeast neighborhoods working together under the framework of the Subarea Plan. Peter Guttchen and his fellow leaders hope the maps will help forge a greater sense of unity among the five Northeast neighborhoods so that more of their goals can be achieved by working together. The maps are a tool to help residents get outside and engage with their environment. Neighborhood leaders hope this means more residents will think about ways their environment can improve, then be inspired to participate in efforts to realize those improvements.
Tom's maps are typically printed in batches of 75 or 100. However, with the generous support from a City of Olympia Neighborhood Matching grant, ONNA will be initially printing up to 1,500 of the northeast area maps for distribution to neighborhood residents. Maps will be available at neighborhood meetings and gatherings once COVID-19 restrictions are lifted. Eager northeast residents and the community at large can purchase the new map, along with the other four editions, at Gallery Boom in person or online, at Orca Books once they reopen, and online at Tom's Etsy shop.